Photo Flash: Opening Night Of CALIGULA MAXIMUS at the Ellen Stewart Theatre
The wooden bleacher seats of the Ellen Stewart Theatre in New York's East Village were filled to the rafters on March 19th, for the opening night performance of Alfred Preisser and Randy Weiner's outrageous circus themed theatrical extravaganza CALIGULA MAXIMUS.
Notables in the house who danced and partied on the CALIGULA MAXIMUS set after the show, with tunes provided by cast member Luqman Brown's band Funkface, included Andre Dé Shields, Melvin Van Peebles, Penthouse Pet Krista Ayne (Penthouse Pet of The Year Runner-Up 2007) and Penthouse Centerfold Anju McIntyre (October 2009), Bev Petty, associate director of La MaMa and Frank Carucci, La MaMa Board President.
Co-written by Alfred Preisser (Co-Founder, Classical Theatre of Harlem) and Randy Weiner (owner of the notorious night spot, The Box) and directed by Preisser, CALIGULA MAXIMUS is set on the last night of the infamous dictator's life.
With a cast that stars Ryan Knowles as Caligula, adult film star and Penthouse Pet Justine Joli as his wife Caesonia, Lady Circus troupe aerialist Anya Sapozhnikova as his sister Druscilla, Luqman Brown as Sulla, the peanut vendor, JerZ Short as circus master Helicon, award-winning competitive bodybuilders Myra Adams and RoxAnne Edwards, Coney Island Sideshow tattooed muscleman Tim Dax, and an outrageous collection of over two-dozen circus performers, wrestlers, showgirls and freaks, CALIGULA MAXIMUS audiences should expect "an entertainment" that will test their limits of human intellect and appetite.
Rounding out the cast in multiple roles are Alexandra Bernard, Angela Buccinni, Claire Buckingham, Alicia Giangrisostomi, Jeff Goldfisher, Raheem Green, Sarah Hassan, Naima Yetunde Ince, Bill Johnson, David King, Jessica Krueger, Andrews Landsman, Elinor Lerner, Channing McKindra, Alexandra Petrova, Charletta Rozell, Alicia St. Louis, JerZ Short, Tricia Storie, Aaron Strand, Miriam Tabb, Jenny Weinbloom and Elian Zach.
CALIGULA MAXIMUS has sets and rigging by Evan Collier, costumes by Laura Clarke, lighting by Christopher McElroen, musical direction and lead guitar by Joe Shavel, musicians Kareem Clarke (bass), Jeremy O'Brien (drum/mayhem), Brendan Scharen (rhythm guitar), Joel Siegel (drums/conga), whip consulting by Chris McDaniel, stage management by Mike Yrigoyen, and press by Lia Chang.
Presented by La MaMa, e.t.c., CALIGULA MAXIMUS is a project with Hammerstein & Weiner, LLC, Christopher McElroen, Alfred Preisser and Kingsize, USA.
Performances for CALIGULA MAXIMUS are on Thursday and Friday at 8pm, Saturday at 8pm and 10pm, through April 10th. Tickets are $30, $25 for students and seniors and can be purchased online at http://www.lamama.org or by calling the box office at 212.475.7710. For more information, visit www.caligulamaximus.wordpress.com.
Photo by Lia Chang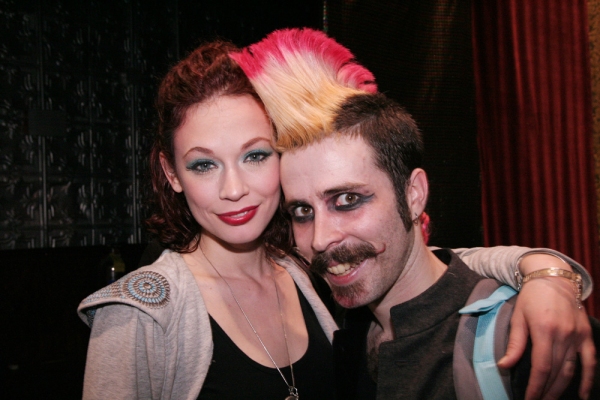 Justine Joli and JerZ Short

Andre De Shields and Ryan Knowles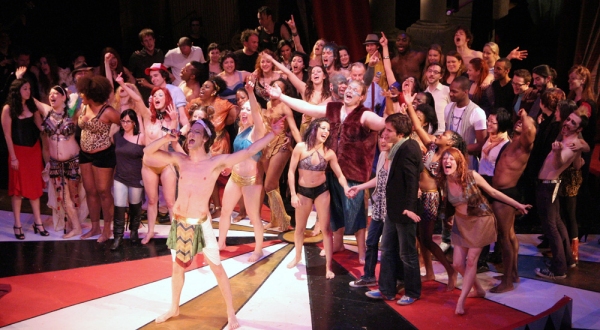 CALIGULA MAXIMUS cast and audience onstage on opening night

Andre De Shields, Penthouse Centerfold Anju McIntyre, Melvin Van Peebles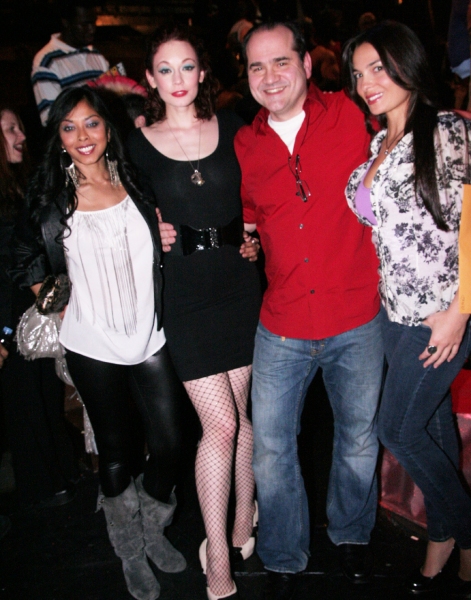 Penthouse Pets Anju McIntyre, Justine Joli, and CALIGULA MAXIMUS director & co-writer Alfred Preisser, and Krista Anye