Photo Flash: Joanne Woodward visits THE CRADLE WILL ROCK
Director and choreographer Lisa Brailoff's revival of this timely, controversial musical about greed, corruption and the plight of the worker -- presented initially this past February by Downtown Music Productions, East Village Concert Series and St. Mark's Church in the Bowery -- returns for four performances as part of HOWL! ARTS PROJECT 2009: THEATER SERIES.
The 19-member ensemble includes Joel Abels, Kate Canary, Darcy Dunn, Gavin Esham, Rayna Hickman, Michael Iannucci, Joshua Lee Isaacs, Paul Malamphy, Alex Michaels, Laura Newman, Jeannine Otis, Mark Peters, Zak Risinger, Jason Robards III, Tom Savage, Michael Schilke, Greg Senf, Mark Singer and Rob Ventre.
THE CRADLE WILL ROCK features book, music and lyrics by Marc Blitzstein. Mimi Stern-Wolfe is the production's musical director.
The HOWL! ARTS PROJECT 2009 is an extended series of theater, music, performance art and film with programs running throughout the month of September at 45 Bleecker (45 Bleecker Street), Millennium Film Workshop (66 East 4th Street), New Museum (235 Bowery), Bowery Poetry Club (308 Bowery) and St. Mark's Church in the Bowery (131 East 10th Street).
Proceeds from the HOWL! ARTS PROJECT 2009 will benefit HOWL! HELP -- administered by The Actors Fund -- which provides emergency assistance to qualified performing artists in crisis.
For full details about HOWL! ARTS PROJECT 2009 and its various series, visit www.howlfestival.com or www.eastvillagehowler.blogspot.com
Photos by Nathaniel Siegel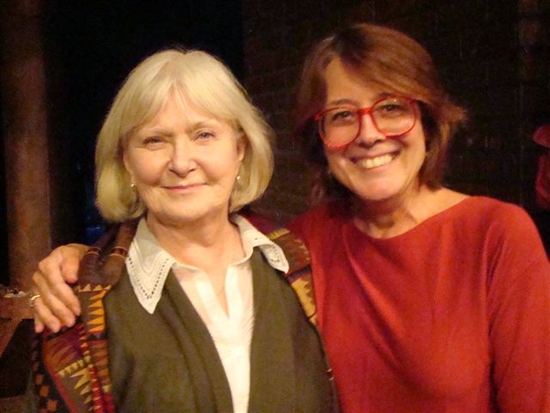 JoAnne Woodward and Lisa Brailoff