Photo Flash: First Look at HEIST! at the Players Theatre
HEIST! is a new musical comedy about an enterprising team of thieves who attempt the biggest con Broadway has ever seen, will make its world premiere this summer, in a limited pre-Off Broadway engagement on Thursday, August 9th through Sunday, September 2nd at The Players Theatre, 115 McDougal Street (between West 3rd and Bleecker Streets). Directed by James Will McBride, the production features a book and lyrics by Alex Koceja, music by Michael Uselmann and choreography by Jenna Haimes.
Jack, retired from the heist game after his partner in crime dies on his watch, gets roped into one last job: to infiltrate the cast of a Broadway revival and steal a very valuable necklace off the leading lady on stage. With a team of young thieves-turned-actors, Jack attempts to escape the mistakes of his past while dealing with directors, double-agents and Actor's Equity. Just before opening night, Jack's old partner arrives, having faked his death, and reveals he's also after the necklace! The second act of HEIST!is the entirety of Three Card Monte - audiences see the heist unfold, onstage and off.
The cast of HEIST! features Kable Barnhart, Christopher Bober, James Cella, Chandler Converse, Javier Taylor Fox, Alec Irion, Claire Leyden, Blair Medina, Cordara Newson, Patricia Sabulis (Friends! The Parody Musical) and Alicia Thomas.
Photo Credit: James Michael Advance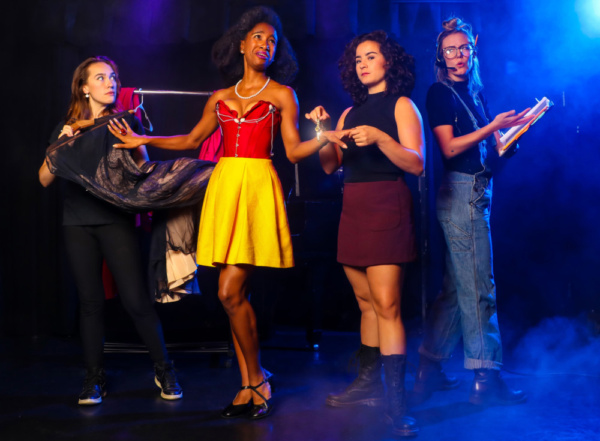 Chandler Converse, Alicia Thomas, Blair Medina, Patricia Sabulis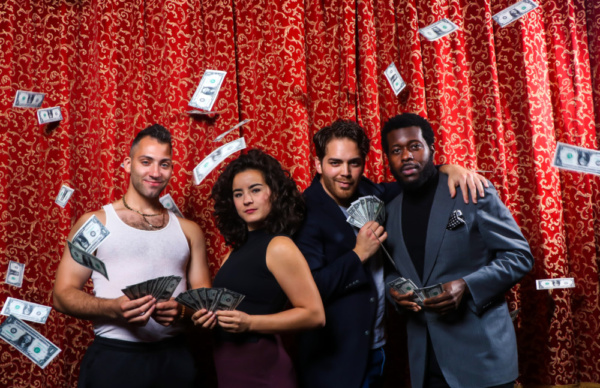 Christopher Bober, Blair Medina, Alec Irion, Cordara Newson

Christopher Bober, Javier Taylor Fox

Patricia Sabulis, Chandler Converse, Alicia Thomas, Kable Barnhart, Javier Taylor Fox, Alec Irion, Blair Medina, Cordara Newson, Christopher Bober

Christopher Bober, Javier Taylor Fox, Kable Barnhart