Photo Flash: Constantine Maroulis and More Celebrate BULLDOZER: THE BALLAD OF ROBERT MOSES Opening Off-Broadway
The cast and crew of Bulldozer: The Ballad of Robert Moses celebrated the show's Off-Broadway opening on December 12th, 2017 with an opening night party at Deacon Brodie's in Hell's Kitchen. The production will run will run through Sunday, January 7, 2018 at the Theatre at St. Clement's (423 West 46th Street). BroadwayWorld has photos from the opening festivities below!
The new rock musical about Robert Moses has Music & Lyrics by Peter Galperin with a Book by Peter Galperin and Daniel Scot Kadin. Karen Carpenter directs the production, which features 17 original songs played by a four-piece rock band and stars Constantine Maroulis as the Master Builder Robert Moses. Mr. Maroulis is joined by Wayne Wilcox as Nelson Rockefeller, Molly Pope as Jane Jacobs, Ryan Knowles and Kacie Sheik.
Robert Moses was one of the most polarizing figures in New York politicalhistory, and was probably the most powerful unelected official ever in the United States. He outlasted and outfought 5 governors, 6 mayors, and several Presidents. From the late 1920s to the mid 1960s anything that was built in New York City and New York State had to be approved by hiM. Jones Beach, the Verrazano Bridge, the renovation of Central Park in the 1930s, Lincoln Center, all of New York Cities public swimming pools, The Westside Highway, The United Nations, all of the parkways and highways that lead out of New York into Long Island and Westchester County, two World's Fairs, the list of his projects is literally endless.
But much of what he did destroyed neighborhoods and greatly accelerated inner city decay, and almost everything he did was aimed at the growing car culture of the 1930s, 40s, and 50s. Of the billions of dollars of public infrastructure built under his control, not one dollar went towards mass transit. So the urban environment that we live in today is largely one created by Moses - we live in the world he left behind. Today, if you were stuck in traffic on theLIE, or your train to Bay Ridge broke down, or if you are a die-hard NY baseball fan, Moses life's work probably impacts your life more than you realize.
BULLDOZER: THE BALLAD OF ROBERT MOSES moves from macro to micro, from aerial views of New York City, to the personal details of Moses' daily life, from grandly-scaled infrastructure to the intimacy between two lovers. Initially the press portrayed him as a Johnny Appleseed, a folk hero of the common man. A sophisticated and savvy bureaucrat, Moses, to his credit, rode the wave of three decades of federally-financed building programs that pumped billions of dollars into the New York economy. However, using the power of eminent domain he leveled entire neighborhoods and displaced over a quarter million New Yorkers - often the poorest - to make way for his public housing and highway projects. Many began to wonder - was Moses actually destroying the city he loved?
BULLDOZER: THE BALAD OF ROBERT MOSES features musical direction by Rob Baumgartner, scenic design by Ken Larson, lighting design by Zach Blane, sound design by Howard Fredrics, and costume design by Bobby Fredrick Tilley.
Photo Credit: Ryan Krukowski


The cast of 'BULLDOZER' on opening night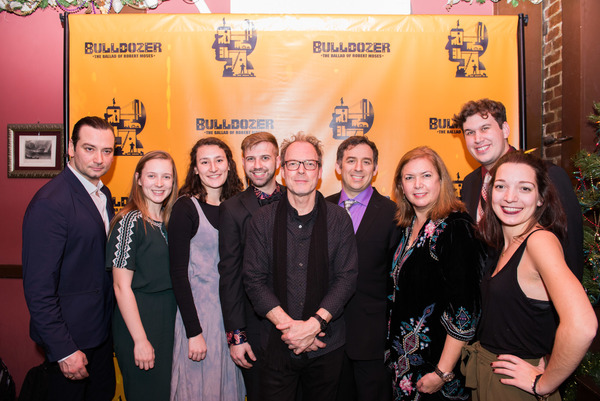 Constantine Maroulis, Madalyn Paquette, Isabella Babich, Austin Tracy, Peter Galperin, Aaron Grant, Karen Carpenter, Matthew McVey-Lee and KJ Morton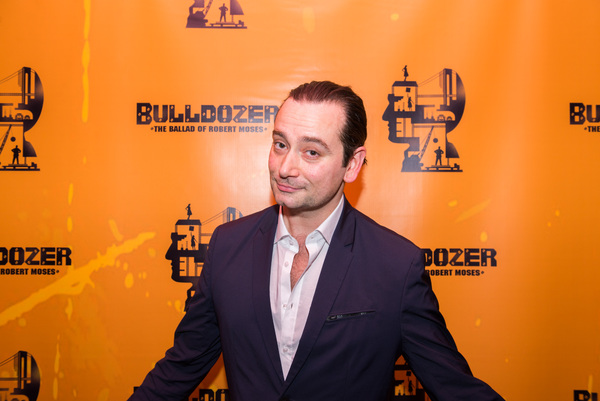 Constantine Maroulis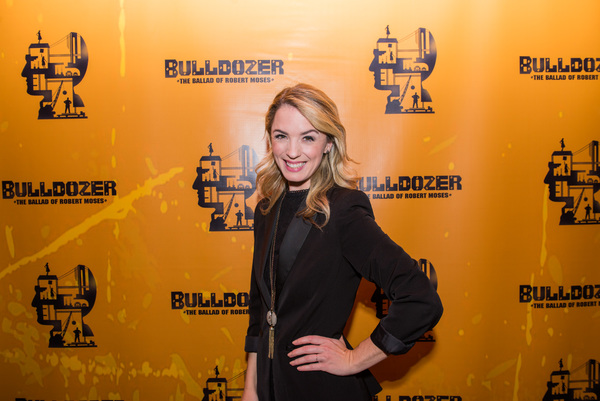 Kacie Sheik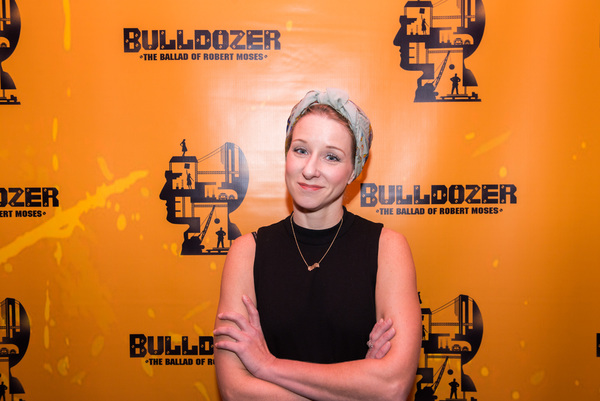 Molly Pope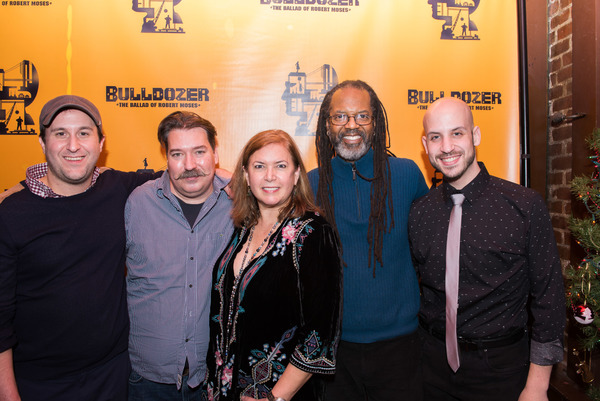 Rob Baumgartner, Jr. (music director), Bobby Frederick Tilley (costume designer), Karen Carpenter (director), Bill Toles (Audio Specialist) and Zach Blane (lighting designer)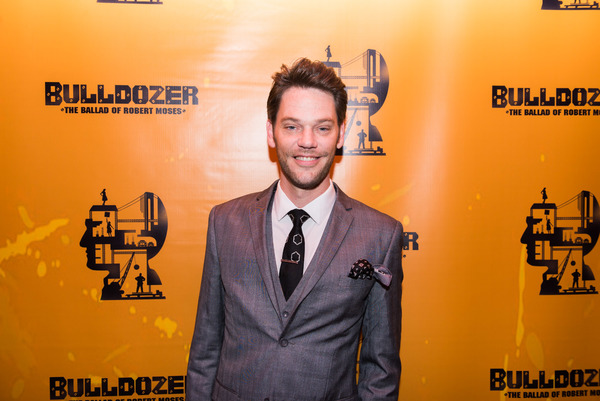 Ryan Knowles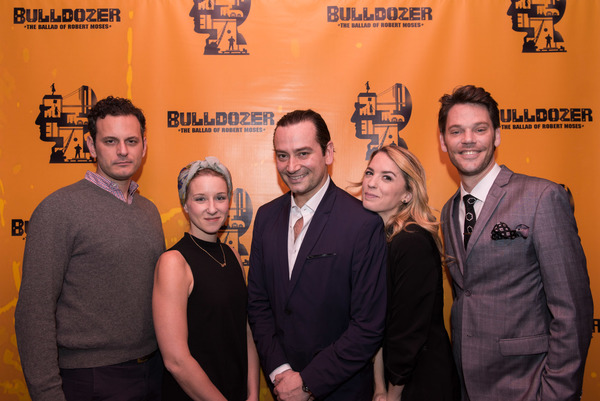 Wayne Wilcox, Molly Pope, Constantine Maroulis, Kacie Sheik, Ryan Knowles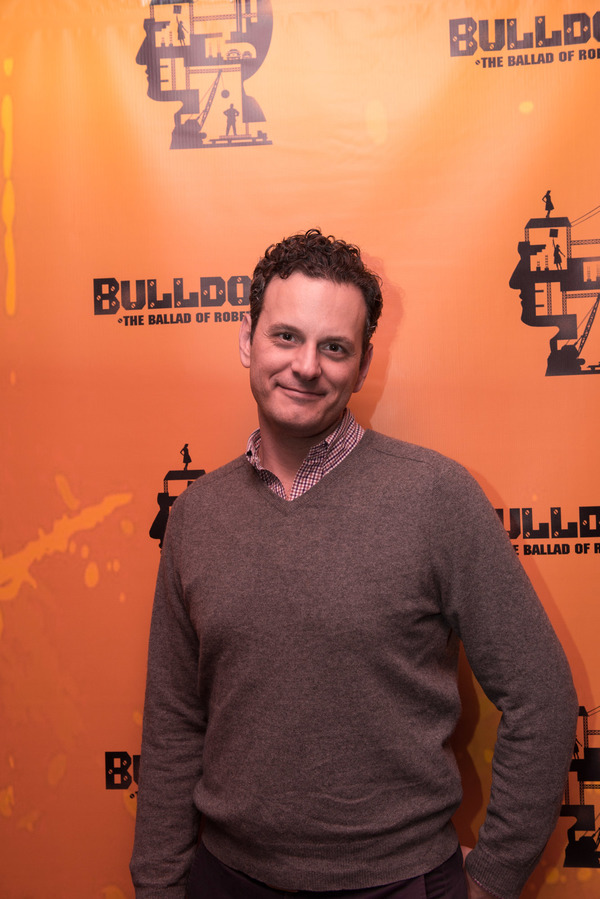 Wayne Wilcox