Photos: Beacon Theatre Welcomes Cirque Du Soleil's BANANA SHPEEL
On Wednesday, February 10, BroadwayWorld braved the storm at the Beacon Theatre on the Upper West Side to capture the welcoming of the all-new Cirque du Soleil production, Banana Shpeel, which begins preview performances on February 25, 2010.
At 4:30pm, the activities begin with the unveiling of the new Banana Shpeel marquee on the Beacon Theatre with costumed performers arriving in a vintage Checker Cab accompanied by show musicians performing live. Upper West Siders and
Cirque du Soleil
fans will be on hand to greet the cast. To add to the fun, the first 100 guests who arrive with a banana will win two complimentary Banana Shpeel tickets. The bananas will be donated to Life Center, a local New York homeless shelter affiliated with The Garden of Dreams Foundation.At the event, the Banana Shpeel cast led the public into the theatre for the Open House with an exclusive sneak peek at the Banana Shpeel creative process in the newly-restored Beacon Theatre. Guests saw rehearsals on stage, make-up demonstrations, costume displays, and take photos with costumed performers. Local restaurants and businesses will provide complimentary snacks. Banana Shpeel from
Cirque du Soleil
is a roller coaster mix of styles that blends intense choreography, crazy comedy and distinctive acrobatic acts. The action follows the brash and over-the-top character, Schmelky, as he emcees his show, a diverse spectrum of performances including tap, hip-hop and eccentric dance, slapstick comedy and
Cirque du Soleil
acrobatic acts - plus madcap characters spreading chaos in all directions.Elite
International Artists
perform the acrobatic acts, including the powerful and flexible Hand Balancing, the fast-paced Hat Juggling, the playful and energetic Duo Hand to Hand, the lithe and agile Foot Juggling, and the dexterous and madcap Rola Bola.Banana Shpeel Writer and Director
David Shiner
has a long history with
Cirque du Soleil
which began over 20 years ago with the touring show Nouvelle Expérience. In 2007, Shiner wrote and directed the big top touring show KOOZA. On Broadway, Shiner received praise for Fool Moon, the two-man wordless show he created with
Bill Irwin
, which ran from 1992 to 1999, including three Broadway engagements. Shiner started his career as a street mime in Paris and was discovered at the renowned circus festival Cirque de Demain.
Banana Shpeel begins preview performances on March 17, 2010 at The Beacon Theatre. Opening night is to be announced. To book Banana Shpeel tickets, please visit cirquedusoleil.com or beacontheatre.com or call 1-800-745-3000.
Photo Credit: Brian Estrada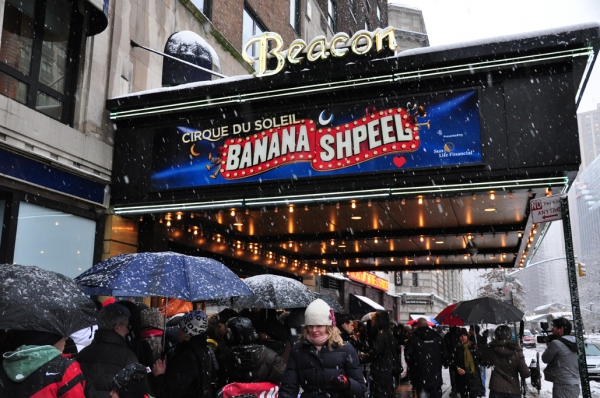 BANANA SHPEEL Marquee

BANANA SHPEEL Marquee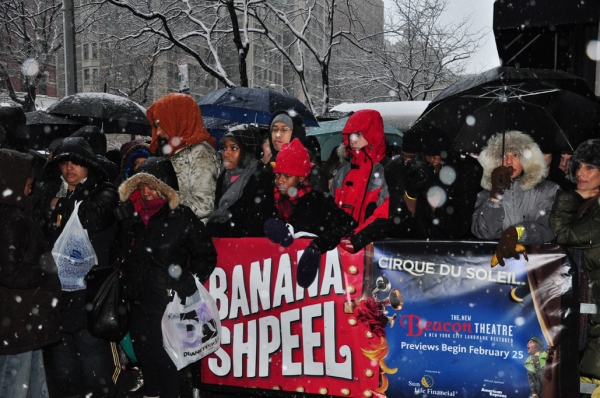 Fans Eagerly Await the Marquee Unveiling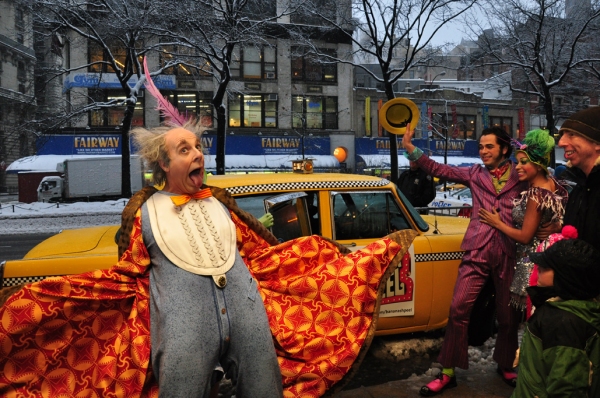 BANANA SHPEEL Cast Member Arriving for the Unveiling!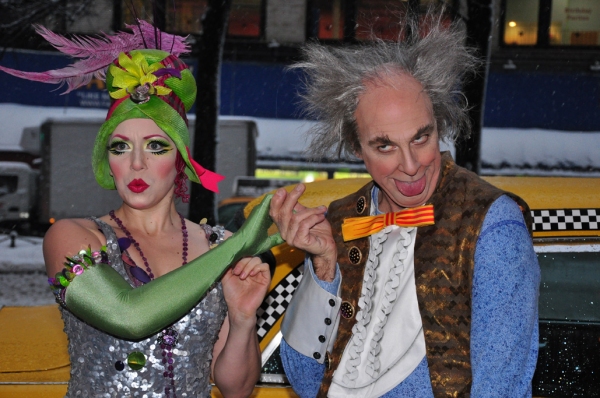 BANANA SHPEEL Cast Members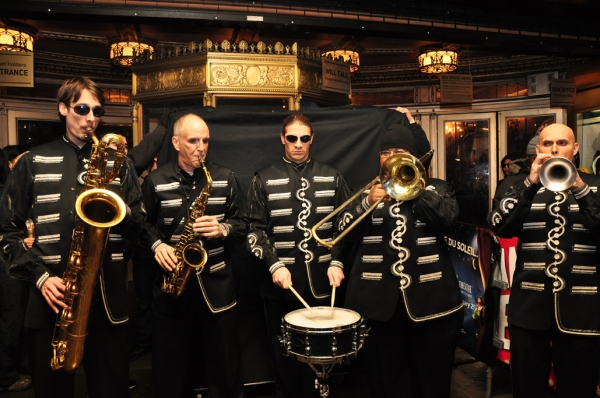 BANANA SHPEEL Musicians

BANANA SHPEEL Cast Members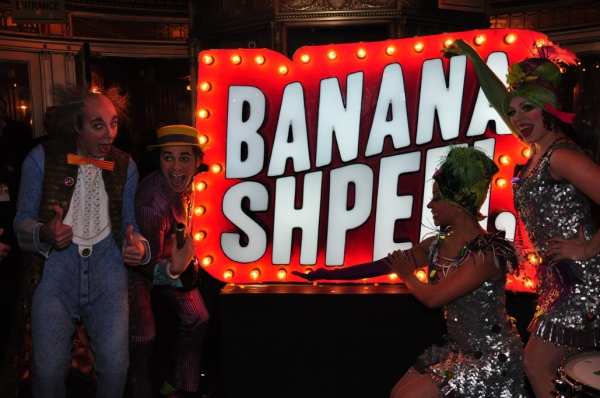 The Marquee Unveiling!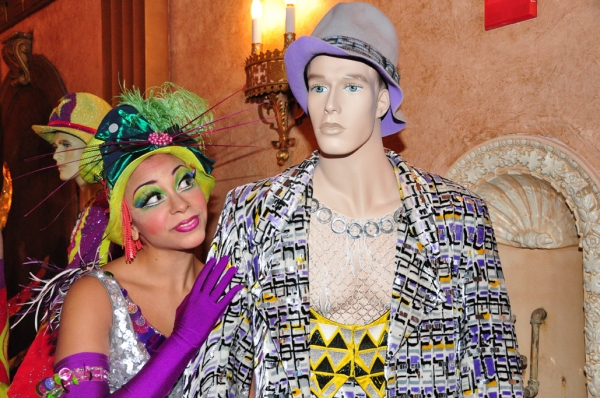 BANANA SHPEEL Cast Member Posing with a Costume

BANANA SHPEEL Costumes

BANANA SHPEEL Cast Members Practicing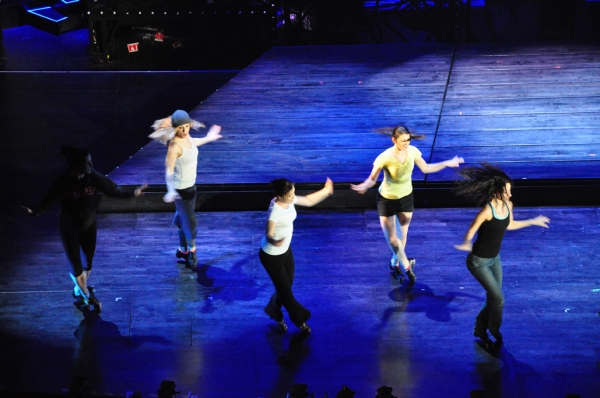 BANANA SHPEEL Cast Members Offer A Sneak Peak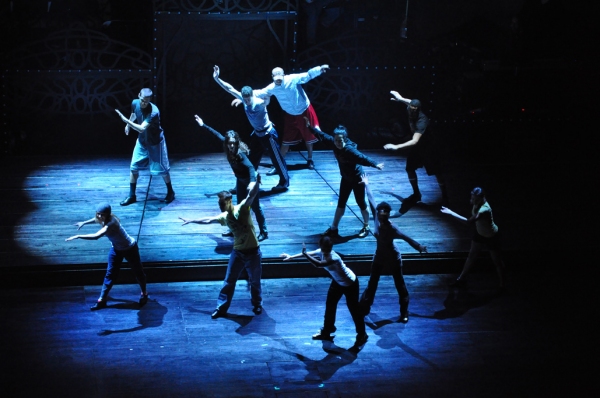 BANANA SHPEEL Cast Members Offer A Sneak Peak

BANANA SHPEEL Cast Members Offer A Sneak Peak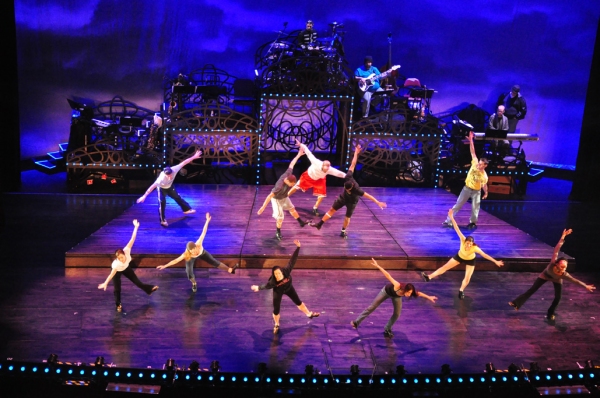 BANANA SHPEEL Cast Members Offer A Sneak Peak