NY Premiere Of STILL AT RISK Begins Performances Tonight At Theater For The New City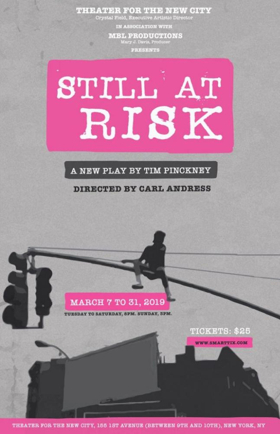 Theater for the New City (Crystal Field, Executive Artistic Director), in association with MBL Productions (Mary J. Davis, Producer), presents the New York premiere of the new play, Still at Risk by Tim Pinckney (Message to Michael). Performances begin TONIGHT, Thursday, March 7, 2019 for a limited engagement through Sunday, March 31, 2019 in the 88Community Space Theater at Theater for the New City (155 First Avenue, between 9th & 10th Streets). Opening Night is Sunday afternoon, March 10,2019 at 3:00 p.m.
Directed by Carl Andress (The Divine Sister; Die, Mommie, Die!), the five-member cast features Robert Gomes (Dada Woof Papa Hot, The Tempermentals) as Kevin, Christopher J. Hanke (How to Succeed in Business Without Really Trying, Buyer & Cellar) as Christopher, Amy Hohn (November, Cat on a Hot Tin Roof) as Susan, Ryan Spahn(Daniel's Husband, Summer and Smoke) as Byron, and Jonathan Walker (The Assembled Parties, The Divine Sister) as Marcus.
Kevin, a surviving activist from the front lines of the AIDS crisis, finds himself struggling to find his place and purpose in contemporary gay culture. When a gay fundraising event threatens to erase the history he was part of creating, Kevin's anger and passion are renewed and he is confronted with the challenge of how to motivate change in this new climate of visibility. Along the way, Kevin's raw and slightly unhinged methods provoke everyone who can help him, damage long friendships and eventually expose some dark secrets. Hilarious, sharp, and deeply moving, Still at Risk is a powerful look at the personal and political hazards of rewriting the past and one man's attempt to move forward.
Still at Risk received its world premiere in San Francisco at the New Conservatory Theatre Center. The San Francisco critics raved and shared, "Tim Pinckney laces through his tight script a mixture of one survivor's lingering anger, guilt, and regrets with generous helpings of razor-sharp humor, ego-packed hubris, and genuinely felt heart."
The creative team will include Jason Lee Courson (Scenic Design), Gregory Gale (Costume Design), Steve O'Shea (Lighting Design), and Adrian Bridges (Sound Design). The Production Stage Manager is Christopher Flores and Assistant Stage Manager is Dabney Rauh. The General Manager is Tony Spinosa with Company Manager Greg Santos. Graphic Design is by Sr a Vasiljevi .
"The dream has always been to have a production of Still at Risk in New York City, shared playwright Tim Pinckney. And now, after a fantastic world premiere in San Francisco at the New Conservatory Theatre Center, I'm very excited to bring my play home. He went on to say, Theater for the New City in the East Village is the perfect venue to tell this story. What makes this whole experience even sweeter is that I get to be on this thrill ride with my dear pal Carl Andress. And concluded by stating, I'm completely bowled over by the skill and creativity of all the amazing artists involved with this production. I'm looking forward to sharing this story.
"I'm excited to return to Theater for the New City to collaborate with Tim Pinckney on bringing his fearless, poignant and seriously funny new play, Still at Risk to the stage, stated director Carl Andress. Only Tim could tell this story. He focuses his unique sensibility to explore the tragedy that the AIDS crisis wreaked upon a generation now lost to us, while celebrating those brave men and women who took up arms and went to war to fight for basic human rights. He went on to add, Tim was one of the fighters who chose to reframe his life as an artist into one of service as well. Tim's own experience informs Still at Risk and it is his passion that asks us to recall, through a contemporary lens, a time that is increasingly easy to forget. You won't soon forget Still at Risk.
Still at Risk plays the following performance schedule: Tuesday Saturday at 8:00 p.m. and Sunday at 3:00 p.m.
NOW ON SALE, tickets for Still at Risk are priced at $25 and may be purchased online at www.smarttix.com.
For additional information, please visit the Theater for the New City website at: www.theaterforthenewcity.net
More Hot Stories For You