Kathleen Chalfant, Dee Pelletier, and George Bartenieff to Feature in IMAGINE: YEMEN AN EVENING OF SHORT PLAYS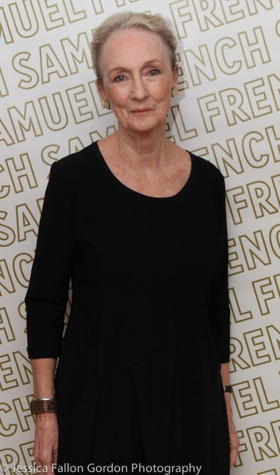 Imagine: Yemen - An Evening of New Short Plays featuring Tony Award nominee and two-time Obie Award winner Kathleen Chalfant (For Peter Pan on Her Seventieth Birthday, Angels in America, Wit), Dee Pelletier(August: Osage County), Drama Desk and four-time Obie Award winner George Bartenieff (Zoo Story, Krapp's Last Tape) plays one-night-only, Monday, June 25 at 7PM at The Irene Diamond Stage, The Pershing Square Signature Center (480 West 42nd Street, NYC 10036). The eventis free to the public. For free tickets and information email: RSVP@NewYorkRep.org. For more information visit: www.NewYorkRep.org
Imagine: Yemen is an evening conceived to enlighten audiences aboutone of the worst humanitarian catastrophes in recent memory. The conflict in Yemen has put over seven million civilians at imminent risk of starvation. It has been reported that 50,000 children died this year of preventable disease and hunger. Imagine: Yemen features works by Younis Ali, Kara Lee Corthron, Kia Corthron, Mushaq Deen, Ismail Khalidi, T.D. Mitchell, Karen Malpede, Andrew Saito, and Naomi Wallace, directed by Kevin Hourigan and Markus Potter.
The evening is presented by NewYorkRep, Kia Corthron, Kevin Hourigan, Naomi Wallace, and Theater Three Collaborative.
"We believe that theatre can bring the human realities of war and hunger home to an audience in ways that are important and timely," say co-producers Kia Corthron, Kevin Hourigan, and Naomi Wallace. "With these nine short plays we hope provoke both a compassionate response, as well as spark debate about US involvement in Yemen and continued war in the region as a whole."

Executive Director of NewYorkRep, Gayle Waxenberg, and Producing Artistic Director Markus Potter state that "True to our mission, we are trying to shed light on a current humanitarian crisis where starvation is being used as a weapon of war. We hope our community takes action by contributing to Doctors without Borders as they strive to save lives, mostly of children, in this ongoing Civil War.
Before and after the event, audiences will have a chance to interact with our community partners in the lobby meeting space, where refreshments will also be available.
ABOUT THE PLAYWRIGHTS
YOUNIS ALI is a Yemeni American poet and playwright. He's been writing both in Yemen and the U.S the last ten years. His work includes Saah Alhida, an Arabic comedy performed in Yemen in 2013 and Center Aisle, winner of Brooklyn College's Ottilie Grebanier Drama Award. His background and experiences in Yemen make this tragic war very personal.
Kara Lee Corthron. Plays, including Welcome to Fear City, Listen for the Light, and Holly Down in Heaven, have been performed around the U.S. Author of the young adult novel The Truth of Right Now, which won the Parents' Choice Gold Award in 2017. Other honors include the Princess Grace Award. Currently under commission for La Jolla Playhouse. For more: www.karaleecorthron.com.
Kia Corthron. Premieres at Playwrights Horizons, NYTW, Atlantic Theater Company, MTC, BAM, Royal Court Theatre, Goodman Theatre, Mark Taper Forum, Humana, and elsewhere. Windham-Campbell Prize, USArtists Fellowship, 2017 Eclipse Theatre Company resident playwright. The Castle Cross the Magnet Carter won the 2016 Center for Fiction First Novel Prize. Dramatists Guild Council member.
MASHUQ MUSHTAQ DEEN is a New Dramatists resident playwright and a Dramatists Guild member. Plays include Draw the Circle (PlayMakers, Mosaic, Rattlestick), The Shaking Earth, and The Betterment Society. He has been developed at institutions such as the Public, NYTW, P73, Ma-Yi. He is represented by the Gurman Agency. (mashuqmushtaqdeen.com)
ISMAIL KHALIDI. Truth Serum Blues (Pangea World Theater), Tennis in Nablus (Alliance), Foot (Teatro Amal), Sabra Falling (Pangea),Returning to Haifa (Finborough Theatre). Commissions from The Public Theatre, Noor Theatre, Pangea World Theater and Actors Theatre of Louisville. Khalidi co-edited Inside/Outside: Six Plays from Palestine and the Diaspora (TCG). He holds an MFA from NYU's Tisch School of the Arts.
Karen Malpede. Co-founder, Theater Three Collaborative. Writer/director nineteen plays. "One of America's leading political dramatists" (Marvin Carlson, George Jean Nathan Award-winning critic, Distinguished Professor). Extreme Whether, LaMama 2018, ARTCOP Paris 2015, TNC 2014. Author of Plays in Time: The Beekeeper's Daughter, Prophecy, Another Life, Extreme Whether. Directed Kathleen Chalfant (Prophecy), Dee Pelletier (Extreme Whether). Other Than We, summer 2018 workshop, LaMama.
T.D. Mitchell is an award-winning writer of plays, television, film, speeches (UNICEF), and essays. Queens for a Year (Hartford Stage), addressing military sexual assault, pre-dated the #MeToo movement. In 2009 she created what was then the only positive portrayal of an Iraqi Muslim recurring character on prime-time TV, for Army Wives. T.D. is currently writing a play concerning the Syrian refugee crisis.
ANDREW SAITO was Mellon Resident Playwright at Cutting Ball Theater, which produced Krispy Kritters in the Scarlett Night, Mount Misery: A Comedy of Enhanced Interrogations, Life is a Dream (translation). Fulbright Scholar: Papua New Guinea. He has been honored to work with acclaimed Peruvian theater collective Yuyachkani. MFA: Iowa.
Naomi Wallace. Plays include One Flea Spare, Things of Dry Hours, The Fever Chart, And I and Silence, and Returning to Haifa (adapted with Ismail Khalidi) produced in the U.K., Europe, U.S., and the Middle East. Awards: Obie, MacArthur, Windham Campbell, Susan Smith Blackburn (twice), Arts and Letters Award in Literature.
ABOUT THE ACTORS
Kathleen Chalfant will perform T.S. Elliot's "Four Quartets," at Bard SummerScape July 6-8, 2018. Recent: Sarah Ruhl's "For Peter Pan on Her 70th Birthday," Playwright's Horizons; Amy Herzog's "Mary Jane", Yale Rep; Rose Kennedy in "Rose," Nora's Playhouse. Tony nominee: "Angels in America". Outer Circle Critics, Drama Desk, Obie, Lucille Lortel awards for "Wit", "Talking Heads" and other plays. Film, TV.
Dee Pelletier. Broadway: August, Osage County, Off-Broadway: Extreme Whether, Women Without Men, The Soap Myth, But, Speaking in Tongues, The Erotica Project, The Seven Deadly Sins (dir. Anne Bogart), Stonewall Jackson's House and The Broken Jug. Regional: Yale Rep, Actors Theater of Louisville, Trinity Rep, others. Film, TV.
George Bartenieff. Co-founder, Theater Three Collaborative. Extreme Whether, LaMama, Paris, TNC. I Will Bear Witness non-traditional spaces tour, 2017-18. Career began age 14 on Broadway. Zoo Story (Peter), Krapp's Last Tape (Krapp) dir. Alan Schneider. The Brig, dir. Judith Malina. Hundreds of plays, Broadway, off. Four Obies. Drama Desk.
ABOUT THE DIRECTORS
KEVIN HOURIGAN has directed workshops and readings for writers including Craig Lucas, Diana Oh, Brendan Pelsue, Trevor Bachman, Dylan Frederick, AJ Ditty and others. He is the current Directing Fellow at Rattlestick Playwrights Theater, and a graduate of the Yale School of Drama, where he was the artistic director of the Yale Cabaret's 2016-2017 season.
Markus Potter is the Producing Artistic Director of NewYorkRep, and recently served as Interim Artistic Director of Theatre Aspen. Recent direction includes the off-Broadway production of Stalking the Bogeyman (Outer Critics Circle Award nomination, NYtimes critics' pick), London's Southwark Playhouse (Off West End Award nomination for best production and direction), Church & State (off-Broadway Alliance nomination for best new play).
Photo Credit: Jessica Fallon Gordon