FRIENDS! THE MUSICAL PARODY Will Play Final Performance July 22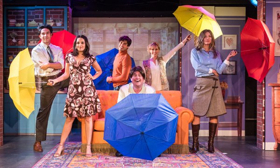 Ross, Rachel, Chandler, Monica, Joey, Phoebe and Gunther will only be there for you until July 22, 2018 when FRIENDS! The Musical Parody, the unauthorized parody of the hit TV show will play its final performance. When FRIENDS ends its successful run, it will have played 17 previews and 213 regular performances.
Performances began on October 13, 2017 at St. Luke's Theatre and the show officially opened on November 2, 2017. Originally announced as a limited engagement through December 31, 2017, it was extended through March 31, 2018 and then again through September 2, 2018.
"It's been a great ride with an amazing group of actors, band members, and crew," says Lynn Shore. "Thank you to all the FRIENDS fans who came out and helped make this show a success. 220 performances is no small feat and we couldn't be any prouder of what we've created and accomplished. Keep an eye out for our North American tour beginning Fall 2018."
FRIENDS! The Musical Parody is the hilarious new musical that lovingly lampoons TV's Friends! You'll laugh! You'll cry! You'll Unagi! Friends! The Musical Parody celebrates and pokes fun at the wacky misadventures of a group of 20-something pals as they navigate the pitfalls of work, life and love in 1990s Manhattan. It's a seemingly typical day at New York's only coffee shop, Central Perk, until an unexpected runaway bride with beautiful hair enters the picture and kicks the whole gang out of second gear. Get ready to PIVOT to St Luke's Theatre!
Created by Bob and Tobly McSmith, the duo that created five critically acclaimed musical parodies including Bayside! The Saved by the Bell Musical (NY Times Critics' Pick), 90210! The Musical, Full House! The Musical starring Perez Hilton, Showgirls! The Musical, and Katdashians! The Musical!
Directed by Paul Stancato (Jekyll & Hyde, The Lion King), with music by Assaf Gleizner (90210! The Musical),the 6-member cast features Seth Blum (90210! The Musical) as Chandler, Lisa Graye (Balloon Boy: The Musical) as Monica, Katie Johantgen (Lucky Stiff) as Phoebe, Patricia Sabulis (Ambition: The American Female Serial Killer Musical) as Rachel, Alan Trinca (Full House! The Musical) as Joey, and Landon Zwick (90210! The Musical) as Ross. Sammi Griffith and Chris Collins-Pisanoare the female and male understudies.
The current performance schedule for FRIENDS! The Musical Parody is: Wednesday at 8:00pm, Thursday at 7:00pm, Friday at 8:00pm, Saturday at 7:30pm, Sunday at2:00pm. Please visit www.friendsmusicalparody.com
for updates.
Tickets are $44.00 - $74.00 (Premium seating at $104.00) and are available through Telecharge.com/ (212) 239-6200. Tickets may also be purchased at the St. Luke's Theatre box office (308 West 46th Street): Monday 2pm-6pm, Tuesday 2:30pm-6pm, Wednesday 2pm-6pm, Thursday 2:30pm-6pm, Friday 2pm-8pm, Saturday 10am-8pm,Sunday 12noon - 7:30pm. Please Note: Parental Advisory (Adult situations and explicit language). Children under the age of 4 are not permitted in the theatre.
For more information, please visit www.friendsmusicalparody.com.
Photo Credit: Russ Rowland