Review: THE BRIEFLY DEAD at 59E59 is an Inventive World Premiere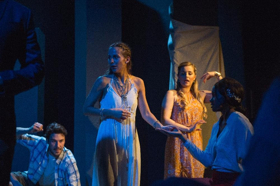 "The story was over until it wasn't."
by Death in The Briefly Dead
The world premiere of The Briefly Dead is now being presented at 59E59 Theaters through December 10th. Written by Stephen Kaliski and directed by Elizabeth Ostler, this reimagined Greek tragedy has clever modern touches that create an original theatrical experience. Produced by Adjusted Realists, audiences will recall their recent production at 59E59 Theaters, Gluten!
In the show, King Admetos' beloved wife, Alcestis has been brought back to life. But she returns to her earthly existence without the benefit her memories or her soul. With the encouragement and support of the king and others, Alcestis attempts a difficult adjustment to the world around her. This is not the only dilemma. The kingdom is in a state of serious conflict and King Admetos is soon forced to face his fate.
The cast completely captures the mood and the intensity of The Briefly Dead. The company features Mia Isabella Aguirre as Death; Jenna Zafiropoulos as Alcestis; Ben Kaufman as Admetos; Sofiya Cheyenne as the neighbor, Phyllis; Kristin Fulton as the king's assistant, Aura; Paul Hinkes as Heracles; Katie Proulx as Alcestis' sister, Zena; and Sarah Wadsley as Alcestis' best friend, Kyra.
The Design Team has done a very fine job of bringing the production to the stage with set design by
Kyu Shin
; lighting and sound design by Jessica Greenberg; and costume design by Peri Grabin Leong. The original music is composed by
Steve Smith
. Katie Proulx is the choreographer. The Production Stage Manager is Gabbie Ambrus.
The Briefly Dead uses an inventive mix of live actors, shadow puppets, and music. It is an entrancing show, an unconventional story that is well suited to the 59E59 Theater's intimate performance space.
Produced by Adjusted Realists, The Briefly Dead is being presented for a limited engagement through Sunday, December 10. The show runs for 1 hour and 30 minutes with no intermission. The performance schedule is Tuesday - Thursday at 7:30 PM; Friday at 8:30 PM; Saturday at 2:30 PM and 8:30 PM; and Sunday at 3:30 PM. Performances are at 59E59 Theaters (59 East 59th Street, between Park and Madison Avenues). Single tickets are $25 ($20 for 59E59 Members). To purchase tickets, call Ticket Central at (212) 279-4200 or visit http://www.59e59.org/.
Photo Credit: Brandon Saloy