BWW Review: SMALL WORLD at 59E59 is Totally Fascinating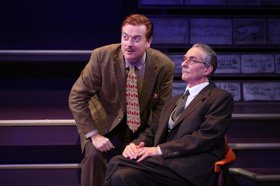 "My Pluto lives in Hades, yours lives in a doghouse."
By Igor Stravinsky in Small World
Small World is an insightful and appealing play, one that will challenge your ideas about art in its different forms. Written by Frederick Stroppel and directed by Joe Brancato, the New York City Premiere is now onstage at 59E59 Theaters. This two-hander is an absorbing, entertaining, and informative show.
Small World reimagines conversations between Walt Disney and Igor Stravinsky. When Disney is in the process of producing "Fantasia," he meets with Stravinsky to discuss the use of the composer's masterpiece, "Rite of Spring." The two men's artistic visions are vastly different as Stravinsky finds Disney's animation of his composition offensive. As time progresses, the men continue to meet, sharing discussions that touch upon their artistic sensibilities, commercialism, the effects of politics and culture on their art, and the future of their work. This behind the scenes look at the work and attitudes of two renowned geniuses will captivate you from the first moment to the last.
The two characters in Small World are so genuine, you will think that you are in the room with Walt Disney and Igor Stravinsky. Disney, played by Mark Shanahan is a robust, clever, and imaginative individual who contrasts sharply with Stravinsky, the maestro who is serious and determined played by Stephen D'Ambrose. Shanahan and D'Ambrose's portrayals are spot-on.
The Creative Team has brought Small World to life on the 59E59 Theater stage with scenic design by James J. Fenton; assistant scenic design by Julianne Reed; costume design by Patricia E. Doherty; lighting design by Christina Watanabe; sound design by William Neal; properties by Buffy Cardoza. Casting is by Cindy Rush. The Production Stage Manager is Michael Palmer.
See Small World and gain a fascinating view of Igor Stravinsky and Walt Disney, two of the 20th Century's most significant and influential artists.
Small World begins performances will be performed for limited engagement through Saturday, October 7. The run time is 1 hour and 20 minutes with no intermission. The performance schedule is Tuesday - Thursday at 7:15 PM; Friday at 8:15 PM; Saturday at 2:15 PM & 8:15 PM; and Sunday at 3:15 PM & 7:15 PM. Tickets are $25 - $35 ($24.50 for 59E59 Members). To purchase tickets, call Ticket Central at (212) 279-4200 or visit www.59e59.org.
Photo Credit: Carol Rosegg