Click Here for More Articles on Avenue Q
AVENUE Q Announces Spring Fling In Observation Of WORLD PUPPETRY DAY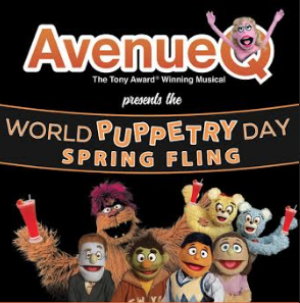 AVENUE Q - the Tony Award-winning Best Musical that features a cast comprised of people and puppets - will celebrate WORLD PUPPETRY DAY on Wednesday, March 21, 2018 with what is to be an unprecedented large gathering of professional and amateur puppeteers and their puppets for a special performance and post-show soirée at New World Stages (Off-Broadway, 340 West 50th Street), starting at 8:00PM.
The coming-of-age musical comedy, which will soon celebrate its 15th smash year of performances in NYC on July 31st, proudly announces the WORLD PUPPETRY DAY SPRING FLING. Puppeteers are invited to bring their own (hand-held size) puppet to the event. Patrons may also buy tickets at the New World Stages box office for a discount on Wednesday 3/21.
Additionally, all Avenue Q goers are welcome to stick around afterwards at the New World Stages lower-lobby bar for a post-performance party that will include a specialty puppet punch and boogie down to a puppet playlist, featuring such classics as "I'm Your Puppet" (Marvin Gaye), "Happy Puppet" (10,000 Maniacs), "Puppet Boy" (Devo), and "No Strings Attached" (*NSYNC).
Presidential Puppet Donald Trump is scheduled to attend.
Tickets available via TelechargeOffers; Phone - 212.947.8844; or in person at: New World Stages Box Office (340 West 50th Street). USE PROMO CODE: AQWPD18 for $45 tickets. $30 tickets are available at the door one-hour prior to show time when accompanied by a puppet. Free lap seating offered to all hand-held size puppets.
ABOUT Avenue Q:
AVENUE Q is the hilarious and internationally acclaimed musical about a group of 20-somethings - people and puppets alike - who move to New York with big dreams and tiny bank accounts. Together they live as neighbors on a rundown block in NYC as they try to discover their purpose in life. The musical's characters include Princeton, Kate Monster, Trekkie Monster, Lucy The Slut, Nicky, Rod, Gary Coleman, the Bad Idea Bears, Brian and Christmas Eve.
Over the course of its 14 years, the Avenue Q cast and puppets have been featured 3 times on GOOD MORNING AMERICA (including a mock Presidential debate between George W. Bush and John Kerry puppets live on-air), LIVE WITH REGIS AND KELLY (including the debut of Regis Philbin, Kelly Ripa and Michael Gelman puppets), LATE NIGHT WITH Jimmy Fallon, THE VIEW, JEOPARDY!, HOLLYWOOD SQUARES, $10,000 PYRAMID, ABC's 20/20, numerous appearances on the TONY AWARDS telecast as performers and presenters, QUEER EYE FOR THE STRAIGHT GUY, MTV, VH1, in promotional "Get Caught Reading" campaigns, FOX BUSINESS NEWS, on CBS SUNDAY MORNING, NEW YORK 1 NEWS, promotional spots for WCBS-TV 2, as color commentators for CBS-TV's national coverage of the Macy's Thanksgiving Day Parade, CNN, etc.
Celebrity visitors to
Avenue Q
have included President
Bill Clinton
,
Hillary Clinton
,
Chelsea Clinton
,
Tom Hanks
,
Rita Wilson
,
Judi Dench
,
Michael Moore
,
Hilary Swank
,
Nicole Kidman
,
Bette Midler
,
Diana Ross
,
Billy Crystal
,
Carol Burnett
,
Charlton Heston
,
Kirk Douglas
,
David Bowie
,
Ben Folds
,
Clive Davis
,
Frank Oz
,
Joan Rivers
,
Glenn Close
,
Gloria Steinem
,
George Lucas
,
Hal Prince
,
Mike Nichols
,
Diane Sawyer
,
Barbara Walters
,
Katie Couric
,
Howard Stern
,
Hugh Jackman
,
Stephen Sondheim
,
Jessica Alba
,
Jake Gyllenhaal
,
Janet Jackson
,
Jimmy Fallon
,
Ben Stiller
,
Christine Taylor
,
Anne Meara
,
Jerry Stiller
,
Macaulay Culkin
,
Lauren Bacall
,
Matt Stone
,
Trey Parker
,
Jeffrey Katzenberg
,
Robert Zemeckis
,
Bruce Vilanch
,
Sean Penn
,
Elijah Wood
,
Bobby McFerrin
,
Martin Lawrence
,
Megan Mullally
,
Danny DeVito
,
Rhea Perlman
,
David Hyde
Pierce,
Nathan Lane
,
Rosie O'Donnell
,
David Schwimmer
,
Angela Bassett
,
Jeff Daniels
,
Zac Efron
,
Christian Slater
,
Kathleen Turner
,
Uma Thurman
,
Sarah Michelle Gellar
, and
Tina Fey
. AVENUE Q has music and lyrics by
Robert Lopez
and
Jeff Marx
, book by
Jeff Whitty
, and is directed by
Jason Moore
. Based on an original concept by
Robert Lopez
and
Jeff Marx
, with puppets conceived and designed by
Rick Lyon
,
Avenue Q
has musical supervision by Stephen Oremus, choreography by
Ken Roberson
, scenic design by
Anna Louizos
, costume design by
Mirena Rada
, lighting design by
Howell Binkley
, and sound design by
ACME Sound Partners
. Music director is
Karl Mansfield
. Animation design is by
Robert Lopez
, incidental music is by
Gary Adler
, and casting is by
Cindy Tolan
&
Adam Caldwell
.
Christine M. Daly
is Production Stage Manager. The current cast of
Avenue Q
includes
Ben Durocher
,
Dana Steingold
,
GRACE CHOI
,
Jason Jacoby
,
Nicholas Kohn
,
Danielle K. Thomas
,
Kerri Brackin
,
Jed Resnick
,
Katie Boren
,
Michael Liscio
, Jr. and
Imari Hardon
. AVENUE Q became an overnight sensation on Broadway in July 2003 following a sold-out engagement -- extended four times -- presented Off-Broadway by
Vineyard Theatre
and
The
New Group
. AVENUE Q is produced at New World Stages, as it was on Broadway, by:
Kevin McCollum
,
Robyn Goodman
,
Jeffrey Seller
, The
Vineyard Theatre
and
The
New Group
. At the 499-seat theatre at New World Stages,
Avenue Q
performs Mondays, Wednesdays, Thursdays and Fridays at 8:00pm, Saturdays at 2:30 pm and 8:00pm, and Sundays at 3:00pm and 7:30pm. Tickets can be purchased through Telecharge by calling 212-239-6200 or visiting
www.telecharge.com
. A limited number of rush tickets are available at the box office for each performance.
For more information please visit: AvenueQ.com/WPD