Click Here for More Articles on REGIONAL - Virginia - Central VA
BWW Review: Virginia Repertory Theatre's Hypnotic ONCE is One of the Region's Best Musicals in Years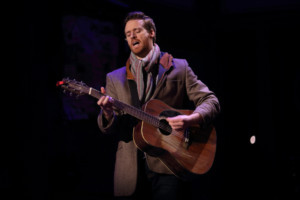 Believe the hype. Virginia Repertory Theatre's production of ONCE raises the bar for professional theatre and pushes the boundaries of what audiences expect from a musical.
Adapted from the 2007 Irish-indie film by John Carney and featuring the Academy Award-winning "Falling Slowly," ONCE is the bittersweet story of two aching souls, a gloomy guitarist and a sincere pianist, who connect through music. The young Irish guitarist, generically named Guy (Ken Allen Neely), and the Czech pianist named Girl (Katherine Fried) seem destined to create great music together. Glen Hansard and Marketa Irglova's score is intoxicating and raw.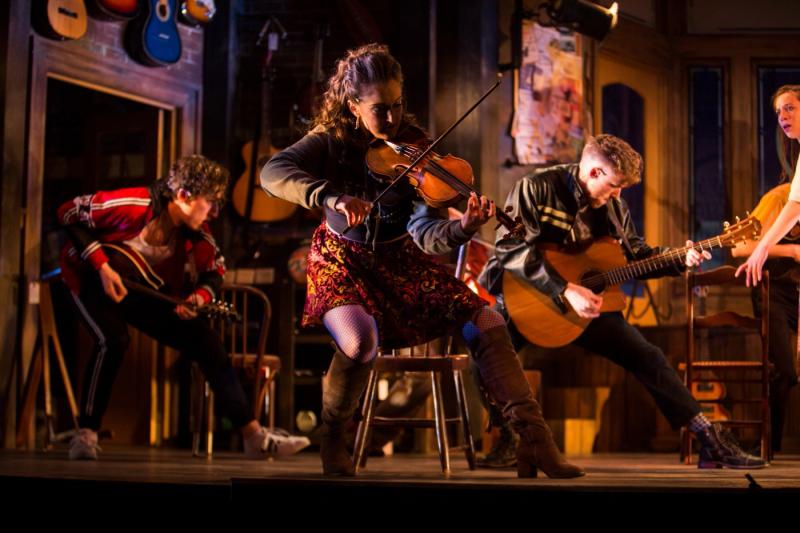 Beautifully staged by Artistic Director Nathaniel Shaw, ONCE features triple, possibly quadruple-threat, Broadway-caliber talent. Almost every member of Shaw's supremely gifted and charming cast doubles as the orchestra, playing down-on-the-corner instruments like fiddle, banjo, accordion, guitar, drums and more. Some even playing multiple instruments. The group never misses a single note under the expert musical direction of J. Michael Zygo. The reprise of "Gold," sung in perfect acapella, is something really special. Shaw's fluid choreography is frequently used to seamlessly connect scenes.
William James Mohney's set, adorned with musical ornaments and memorabilia, is masterful. ONCE also showcases Joe Doran's moody and stunning lighting, some of his finest work to date. The perfect balance of Derek Dumais' sound design cannot be understated. Amanda Durst's outstanding dialect work and Ruth Hedberg's costumes add authenticity.
Each member of the cast has spotlight moments. Musical Director J. Michael Zygo, from the original Broadway cast, is featured as the Emcee and has a gorgeous solo during "The Moon." Trevor Lindley Craft and Jon Patrick Penick bring with them much of the show's humor. Andrew Nielson is wonderfully cast as the awkward Bank Manager. Kelly Kennedy and Christopher Seiler are wonderful as Baruska and Da.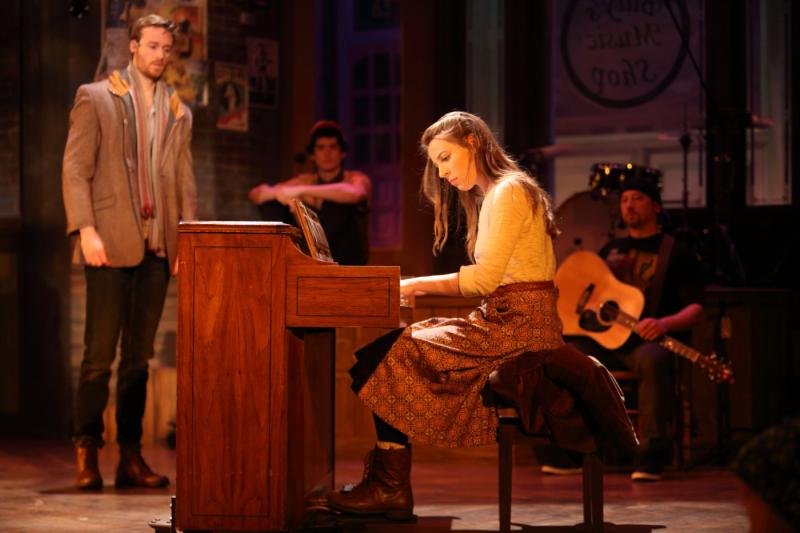 Ken Allen Neely and Katherine Fried have natural chemistry as Guy and Girl. Nealy's Guy, at first despondent, singing the acoustic solo "Leave," salvages his passion and brings powerful vocals to "Say It To Me Now," one of the production's many highlights. As the equally-conflicted, Girl, Fried gives a nuanced and layered performance. While her vocals are restrained in the breakout hit, "Falling Slowly," Fried breaks out in the soaring and haunting rendition of "The Hill," showcasing a voice that begs for a much larger concert hall.
ONCE is filled with incredible music and performances that should not be missed. This production has strong language and is not recommended for young children.