New Zealand Ballet Will Stream A MIDSUMMER NIGHT'S DREAM After Cancelling Tour
The stream runs 3 December – 12 December.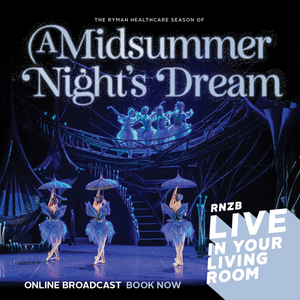 After high demand and a successful Wellington run of socially distanced performances, the Royal New Zealand Ballet will bring The Ryman Healthcare Season of A Midsummer Night's Dream for purchase and viewing Live in your Living Room!
Due to COVID-19 lockdowns in New Zealand this spring, the company couldn't take the ballet on national tour, but they are now streaming it for audiences to enjoy across Aotearoa and worldwide. Following the success and feedback from the Ballet's previous digital broadcast events, you'll be able to experience A Midsummer Night's Dream up close, with live stage footage enhanced by specially shot close-ups.
Choreographed by the late Liam Scarlett, A Midsummer Night's Dream was an overnight sensation at its premiere, with capacity audiences throughout its first New Zealand tour. Distinguished New Zealand designer Tracy Grant Lord created the glorious vision of Shakespeare's iconic characters and enchanted wood, illuminated with lighting by Kendall Smith. Former RNZB Music Director Nigel Gaynor's score adds to Mendelssohn's wonderful overture, written when the composer was just 16, together with his incidental music to the play and arrangements of Mendelssohn's chamber music, piano solos and other orchestral works, to create a two act ballet.
The digital broadcast features the NZSO recording from 2015.
The stream runs 3 December - 12 December.
Learn more and book at https://rnzb.org.nz/shows/a-midsummer-nights-dream-live-in-your-living-room/.