BWW Review: FIRST DATE at the Gryphon Theatre - Simple, Sweet and Entertaining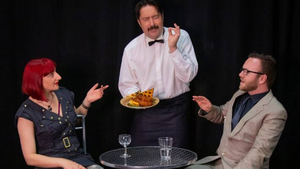 Reviewed by Lindsey Rusling
First Date is a romantic, musical comedy with book by Austin Winsberg of Gossip Girl fame and music and lyrics by Alan Zachary and Michael Weiner based on personal experiences with blind dates.
Opening with a group sharing their dating disasters "The One", the set becomes a Manhattan restaurant where a nervous Aaron (Chris McMillan) is tentatively entering the dating world after being left at the altar by his voluptuous harpy of a fiancé (a flawlessly seductive Georgie Sullivan). Enter the cynical and bohemian Casey (Kirsty Huszka) a commitment-phobe with a worldly knowledge of the dating game.
Shown to their seats by an attentive waiter (Carl Johnstone), the couple engage in pleasantries - "First Impressions" - until Casey casually reveals that she is not Jewish prompting a hilarious, stereotype-filled song "The Girl For You" starring a dead grandmother (Kay Campbell skilfully embodying the "You never call! You never write!" Jewish Mother in a suitably outrageous wig) and Aaron and Casey's future dropkick son (Chris Gordon).
Sue Windsor's musical direction is en pointe with slick harmonies from the entire cast ably backed by a talented group of musicians. There is little amplification of vocal here, however, and there were times when it was difficult to hear dialogue or lyrics during some of the more upbeat numbers.
The musical uses spoken thought and flashback to entertaining effect with Casey's sister Lauren (Megan Neill who displays a beautiful clarity, particularly as Aaron's Mother in "The Things I Never Said") and co-worker Gabe (a "Top Gun"-like, macho wingman, Nick Ross) as the voiced inner conscience of our two protagonists.
The ensuing songs comment on the couple's past relationships and current interactions. From the peacenik vibes of "The Awkward Pause", the numerous, frantic alibi messages in "Bailout Song" from Casey's best friend Reggie (a flamboyant Clinton Meneses in a role both he, and the audience, are thoroughly relishing), the hazards of dating when your personal information is all over the internet ("The World Wide Web is Forever") to "The Check" (who should pay the bill at the end of the evening?)
Sandy Brewer has cast this production extremely well and each characterisation is completely believable. It is apparent that the ensemble, popping up in numerous roles Greek chorus style, are; comfortable working together, generous in their support of each other and enjoying the comedy they are bringing to the stage. Johnstone, in particular, shows incredible expertise at gentle, tongue-in-cheek mockery and sizzling comedic timing and Gordon brings energy and verve to every role he undertakes. His commitment to Edgy Rocker Guy was a delight.
It is the leads assured singing, perfect deadpan timing and truthful performance, however, that carries the show. Huszka's charming, attractive and controlled performance off-sets some of the more off-putting aspects of her character and creates a believably complex young woman resigned to dating failure and keeping everyone at arm's length. McMillan's Aaron is absolutely warm, geeky, adorable and eminently likeable which enables us to become emotionally invested in the narrative.
The Gryphon is an intimate, black-box theatre and the set design for First Date is somewhat cramped and literal in its layout which interrupted some of the movement around the stage and meant that the energy and choreography for the larger, production numbers was somewhat stymied. Stripping back the props and using more dramatic and directed lighting could have created even more drama for the piece.
First Date is an unpretentious, funny and sweet musical comedy that is refreshingly uncomplicated and thoroughly entertaining.