BWW Review: The Heat is On with MISS SAIGON at Saenger Theatre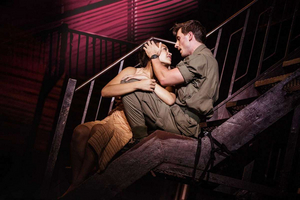 There are few musicals that carry name recognition like that of Miss Saigon. It's a classic that I have personally adored since childhood, and seeing it for the first time on stage was nothing short of magical.
Why is it that so many of our favorite musicals are complete and utter tragedies? (This includes the other classic created by Miss Saigon showrunners: Les Miserables. Sensing a theme?) Miss Saigon, a heartbreaking adaptation of opera 'Madame Butterfly' leaves no heartstring un-tugged.
We begin in Saigon and step immediately into our heroine Kim's new world: an extremely popular brothel. Having just lost her family and village, innocent Kim is the definition of fish-out-of-water. Emily Bautista plays the shell-shocked lead with tender appreciation, and when we first hear her belt out the lyrics, "I have a heart like the sea, a million dreams are in me," we are invested.
It is not long before she finds solace in a disenchanted G.I. named Chris. Feeling numb from the war, Chris falls in instant-love with Kim, later calling her "the one good thing I've found out here." The evening I saw the show, understudy Devin Archer delivered a version of Chris that had everyone crying. His Chris is steady but broken and his interpretation of "Why God Why?" was a highlight of the show.
It's hard to choose a favorite moment in a show like this. Filled with incredible numbers like "The Movie in My Mind," "I Still Believe," and "The American Dream," this touring cast is stacked with talent. Red Concepcion as The Engineer has the stage presence needed to embody the larger-than-life role. Ellie Fishman shines as Ellen in her introspective version of "Maybe." Still, in terms of adjacent leads, I have to credit J. Daughtry for his incredible delivery in the role of John. In a show as depressing as this, J. Daughtry was able to draw out big laughs from the audience, and you cannot help but watch him whenever he takes the stage.
Yes, it's hard to choose a favorite moment. However, after years of burning a hole in my copy of the Miss Saigon CD, I can confidently say that "Kim's Nightmare" will forever set the standard for this show. The helicopter scene is still as impressive as ever, and with the heartbreaking outcries of Kim and Chris weaving through the jostled scene, the whole theatre is left mesmerized and emotionally wrecked. Bautista and Archer are thoroughly impressive in this iconic scene.
Miss Saigon is a classic show that lives up to its legacy. While originally met with controversy, the new revival makes an effort to correct its flaws, and it works. I highly recommend this show. Just... don't forget to bring tissues.
See this epic love story at the Saenger Theatre through Sunday, January 26th. For tickets and more information, visit www.saengernola.com.