Photos: The Shakespeare Theatre of New Jersey Presents NOISES OFF
The Shakespeare Theatre of New Jersey's production of Noises Off by Michael Frayn, the quintessential farce about the theatre and the antics on stage and behind-the-scenes, is now on stage and continues through August 30th. Noises Off is performed on the Shakespeare Theatre Main Stage - The F. M. Kirby Shakespeare Theatre, 36 Madison Avenue at Lancaster Road in Madison. For tickets, call the box office at 973-408-5600, visit www.ShakespeareNJ.org or email boxoffice@shakespearenj.org.
Frayn's other hit Broadway productions include Copenhagen and Democracy. Frayn got the idea for the play while watching one of his plays from the backstage wings. "It was funnier from behind than in front and I thought that one day I must write a farce from behind," Frayn noted. Frayn's Olivier Award-winning Noises Off pulls back the curtain on a third-rate troupe of actors performing the sex-farce Nothing On, where backstage romance, slamming doors, missing actors and a plate of sardines lead to hilarious on-stage chaos.
In Noises Off, audiences see Nothing On performed three times - once in a disastrous dress rehearsal, once from backstage, and once again later in the run! Frank Rich, of the New York Times, said that Noises Off "is, was, and probably always will be the funniest play written in my lifetime."
Photo credit: Gerry Goodstein

Harriet Harris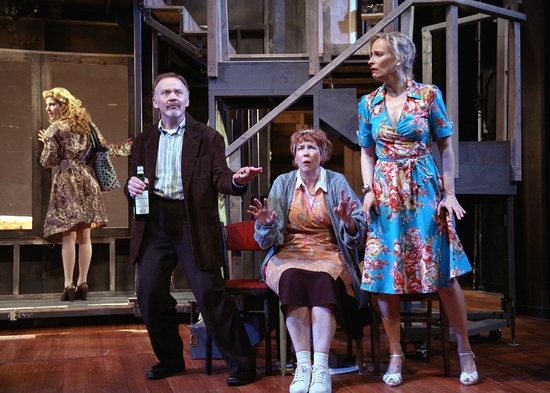 Katie Fabel, Andrew Weems, Harriet Harris and Laila Robins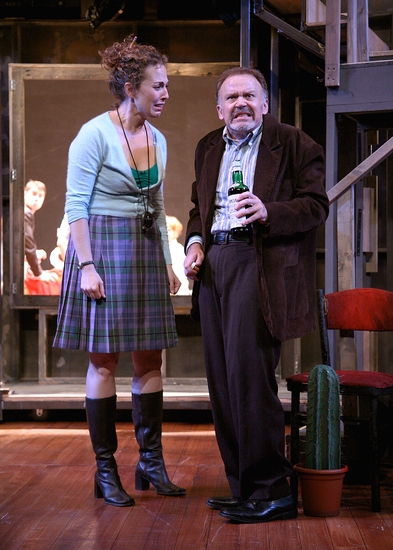 Jessica Ires Morris and Andrew Weems