BWW Review: SIGNIFICANT OTHER Is More Significant Than Other at Black Box PAC in Teaneck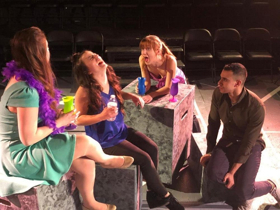 Editor's Note: Broadwayworld welcomes this guest review by Matthew Michaels. Matthew is a writer from Jersey City. He has previously written about sports, personal finance, travel, and careers but is now taking on the dramatic world of theater. You can follow Matthew Michaels on Twitter @MichaelsMatthew.
"Livin' might mean takin' chances, but they're worth takin'. Lovin' might be a mistake but it's worth makin'," LeAnne Womack sings in her hit song "I Hope You Dance," which happens to be the soundtrack of Kiki's first dance with her newly wedded husband.
While Jordan, Vanessa, and Laura, Kiki's closest friends, dismiss the hokey tune for its artificial sentimentality, these lyrics contain the message of SIGNIFICANT OTHER, a message of hope and optimism in the face of uncertainty and disappointment.
After playing on Broadway in 2017, Joshua Harmon's millennial romantic comedy is currently performing at Teaneck, New Jersey's Black Box PAC through February 10.
SIGNIFICANT OTHER centers around a young gay man, Jordan (played commandingly by Alex Hughes) and his trio of over-the-top platonic girlfriends, Kiki, Vanessa, and Lauren (portrayed by Sara Giacomini, Larissa Terese, and Danielle MacMath with the right proportion of humor and depth). Without resorting to stereotype, Hughes adroitly brings to the stage the mental anguish and struggles of a late-20s, single, gay man in a heteronormative society hung up on finding love.
The driving force behind the play, the struggle to find "the one," the perfect soulmate, is an old standard but the rest of the play is refreshingly modern. As his friends marry, they permanently enter coupledom and emotionally desert Jordan who begins realizing that in the absence of romantic love, the love of friends is inadequate.
Jordan develops a crush on new colleague Will (Tevin Barnes). During the description of Will's soaked body at a pool party, one may be forgiven for thinking that Jordan is talking about a sculpture by Rodin or a Rubens' painting. By describing what he is looking for in artistic terms, Jordan is faced with delusions of perfection and must face the chasm between expectation vs. reality.
Jordan's grandmother Helene (Cassandra Guglielmo) adds dark humor as the widowed octogenarian discusses methods of suicide before assuaging her grandson that she is merely aware of all options.
She also serves the purpose of offering well-intentioned but worthless guidance caused by generational differences. Harmon makes it known that millennials want the same things as their predecessors- love, happiness- but the methods of achieving this for Jordan and his peers is substantially different and new, thus rendering any advice from older generations useless to millennials.
His three girlfriends also offer Jordan conflicting advice, often by talking over each other. Kiki, in particular, is full of herself, constantly self-congratulatory for knowing best, backed up in her assumption that being the first in the group to be married makes her an expert. Here, Harmon's wit and cynicism shine through brightest.
With a small cast of six, including ensemble member Sean Mannix, SIGNIFICANT OTHER takes turns delighting and biting, culminating in an explosive climactic scene between Laura and her gay best friend at the former's bacherlorette party.
With a simplistic set from Nimon Ibrahimaj and production design by Steve Eiman, this small play in a small theater comes to great size. Director Matt Okin effectively maximizes the space and uses every angle and side of the theater in the round. SIGNIFICANT OTHER is a real treat with pointed comedy and thought-provoking commentary.
Black Box PAC is located at 266 Walraven Drive, Teaneck, NJ 07666. SIGNIFICANT OTHER will be performed for the next two weekends through February 10th. Performance times are Thursday at 8:00 pm; Friday at 8:00 pm; Saturday at 8:00 pm; and Sunday at 2:00 pm. For tickets, please visit http://www.blackboxpac.com/. To contact the Box Office or for additional information, please call 201.357.2221 or contact blackboxpac@gmail.com.
Photo Credit: Steve Eiman.

Related Articles View More New Jersey

Stories

Shows