Interview: Meet the Cast of CURIOUS GEORGE at The Growing Stage in Netcong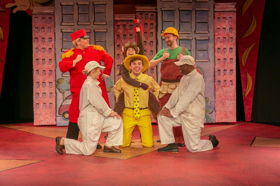 The Growing Stage, The Children's Theatre of New Jersey, located in the historic Palace Theatre in Netcong, is currently presenting Curious George-The Golden Meatball through March 31. This exciting show for the whole family is directed by the Theatre's Audience Development Director, Danny Campos. Broadwayworld.com had the opportunity to ask a few questions of the show's stars. They include cast members Davis Cameron Lemley as Chef Pisghetti; Will Brockman as The Man in the Yellow Hat; Gregory Banks as Phinneas T. Lightspeed; Melody Lieberman as Doorman; Sara Giacomini as George; and Jenna Morris as Netti.
What is one of the most exciting elements of performing in children's theatre?
Davis: I would say one element in children's theatre I enjoy is my expression. My performance will always be based on how expressive I can become with each role I portray. In addition, even though I cannot say I am a proud dancer, I low key thrive on mastering the choreography and being able to give the kids something to really be engaged with on stage.
Will: Children's theatre reconnects me with the roots of my interest in theatre. Giving children the gift of live performance is beyond valuable, and hopefully this instills a love of the arts within them that grows with them as they get older.
Gregory: It's simply knowing that there is a little boy in the audience adoring what they are watching and hopefully generating a love for theater. I remember being a child and watching musicals every Friday wishing it could be. So if I can inspire young ones to love theater I have done my job.
Melody: The response of the children in the audience is always exciting. I LOVE making people laugh, but making children laugh is the best! I also love when they find things funnier than we (the cast) ever thought, or when the children audibly respond to questions we ask each other on stage in character!
Sarah: Nothing beats coming on stage and hearing the children enjoying the performance! It is especially rewarding when it is a well-known show or based on a book. I find the children able to connect more and truly love what they're seeing if they are already a fan or have exposure to the subject.
Jenna: Hearing the laughter and the sounds of children enjoying what they are seeing. They usually make comments and noises in the most unexpected places during a show, so hearing what is funny or interesting to them is such a treat!
Tell us a little about your role in the show!
Davis: I play the role of Chef Pisghetti! He is a passionate Italian chef and lives to cook for his hungry public. He is surrounded by so much love and support, which perpetuates his confidence in the food he makes, along with the help of his close friend - George
Will: I play the Man in the Yellow Hat, who is George's owner and friend. The Man in the Yellow Hat is a father figure of sorts for George and cares deeply for him. Through all of George's crazy antics, the Man in the Yellow Hat knows that everything comes from a good place in George's heart.
Gregory: I play Phinneas T lightspeed and he is sly entrepreneur. He is in town to sell his Amazing Meatball o Matic 9000 in hopes of becoming the new "Meatball Master" On N Avenue.
Melody: I actually play SIX characters, with my main one being Doorman. The Doorman is known by all, super friendly, and always trying to help! I also play a cook, a crowd member, an American Tourist, a Delivery Person, and my favorite, Meatball Contest host Frankie Sidecar!
Sarah: I play George in Curious George - the outgoing, energetic, chittering monkey. I read the books when I was younger and I've always found George to be so fun. I don't speak full words or sentences in the show - I chitter and use a lot of vowels and monkey sounds. I love getting to run, tumble, and "monkey" around on stage. It's been a blast and a challenge bringing this curious little monkey to life.
Jenna: I play Netti in addition to several other supporting roles. Netti is a kind Italian Chef who really wants to see Chef Pisghetti believe in himself and share his famous meatballs with the world!
Why do you think that Curious George is an important show for young audiences?
Davis: George demonstrates passion and love for everyone and everything. Children can always learn from the little monkey that is so curious about the world around him. He tries everything and does it with love in his heart. Everyone on this planet could use a little Curious George in their hearts.
Will: Curious George is a great show for young audiences because it teaches you the value of being a good friend. Our connections to others are what keep us afloat in life. Learning to be loyal and trustworthy from a young age will set children on a good path for the rest of their lives.
Gregory: Young minds need to know it is alright to explore and be curious! If you're not curious like curious George you might miss out on something spectacular.
Melody: George reminds us all how to make everyday fun. He celebrates the curiosity, imagination, and pure happiness that comes with the innocence of being a child. In this particular story, George shows that if you try your best and believe in yourself, anything can happen!
Sarah: George always puts other people first and he puts love and care into everything he does - and always has a lot of fun doing it! I think that is an important message to present to young people. If you put your best foot forward and are always kind - lots of fun and great things are available for you.
Jenna: It shares with young audiences the importance of being curious in life, being brave, and doing the best that you can.
The cast was in total agreement about the opportunity to perform at The Growing Stage. Davis called it "wonderful," while " Will commented that it was an "amazing experience." Greg said "it feels like home" and Jenna calls the Theatre a "special place." Sarah commented that her fellow cast members are "welcoming, caring, and professional." Melody pointed out that it's the 100th Anniversary of the Palace Theatre venue and she said, "I love being a part of this history."
To learn more about the members of the cast of Curious George, you can follow Davis Cameron Lemley on Facebook at Davis Cameron Lemley and on Instagram - daviscameron94. Follow Will Brockman on Instagram: @wgbrockman. Gregory Banks is on Instagram @down_bytheBanks. Follow Melody Lieberman in Instagram @miss__melody.
The Growing Stage is located at 7 Ledgewood Avenue, Netcong, NJ 07857.
Ticket prices for Curious George-The Golden Meatball are $28 for adults, $22 for seniors and $18 for children. Shows will be through March 31 on Saturdays and Sundays at 4:00. To purchase tickets, please visit www.growingstage.com or call (973) 347-4946. Group rates are available.
Photo Credit: Jerry Dalia and Logo Courtesy of The Growing Stage