BWW Review: An Eye-Popping ALADDIN at Shea's Buffalo Theatre
An eye-popping event that only Disney could produce...That is the spectacle ALADDIN that is completing it's run at Shea's Buffalo Theatre. This stage adaptation of the family favorite film is packed with more visual effects and glorious costumes than one is likely to see in 3 other Broadway shows combined.
The popular score by Alan Menken and lyrics by Howard Ashman, Tim Rice and Chad Beguelin have had children gleeful for years, going on that favorite magic carpet ride (which truly is magically staged in this first rate national tour). The tale of a young beggar Aladdin who falls in love with the out of reach princess Jasmine has been told many times before, and book author Chad Beguelin has included the evil Jafar and his goofy sidekick Iago for both villainy and comedic effects.
The brilliant Stage Director/Choreographer Casey Nicholaw, who has brought us such gems as THE BOOK OF MORMON and THE DROWSY CHAPERONE, has imbued the evening with so much high power choreography and fast pacing that nary a child could ever say they were bored. There are exploding streamer cannons,gusts of smoke, blasts of fire, and Gregg Barnes' sparkling neon colorful costumes.
On Thursday evening understudy Pierre Marais took the title role. His strong voice and charming manner were a perfect fit and matched by his effortless dancing. Lissa deGuzman recently joined the tour as Jasmine, and was lovely as the perky self sufficient princess. Standby Korie Lee Blossey jumped in as everyone's favorite Genie of the lamp. Mr. Bossey has charisma and charm to spare, and despite being slightly taxed by the vocals and winded with acrobatics of the role, he was an audience favorite.
Jonathan Weir was spot on as the nefarious Jafar, slithering around the stage and reveling in his evilness. Meanwhile his sidekick Iago, played by the hilarious Jay Paranda landed every one of his groan inducing jokes perfectly.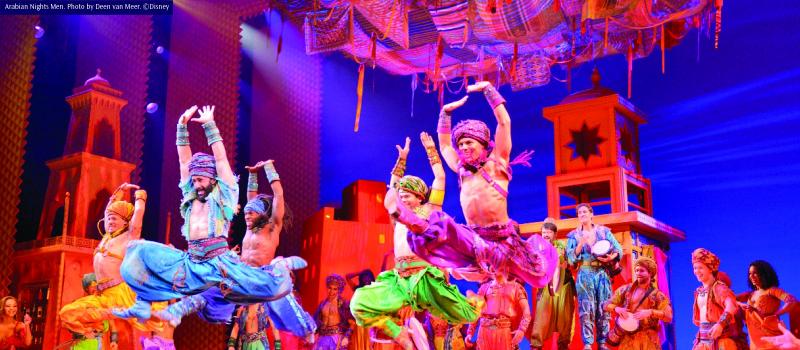 The large ensemble executed the intricate and exotic dance moves and postures one comes to expect from a tale of the Arabian nights--harkening back to visions of that other famous Arabian musical, KISMET. Nicholaw has created fascinating dances, especially notable in the comical sword wielding number "High Adventure."
Bob Crowley has designed picture perfect story book settings that glide on and off stage without being intrusive. His golden and bejeweled scenery for the showstopper "A Friend Like Me" was dizzying in it's detail, which only added to the fun.
It is hard to fault a production that brings so much joy and spectacle to so many. What one must do is remember that shows of this ilk are truly stage adaptations that can't possibly fully succeed in translating a cartoon character to real life. Our familiar two dimensional friends of the silver screen rarely seem like real three dimensional characters on the stage. But with the amount of attention to detail aimed at pleasing it's target audience, DISNEY truly has another hit on it's hands.
ALADDIN runs through Sunday August 19, 2018 at Shea's Buffalo Theatre. Contact sheas.org for more information.
Related Articles View More NationalTours

Stories

Shows