BWW Review: Ludwig's SHAKESPEARE IN HOLLYWOOD Takes TCT Audiences Back to 1934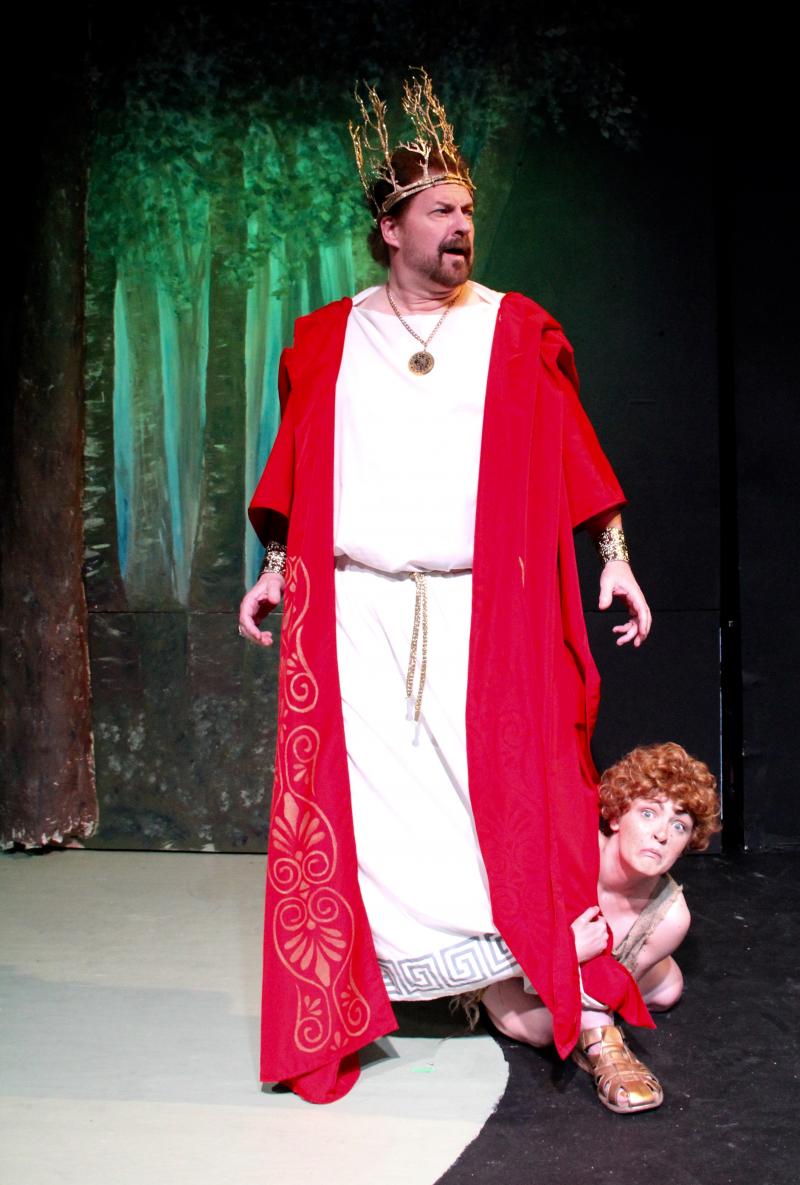 Ever since playwright Ken Ludwig made headlines and won rave reviews for Lend Me a Tenor (his farcical take on the heady world of grand opera - albeit in Cleveland, Ohio - in 1934, which premiered in London's West End in 1986 and on Broadway in 1989), he's worked to once again catch lighting in a bottle, with varying success. His book for the Gershwin musical Crazy For You, based upon the earlier Girl Crazy (1930), is arguably his grandest achievement since then (his Moon Over Buffalo was far less successful, both critically and otherwise), yet with audiences always clamoring for more period laughs from him, Ludwig gamely soldiers on...
Now onstage at Brentwood's Towne Centre Theatre, Ludwig's Shakespeare in Hollywood (not to be confused with the musical Shakespeare in Love, which is based on an Oscar-winning film) once again takes audiences to 1934 to tell the story of the mirthful hijinks surrounding Austrian stage director Max Reinhardt's efforts to film an adaptation of his Hollywood Bowl production of Shakespeare's A Midsummer Night's Dream. Reinhardt's film treatment of the work is, perhaps, more critically acclaimed now than when it was first released back during the heady days of Hollywood's golden era and the director has been lauded with praise for his one and only film that starred several silver screen legends in roles that went creatively against type, presenting the actors with tremendous challenges.
And while opening night jitters may have confounded some cast members and slowed up the works at times, there's still much to enjoy about Shakespeare in Hollywood, not the least of which is Eric Crawford's superb selections for pre-show music and intermission interlude.
James Cagney, Joe E. Brown and Anita Louise were among the biggest names in the starry cast of A Midsummer Night's Dream and Reinhardt supposedly fought to include two actors from his live presentation in their roles on film, including child actor Mickey Rooney and the luminous future-Oscar winner Olivia deHavilland, in what became her film debut. Over the years, the production's backstory has taken on near-legendary status and it seems rife with onstage potential.
For lovers of classic film - or aficionados of screwball comedy - Shakespeare in Hollywood seems a near-perfect fit and director Jim Himelrick and his capable cast certainly do their part to bring the story to life amid the intimate confines of Towne Centre Theatre. With a typically daft Ludwig script to support their efforts, the cast does its best to bring well-known and much-beloved characters to life with a genuine sense of zany abandon and they are, undoubtedly, having a great deal of fun in the process. Despite some first night miscues and general snafus (set changes are overly long and the presence of some very talented young girls as a collection of fairies simply serve to slow things down), the resulting production is often rib-ticklingly hilarious and the look at Hollywood's golden age and its habitues is sure to delight theater-goers who are fans of that wildly entertaining time and place.
Instead of presenting a documentary of the 1934 film process - although the playwright clearly delights in allowing a glimpse at the lives of Hollywood's Warner Brothers, with particular emphasis on studio chief Jack who greenlights the project - Ludwig instead adds some fantasy to the already fantastic tale by bringing in the "real-life" Oberon and Puck to inject more levity and imagination to the tale. What might be more interesting, however, is a particular bit of information that might serve the script more winningly than what's there: Reinhardt spoke no English and, thus, had to rely upon an interpreter to bark out his direction and to serve his artistic intentions. Clay Walker plays Reinhardt with officious, continental flair to be certain, but how much funnier would it be if his direction somehow became lost in translation?
Played with regal bearing by Nashville stage veteran David Arnold, Oberon possesses supernatural abilities that ensure much frivolity and Puck (played by Emma Williams) is, well, puckish enough to keep things more interesting than might be expected, serving up hilarity on the order of every farce ever written. Even if there are no doors to be slammed, there are still generous servings of mistaken identities (thanks to actor the sudden departure of actor Victor Jory - who played the Yankee overseer Jonas Wilkerson in 1939's Gone With the Wind - and the absence of Mickey Rooney, who broke his leg skiing, both in real life and in the play) and much misbegotten romantic entanglement along the way.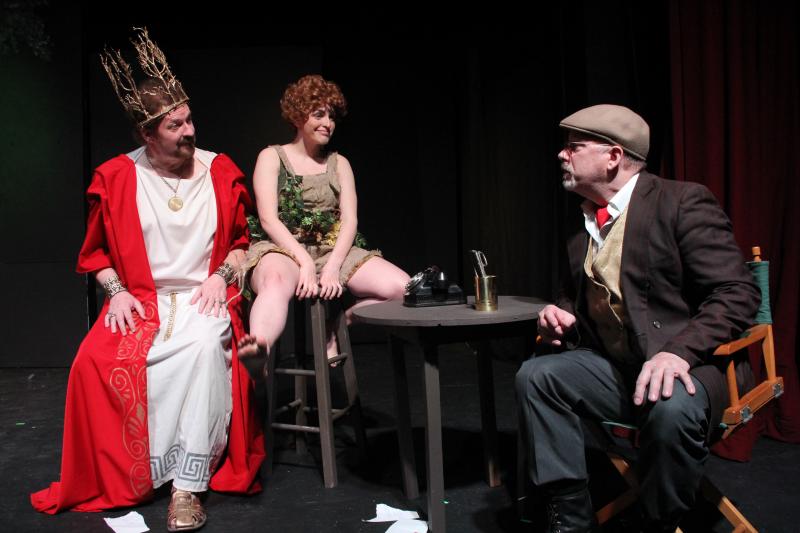 Himelrick's cast enthusiastically recreate the mid-1930s movie set milieu, with Dan Linney scoring as studio head Jack Warner, Laura Mee as starlet Lydia Lansing, Leon Blandon as studio "yes, man" Daryl, Ralph Harris as Joe E. Brown (if you close your eyes, you might even swear Brown is onstage himself, which takes the production into a whole 'nother realm, to be certain) and Will Lasley as Jimmy Cagney and Groucho Marx, exhibiting a well-defined knack for voice mimicry. Christy Hathcock is delightful as Tinseltown scribe Louella Parsons, but it's Erik Dail, as movie censor Will Hays, who very nearly carts off the entire production with his scene-stealing antics and confident performance.
Emily Eytchison plays actress Olivia Darnell with convincing elan and grace, standing in for the very real and still very much alive Olivia deHavilland (we suspect her name isn't used to prevent any legal issues for Ludwig and his team, what with the still-fresh knowledge that deHavilland has sued Ryan Murphy and his team for their use of her personage as a character in Feud: Bette and Joan). She's paired with Adam Bridges as the charming 21st century embodiment of popular 1930s song-and-dance man Dick Powell.
Shakespeare in Hollywood. By Ken Ludwig. Presented by Towne Centre Theatre, Brentwood. Directed by Jim Himelrick. Produced by Karen Himelrick and Clay Jeffries. Running through April 21. For details, go to www.townecentretheatre.com. Running time: 2 hours (with one 15-minute intermission).
photos by Amy Eytchison

Related Articles View More Nashville

Stories

Shows