BWW Review: THE BAKLAWA RECIPE at Centaur Theatre Company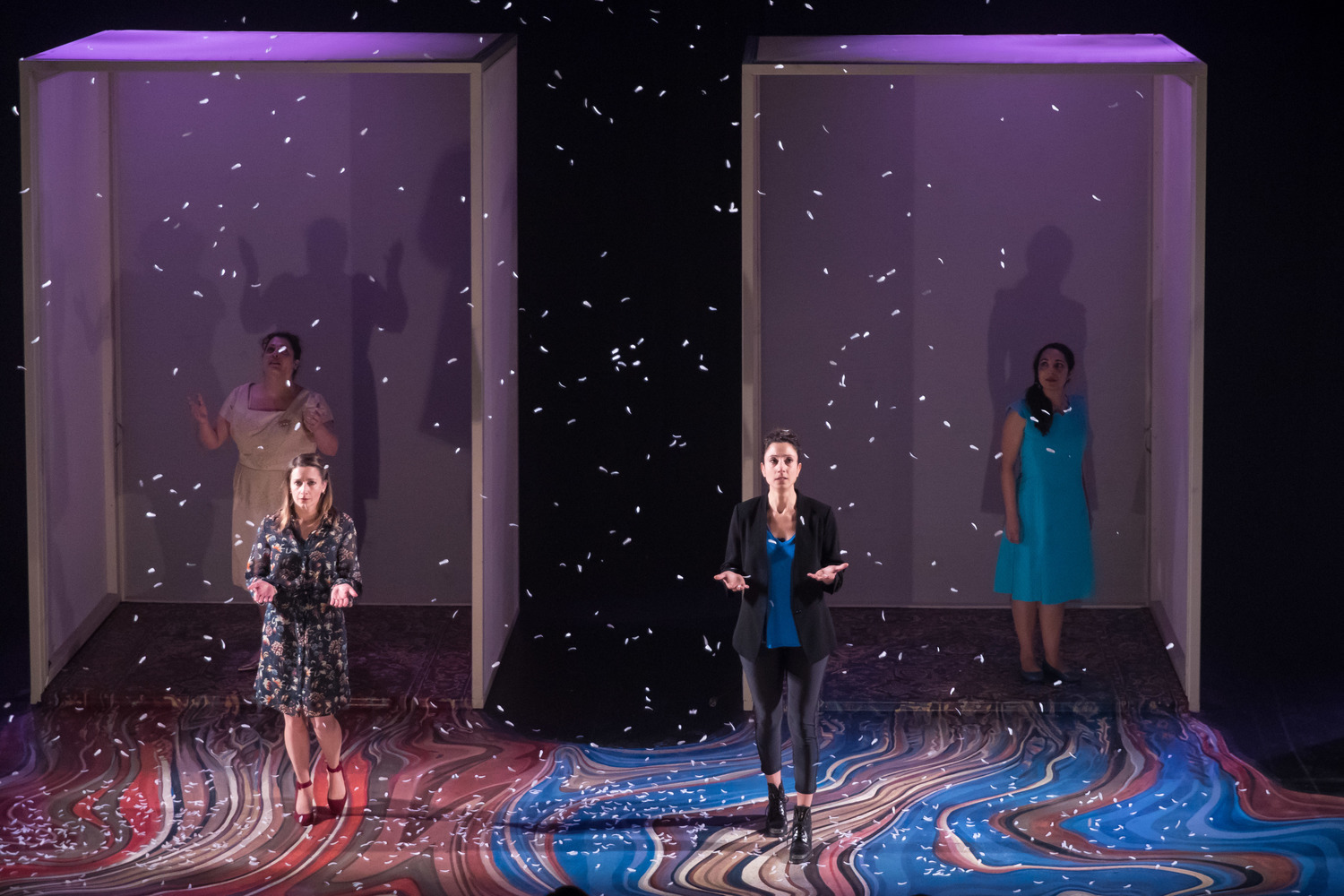 Montreal's Centaur Theatre Company launched its first main stage production of 2018 with the world premiere of The Baklawa Recipe last weekend. Playwright and drama professor Pascale Rafie originally developed this play in French, titling it La Recette de Baklawas. This compelling story pays homage to Rafie's Lebanese heritage and gives voice to a generation of women who have rarely had the chance to be heard. Rafie's strong themes of familial connection are further reinforced by the play's translation into its English version by her half-sister, Melissa Bull.
The story follows the lives of four Lebanese women, two mothers, Rita and Nadia, who immigrated to Ville Saint-Laurent in the 1960s and their daughters, Naïma and Fanny, who were born and raised in Canada. Pascal Rafie navigates 50 years of struggle, pain, joy and complex relationships between first and second-generation women through their shared experience of making Baklawa.
Rita, traditionally-minded and firmly planted in her Lebanese roots, struggles to support her sister-in-law Nadia, who slowly distances herself from their traditional beliefs and embraces a more Canadian lifestyle. While Rita seeks comfort in her former country's customs and ways, Nadia feels confined by the pressure of her Lebanese community to maintain her old identity. She seeks solace in singing and living a freer life, but her desire to explore the hybrid portrait of the Lebanese-Canadian woman is met with disapproval from those around her, leading her down a dark path of depression and despair. Daughters Naïma and Fanny continue to portray this struggle in their own lives, but have the added pressure of coping with the emotional stress created by Rita and Nadia's deteriorating relationship and gossip in the community. The daughters struggle with straddling two cultural identities, a challenge many Third-Culture-Kids often face.
The story unfolds through a series of phone calls, Skype conversations, monologues and short scenes. The lines are poetic in nature and time passes non-chronologically. Rafie truly captures the pain, struggle and ambivalence these women experience while raising important questions about cultural identity, community, traditions and "how to be a woman" in a new country and rapidly changing world. Her story-telling approach, although at times disorienting, allows her characters to communicate complex emotions through layers of poetry, song and soliloquy.
The Centaur has assembled an incredible, Montreal-based artistic ensemble to bring this complicated story to life. Director Emma Tibaldo has developed a cohesive and thoughtful creative team and leads a fantastic all-female cast. Movement designer, Leslie Baker, provides visually striking ensemble numbers, creating powerful statements through punctuated movement. Music composed by Nicolas Royer-Artuso and lighting by Bruno Rafie adds a haunting quality to the story. Eleanor Noble and Anne-Marie Saheb beautifully portray the struggle of second-generation immigrants in their touching presentations of Naïma and Fanny, while Christina Tannous, an accomplished opera singer, lends her beautiful voice to her character Nadia. Natalie Tannous has a standout performance with her touching, deeply personal and authentic representation of Rita. She provides much-needed levity at times and performs a breathtaking monologue towards the end of her character's story arc.
The Baklawa Recipe runs from January 23rd to February 18th, 2018 and offers opportunities for talkback sessions on February 1st and February 4th. This play is a fantastic conversation starter and audience members are strongly encouraged to attend the Saturday Salon sessions to connect with the Centaur's artistic team. Salons for The Baklawa Recipe will take place in the Ted T. Katz Family Trust Gallery, on January 27th and February 10th, 2018 after matinee performances. Tickets for The Baklawa Recipe can be purchased through the Centaure Theare website: https://centaurtheatre.com/tickets.html or by calling the Box Office at (514)-288-3161.
The Baklawa Recipe
January 23-February 18, 2018
453 St-François-Xavier, Old Montreal, QC.
Photo credit: Antoine Saito
Maggie Owen is a writer, educator, and performer residing in Montreal, Quebec. Although born in Maine, Maggie spent most of her childhood and adolescence in (read more...)