BWW Review: MILLION DOLLAR QUARTET at Segal Centre Of The Performing Arts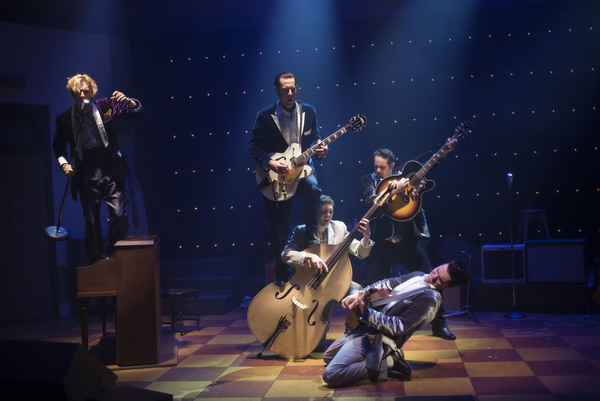 There's a whole lotta shakin' going on this week at The Segal Centre of Performing Arts in Montreal, QC. Million Dollar Quartet, a musical depicting the historical, impromptu jam session of Carl Perkins, Johnny Cash, Elvis Presley and Jerry Lee Lewis opened to a delighted audience this week, prompting patrons to tap their toes, bob their heads and shake their tail feathers.
Million Dollar Quartet is based on a one-day collaboration, facilitated by legendary music producer Sam Phillips, which took place at the famous Sun Records recording studio in December 1956. While Perkins and Lewis were slated to record in the studio that day, Presley and Cash were speculated to have joined the group coincidentally later on. This serendipitous meeting of musical minds spawned an inspired collection of improvised musical compilations and treasured recordings of casual banter between these celebrated rock n' roll icons.
Written by Colin Escott & Floyd Mutrux, Million Dollar Quartet incorporates a variety of musical genres from Rock, Gospel, R & B to Country and includes classics like Blue Suede Shoes, Matchbox, I Walk The Line and Great Balls of Fire. It has been breaking box office records for the past ten years and included a 489-performance run on Broadway, a subsequent opening Off-Broadway, followed by numerous international tours. Notable accolades include a Drama Desk Nomination for Outstanding Musical Review and two Tony Award Nominations for Best Musical and Best Book of a Musical.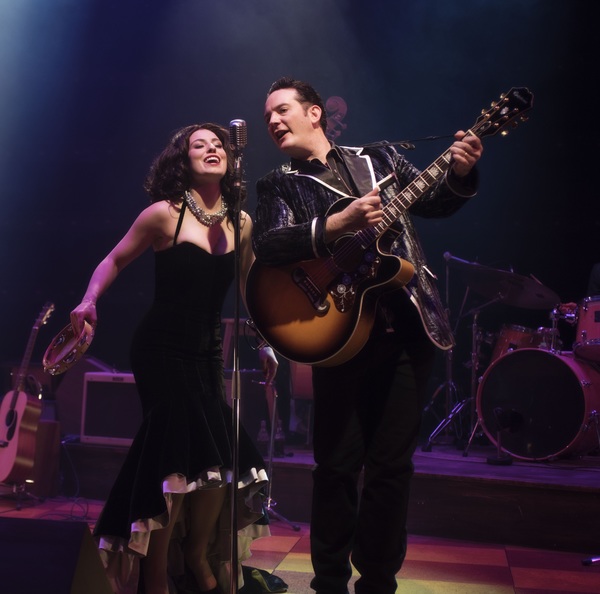 The Segal Centre of Performing Arts has assembled a creative dream team in their production of Million Dollar Quartet. Lisa Rubin, Artistic and Executive Director of the Segal Centre and Director of this show, effectively leads a multi-talented ensemble that has audiences cheering from the moment the curtain opens to the last chord of the second encore. Set designer, Brian Dudkiewicz provides a genuine emersion into the 1950s with his authentic recreation of the one-room Sun Records Recording studio. Steve Marsh navigates the musical powerhouses on stage with ease as Head of Sound and most notably David Terriault, Musical Director, creates a tight, crisp and dynamic sound with his stellar cast of musicians.
James Loye charms as Sam Phillips, scaffolding the plot with energetic narration. Ed Murphy thrills audiences with sensational guitar solos as a cool and smooth Carl Perkins. Reprising the role of Elvis Presley, George Krissa leads the company in a touching rendition of Peace in the Valley and, although missing the mark on the Memphis accent, forces people to their feet with his exciting delivery of Hound
Dog. Sara Diamond, a Montreal native, shares a sultry, sexy rendition of Fever in the role of Elvis' girlfriend Dyanne. While her musical chops are undeniable, she too remained inconsistent in her south-western accent. Sky Seals provides emotional depth with his portrayal of Johnny Cash, particularly in his moving rendition of I Walk The Line. Lastly, Christo Graham, steals the show as Jerry Lee Lewis playing the piano flawlessly with any available appendage and rousing the audience with his show-stopping number Great Balls of Fire.
Million Dollar Quartet runs from April 23rd-May14th, 2017 at the Segal Centre for Performing Arts.
5170, chemin de la Côte-Ste-Catherine Montréal (Québec) H3W 1M7
Tickets can be purchased at www.segal.centre.org .
Due to popular demand, the show has been extended at Place Des Arts from May 17th-21st, 2017. Tickets for the extension can be purchased at www.placedesarts.com .
Maggie Owen is a writer, educator, and performer residing in Montreal, Quebec. Although born in Maine, Maggie spent most of her childhood and adolescence in (read more...)