Review: LEGALLY BLONDE at Ashland Productions
If you enjoy the movie or even if you haven't seen it, you will enjoy this produciton of Legally Blonde, running through February 12.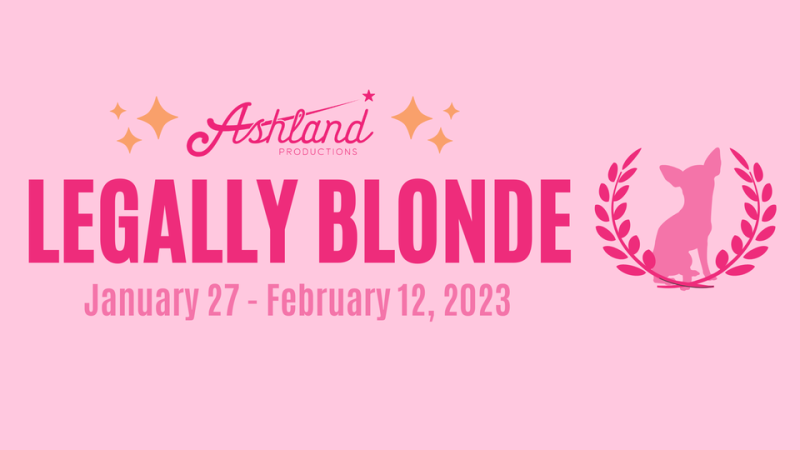 Elle Woods appears to have it all. Her life is turned upside down when her boyfriend Warner dumps her so he can attend Harvard Law. Determined to get him back, Elle ingeniously charms her way into the prestigious law school. While there, she struggles with peers, professors and her ex. With the support of some new friends, though, Elle quickly realizes her potential and sets out to prove herself to the world.
Director: Sharayah Russell
Vocal Director: Aaron VanDanton
Choreographer: Maggie Koller
Assistant Choreographer: Cindy Novy
Stage Manager: Art Kaiser
Assistant Stage Manager: Skylar Fields
Costume Designer: Polly DeZurik
Set Designer: Adam Oster
Lighting Designer: Jacob Lee Hofer
Sound Designer: Born Into Royalty
Props Designer: Holly Forsberg
Deck Manager: Kevin Kurtz
I attended opening night of this production and it was a full house. The set was the pink sorority house that transitioned into Paulette's salon. All of the different scenes had smooth set transitions from Harvard, to Elle's dorm, to the courtroom. The costumes were bright, colorful, and of course stylish!
This show had a large cast which was nice because it made all of the numbers larger and many of the ensemble members played multiple roles with multiple costume changes. The ensemble was not only committing to their characters but you can tell that they were all up there having a fun time with this show.
Jessica Halverson (Elle) did a fabulous job with her portrayal as Elle and her chemistry with Austin Stole (Warner) and Jack Lambert (Emmett) both who were great at their roles and were wonderful. Barbara Young (Paulette) was fun as Paulette and received many laughs. Maddi Napolski (Viviene ) hit that high G# at the end of Legally Blonde Remix and Cindy Novy (Brooke) made it effortlessly through Whipped Into Shape.
The music and the script are great and if you enjoy the movie or even if you haven't seen it, you will enjoy this produciton of Legally Blonde!
For more tickets and show information, please click the ticket link butotn below.