Interview: Eric Hagen, JuCoby Johnson, Isabella Dewis, Tyler Mills of 5 at Jungle Theater In Collaboration With Trademark Theater
Through April 16th.
Jungle Theatre and Trademark Theater proudly present the World Premiere of "5" a new play written by playwright JuCoby Johnson, opening March 11th. Joining Johnson in the cast are Isabella Dawis, Aaron Todd Douglas, Eric Hagen, and Dana Lee Thompson.
Set in the fictional world of Babylon, GA, best friends Jay (Johnson) and Evan (Hagen) run a convenience store in a rapidly changing neighborhood. When a real estate developer (Thompson) stops by with an offer to buy the place, their deep-rooted connection is tested. As the choice to sell weighs on Evan's shoulders, and with limited time to decide, their community is ripped apart and the very foundation of the world around them begins to rumble and quake. An intimate play that races towards apocalyptic ends, 5 revolves around a transformative tale of friendship & betrayal-laying bare what is truly at stake when decisions of self-preservation and community are on the line.
In preparation for the World Premiere of this new play, BroadwayWorld was allowed special access to the cast and creatives behind the show, that is sure to rock Minneapolis when it opens on March 11th. Below, follows the discussion with Eric Hagen (Evan), JuCoby Johnson (Jay/Playwright), Isabella Davis (June), and Tyler Mills (Associate Artistic Director - Trademark Theater).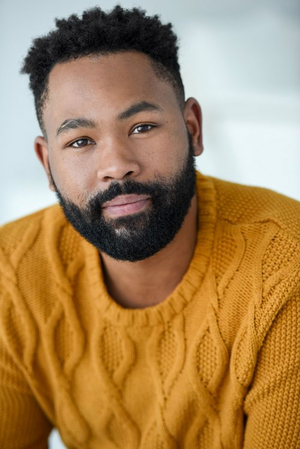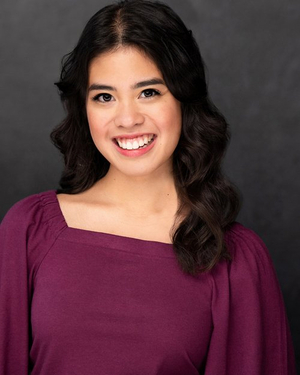 Pictured Top L-Bottom R: JuCoby Johnson, Eric Hagen, Isabella Dewis, Tyler Mills
Bringing a new work to the stage is always an exciting experience. What have you found to be the most rewarding thing(s) that you have done throughout the process?
Eric Hagen: The most rewarding aspect of this process has been getting to dig into highly complex, poetic, and imaginative material with two artists who I have admired for a decade (H. Adam/director and JuCoby). Even in two weeks of rehearsal, the room has felt very alive, joyful, and rigorous. It's been a dream getting to tackle a big, challenging play like this one with long-time friends while getting to know a host of new artists.
Isabella Dawis: Being present for this unique process is its own reward. Everyone involved is supporting this story and each other with real ingenuity and care.
JuCoby Johnson: Being the playwright, this world has existed in my head for so long that it feels euphorically odd to see it coming to life. It's been such a beautiful, gratifying experience to see so many people work so hard to bring the best out of a thing that started as simply an idea. I'm truly grateful, and blessed, and excited to be on the ride.
Tyler Mills: It's been extremely rewarding to get to see this wonderful play develop over the last two years. It was a captivating work from the very first draft, but each new iteration never failed to contain new discoveries and insights about the characters of the play and the world they live in. JuCoby has written a truly remarkable piece of theater.
What are some challenges that you had to overcome in crafting a new piece of theatre?
EH: There is no frame of reference! No one to steal from. I rob other actors of their best ideas whenever I work onstage, but with a brand new piece of material, you don't have anyone to rob. It is very daunting to build a character from the ground up. There is an immense sense of responsibility coupled with a thrilling sense of play that comes with creating a character that has never been inhabited on stage before. However, this also means that you can pour yourself into the character's life. The process of rehearsing and honing this character has, as a result, been a deeply personal one.
JJ: I've never acted in a play that I've also written. It's a unique and intense challenge. There's a battle in my mind, between actor and playwright, for who gets to drive the ship most often. Finding a way for the two responsibilities to co-exist harmoniously is something I'm working on day by day.
What do you hope that the audience takes away from 5, as they leave the theater?
EH: I hope they like the amazing playlist that's getting put together. I also hope that there is a moment--even if it's fleeting--that someone in the audience cherishes someone or something that they are bound to. JuCoby has written a beautiful play that emanates from the heart, mind, and soul; a play asking sincere questions about what we hold on to when s*** gets hard. Friends, family, loved ones, cherished places. I hope this play gets an audience member to reflect on who or what they love and why.
ID: I hope this show ignites many animated conversations among friends and neighbors.
JJ: I hope they leave understanding that life can be a fleeting thing. Especially when we let grudges and resentments fester. I hope they understand that the ultimate human task is to choose love as often as possible. If it's true that the world is ending, what better cause is there to take up while there's still time?
TM: I hope they take away how it is both difficult and essential to nurture our relationships with one another, whether we think that everything is fine or we feel our world crumbling around us.
If you could sum up the show in 3 words, what would they be?
EH: Love. Loyalty. Community.
JJ: Fierce. Tender. Final.
Why should someone leave the comfort of their home, head over to Uptown, and experience this show?
EH: Because, in my life of working in theatre, I can personally attest that plays like this come around very rarely. I don't say that lightly. JuCoby has written a big, capital-e Epic American play. It's hilariously funny, heartbreaking, honest, earnest, complex and ambitious. Plus, the pre-show and intermission music is dope.
On top of all that, this big, Epic American play is being staged in a gorgeous and renowned theatre in a rapidly changing neighborhood. There is a beautiful synchronicity between the ideas about community that JuCoby and H. Adam are working through in this show, and the changing face of Uptown and Lake Street. It's a perfect marriage of material, artists, and setting. I PROMISE you haven't seen anything quite like this production.
ID: One word: catharsis.
JJ: This show was made with so much love, and care, and hope. The desire at the forefront of everyone's mind is to create a live experience that takes the audience on a ride that can't be captured on screen or at home. This experience is meant to elicit strong reactions, to surprise, and to move. If you do us the honor of leaving your home to be with us, we promise you it will be worth your while.
TM: In many ways, this play is about how important the spaces we share are and how much community can be generated or destroyed by the choices we make about those spaces. The loss or discovery of those communities of space has never been more important than it is today, and if we really want to explore what a path forward looks like, there is no substitute for sharing space with one another, whether in a gathering of friends, a protest march, or a theater in Uptown.
BroadwayWorld would like to thank Jungle Theater, Tradmark Theater, and the entire cast and crew of 5 for taking the time to sit down with us and allowing us to share their vision for this exciting new production.
5 is directed by H. Adam Harris, designed by Chelsea M. Warren (Scenic Designer), Sarah Bahr (Costume Design), Dan Dukich (Sound Design), Bill Healey (Lighting Design), and Spencer Arevalo (Assistant Lighting Design).
5 runs March 11 - April 16, 2023.