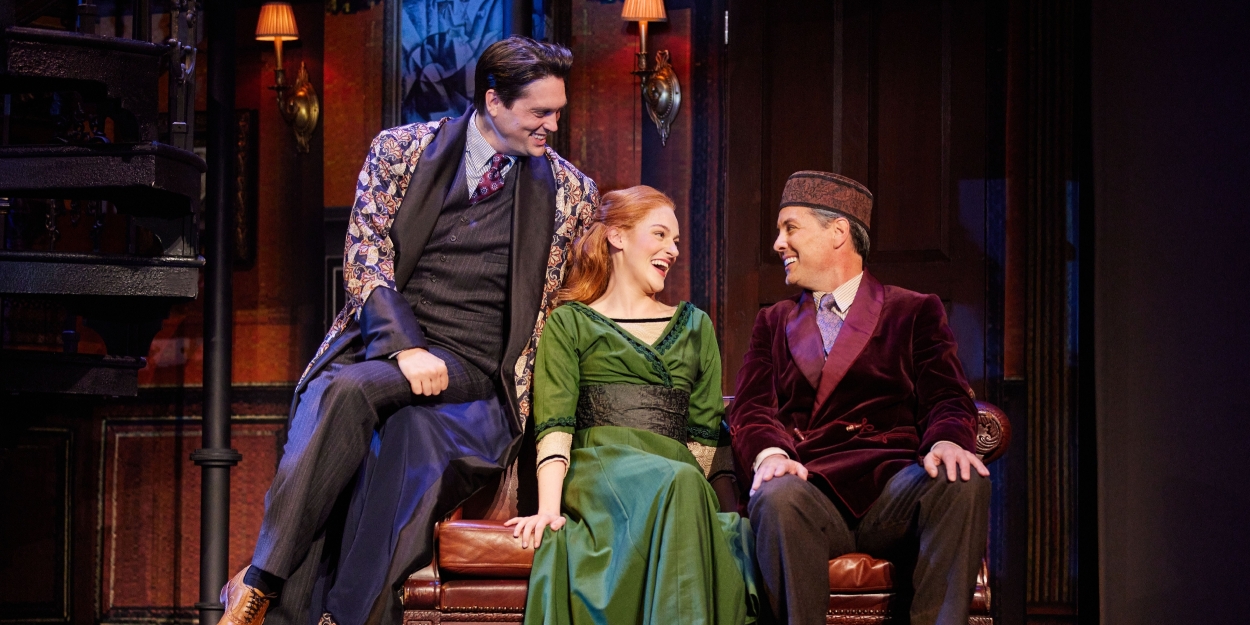 Review: MY FAIR LADY Charms Fans at the MARCUS CENTER
Classic Show Proves "Loverly"
There's a loverly bit of old-school musical theater at Milwaukee's Marcus Center this week. My Fair Lady returns, and fans of the original show and film starring Audrey Hepburn and Rex Harrison will no doubt adore this production. There's something comforting about a classic Broadway show delivering on its tried and true promises. For My Fair Lady, it's strong vocals, captivating characters, sumptuous costumes, richly-designed sets, a toe-tapper here, a chuckle there. All are present in this touring Lincoln Center Theater Production, directed by Bartlett Sher.

For those unfamiliar, the plot of My Fair Lady is one of the original "let's do a makeover!" stories. If you're a child of the 90s, think She's All That. Two boastful men, Professor Henry Higgins and Colonel Pickering, enter a bet that Higgins can't pass off a common street-dwelling flower girl as a Dutchess at the Embassy Ball in six months time.

The flower girl is Eliza Doolittle, a feisty "guttersnipe" (Higgins' word -- one of many nasty ones he bandies about) whose delivery of the English language could benefit from subtitles. Higgins is a professor of phonetics and linguistics, avowing that the only thing separating Eliza from the elite is her manner of speaking. Teach the girl proper, high-brow English, and you've made her a queen.

Making her national tour debut as Eliza, Madeline Powell shines, even literally. Her Embassy Ball look is particularly glittery -- a real stunner. Although at first it seemed the audience really would benefit from subtitles -- Powell's accent is really that thick -- you get used to it. And because (spoiler) Higgins does succeed in teaching Eliza more proper pronunciation, our brains eventually get a break from deciphering Eliza's speech. Powell brings easy charm, wit, and fire to the role, not to mention mighty pretty and impressive vocals.

As her counterpart Henry Higgins, Jonathan Grunert is also making his national tour debut. Grunert plays the haughty, egocentric Higgins to perfection. This is a wordy part to play that requires unabashed confidence to pull off, and Grunert never skips a beat. Oh, his Higgins is likably dislikeable (really) and delusional, but that's as it should be. If Grunert has made us love to hate Higgins, he's done his job with aplomb.

To me, the character of Higgins is tricky in 2023. But I find he narrowly saves his skin by pointing out that he not only treats Eliza unfeelingly, but everybody. While this doesn't make him kind, it does make him fair. Bear that in mind when Grunert succeeds in making you squirm with his blistering delivery of Higgins' callous words and pompous air. You don't have to like him, you just have to accept that he is who he is. Luckily it's theater, not real life.

Thank goodness for Colonel Pickering, a bright spot of delight and foil to Higgins' abrasiveness. John Adkison plays Pickering in this national tour, bringing the part to life with a cheerful demeanor and good natured fun. Adkison lends just the right mix of posh and panache to the part. All three together -- Eliza, Higgins, and Pickering -- their dymanic works nicely.
Other notables are Eliza's swoony love interest Freddy (Nathan Haltiwanger), Eliza's father Alfred P. Doolittle (Michael Hegarty), and Henry's mother Mrs. Higgins (Becky Saunders). Haltiwanger's voice is sweet yet powerful, perfectly delivering Freddy's starry-eyed ballad "On the Street Where You Live." As Eliza's comical, good-for-nothing father, Hegarty entertains with a toe-tapper or two. Saunders' Mrs. Higgins is a smaller role, but an easy favorite for her vibrancy and vim.
We first meet Mrs. Higgins at the Ascot Gavotte horse races among the elite of society. It's a musical number choreographed like a bourgeois painting, every move stuffy and stiff but exquisite. It's here that costumes by Catherine Zuber really shine. Choreography by Christopher Gattelli pops most during Alfred P. Doolittle's "Get Me To The Church On Time." Traditionally, this is the only show-stopping dance break My Fair Lady offers, and this production goes all out. Boy, can those can-can girls (and boys) kick!

In the end, avid fans are sure to come away thrilled with this production of My Fair Lady. It does the classic justice with just enough updates to keep things interesting. And the sets and costumes? Eye popping. If you're new to the show, you may find it old school -- the absence of big dance numbers, wordy dialogue, and character dynamics that can make you cringe. But it's a classic for a reason, and a worthy one at that.