Chicago Actors Collaborate On Short Horror Film, 'Abra Macabre!'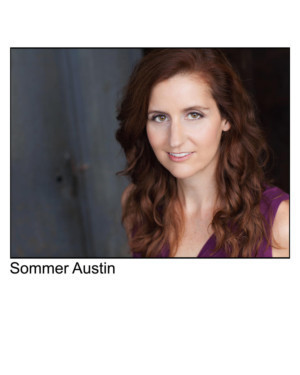 Green Shirt Studio alumni Billy Baraw and Benjamin A. Eisner, along with Green Shirt instructor and co-founder Sommer Austin, are collaborating with Knitted Heart Productions in Milwaukee to produce the short film, Abra Macabre!, written and directed by Eisner, slated to begin filming this winter in Cedarburg, WI.

In this suspenseful short film, secret society pick-up artists Brett and Marco go in for the kill, when Christine and Jenny flip the script with a grisly twist.
"The moment I set foot in Green Shirt Studio to meet Sommer and my fellow classmates, I knew it immediately; these are my people," Eisner says. "Us reuniting to make Abra Macabre! makes me giddy with excitement. Today more than ever, I stand by my original instinct: These are my people; let's make some discourse-reframing art together!'"

Says Baraw, a classmate of Eisner's in Green Shirt's Accelerated Meisner Program, "It's rare to find this kind of chemistry within a class in such a short amount of time. When the opportunity presents itself to work on such a project with collaborators like these, there's not a question in my mind if we should do it-the answer is 'yes.'"

Austin adds, "This is exactly the kind of creative project that, as a teacher, you hope that your students will become involved in when you train them. I am excited and honored to be collaborating with these brilliant artists, and to be joining them in taking the experiences from the classroom into the real world."

Prior to working on this film, Eisner has worked extensively as a director of commercials and documentaries and for such clients as Harley Davidson, GE, Capitol Records, Warner Brothers, and Sony BMG. He is currently in pre-production on a new feature length-film about social agitator Thomas Merton, in collaboration with Greyshack Films.

"I'm so excited to add Abra Macabre! to today's long-overdue conversation about gender equality, and - most particular to this film - women's courage to stand up, link arms, and yell 'NO MORE!' to the time-worn societal norm that defends and enables the male perpetrator (often in high places) and silences the victim who finally musters the courage to speak her truth to power. With three daughters of my own, I hope Abra Macabre! will be a creative catharsis for the marginalized, the assaulted, and invalidated."

Abra Macabre! is currently in pre-production and will feature several other Green Shirt alums in co-starring roles. Also joining the cast is Eisner's long-time friend and Meisner-trained actor, Russel Hulsey (Ghost in the Family, A Stranger on Earth, Sovereign).
Once the film is made, Eisner plans to submit it to several film festivals, including Screamfest in Los Angeles and the Toronto After Dark Film Festival, as well as other festivals.
About Benjamin A. Eisner
With Sanford Meisner acting training from Green Shirt Studio in Chicago, Benjamin is an established commercial filmmaker. Ben has directed for such global brands as Harley Davidson, GE, Verizon Wireless, Oscar Meyer, and Wilson Sporting Goods, among others. Eisner also has extensive experience working as a director of photography and editor. Prior to his commercial work, Benjamin has directed numerous music videos, television pilots, and documentary projects for marquee music companies like Capitol Records, Warner Brothers, Sony BMG, and EMI Music Group. Eisner has recently joined forces with Greyshack Films producer, Mike S. Ryan (Junebug, Choke, Life During Wartime, About Sunny, Last Weekend, Free Indeed, Sweet Sweet Lonely Girl, The Artist's Wife) to direct Here on the Foolish Grass, a feature film about the world-famous monk and social agitator, Thomas Merton. Benjamin owns Knitted Heart, a Production Company with offices in Milwaukee & Nashville.
More Hot Stories For You