Feature: 9 Things to know about NINE from Milwaukee's Theater RED
What are women to men? Nurturers, temptresses, muses? In chatting with Marcee Doherty-Elst of Theater RED, I've learned that this weekend's staging of the musical NINE at Elm Grove's Sunset Playhouse Studio Theatre will dive into that very question. Here, Marcee and fellow actress Jennifer Larsen share 9 things to know about NINE.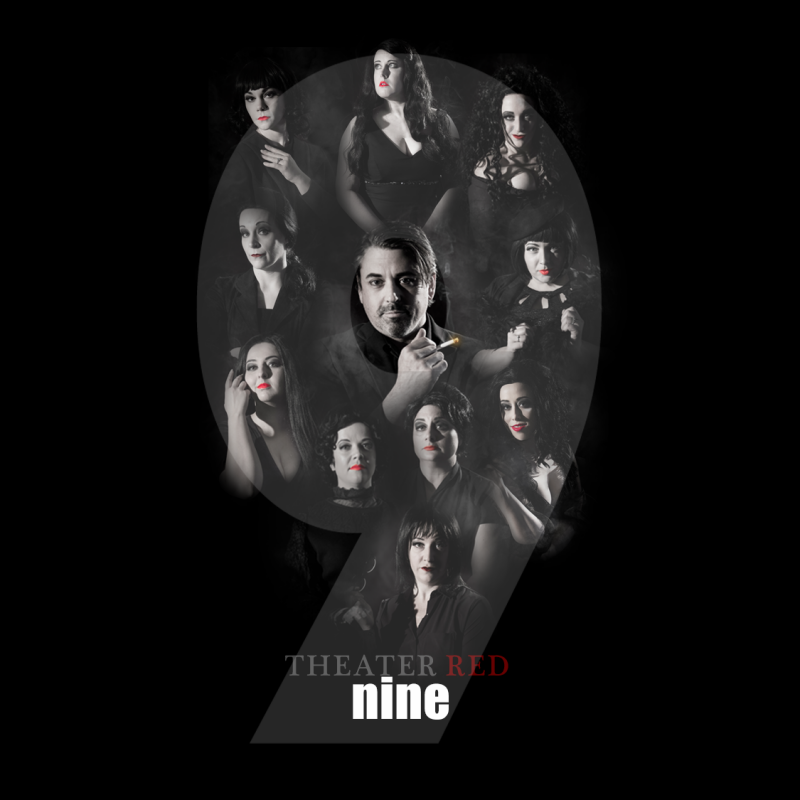 #1 NINE is a Broadway musical favorite.
Marcee: Based on Italian director Federico Fellini's comic masterpiece of biographical filmmaking, "8 ½," Composer Maury Yeston's sultry musical follows the life of world-famous film director Guido Contini as he prepares his latest picture. Contini is facing a midlife crisis and drifting toward a nervous breakdown, given recent box office failures and the fact that his wife of 20 years, Luisa, may leave him if he can't pay more attention to his marriage. Luisa's efforts to talk to him seem to be drowned out by voices in his head: voices of women in his life, speaking through the walls of his memory.
The original Broadway production opened in 1982 and ran for 729 performances. The musical won five Tony Awards, including Best Musical, and has enjoyed a number of revivals.
#2 NINE upholds the Theater RED tenets: substantial roles for women, growth in craft for artists, and the development of new works for Milwaukee stages.
Marcee: With NINE, we have substantial roles for women onstage and off - we have a cast of nine women and one man, and we have seven female members of our production team (Stage Manager Brianna Cullen, Music Director Lydia Rose Eiche, Choreographer Ashley Patin, Scenic Designer Andrea Klohn, Costume Designer Briana Rose Lipor, Photographer Maria Pretzl, and me as Producer). What drew our Artistic Associate, Eric Welch, to NINE for Theater RED was not only the number of female roles, but also the fact that the musical emphasizes the role of women in Guido's life and gives each of them their voice. Guido needs them, but the reverse is not necessarily the case.
We are also bringing a musical to the stage that is not done very often, so while NINE is not a "new" work, it is a not-oft-seen work, and in some ways that does make it feel new to Milwaukee! It's new for us as our first musical, too!
Growth-in-craft applies both to Theater RED and to the actors in this case, since this is our first musical. We have a compressed rehearsal timeframe (only three weeks), so actors really needed to come to rehearsals prepared musically and off-book (lines memorized) so we can focus on staging and choreography. Working quickly in an environment like this is exciting, but also requires a different sort of skill set. It's an experience that I think everyone should have at least once.
#3 Theater RED examines the women of NINE as archetypes.
Marcee: NINE composer Maury Yeston was quoted as saying "The great secret of NINE is that it took '8 ½' and became an essay on the power of women by answering the question, 'What are women to men?' And NINE tells you: they are our mothers, our sisters, our teachers, our temptresses, our judges, our nurses, our wives, our mistresses, our muses."
We have given each main character a one-word descriptor and that was part of our promotional photography and marketing (with our resident photography/videography team Traveling Lemur Productions):
Luisa Contini the "Wife," played by Rae Elizabeth Pare
Carla Albanese the "Mistress," played by Samantha Sostarich
Claudia Nardi the "Muse," played by Kara Ernst-Schalk
Lillian La Fleur the "Producer," played by SaraLynn Evenson
Guido's Mother the "Mother," played by Laura McDonald
Mama Maddelena the "Manager," played by Jennifer Larsen
Our Lady of the Spa the "Guide," played by Hannah Esch
Lina Darling the "Bodyguard," played by Carrie Gray
Sarraghina the "Prostitute," played by Marcee Doherty-Elst
Stephanie Necrophorus the "Critic," played by Marcee Doherty-Elst
#4 If you haven't heard the music of NINE, get excited!
Marcee: The music in NINE is breathtaking. There are beautiful six-part harmonies and many different musical styles in the songs, so there is a wonderful variety. Each of the women get their moment to shine vocally. Some of the more popular songs from NINE the musical are "Folies Bergeres," "Be Italian," "My Husband Makes Movies," "Be On Your Own," "A Call from the Vatican," "Only With You," and "Unusual Way," which Kara Ernst-Schalk sang live on TMJ4's The Morning Blend earlier in January. But don't feel like you need to listen to these songs before you come see the show - if you don't know them, come experience them for the first time with us!
#5 Fun Fact: The Sunset Playhouse is a sort of homecoming for Marcee and her husband and Theater RED cofounder, Christopher Elst.
Marcee: Back when my husband Christopher and I started Theater RED in 2013, we rented the Sunset Studio Theatre for our production of the world premiere of A THOUSAND TIMES GOODNIGHT by Chicago playwright Jared McDaris. It was our first show ever and now we are back, five years later, with our first musical making its premiere in the exact same space! Eric, Christopher, and I all have a wonderful history and relationship with Sunset Playhouse, both as actors in their productions and as prior renters. They have been wonderful hosts to us!
#6 The show is being performed with cabaret-style seating - and drinking!
Marcee: Eric wanted the production to be intimate and personal. One of the benefits of the Studio Theatre at Sunset Playhouse is that it can be set up cabaret style at round tables, which allows the actors to interact in the space (and with the audience) differently than with more traditional theater seating. And yes, the Studio Theatre has a bar! You can enjoy a tasty beverage of your choice while seated comfortably at a table of four or eight. I recommend getting a group, booking a table, and sitting back and enjoying the show with a glass of wine for the full "Be Italian" experience.
#7 For a musical that typically features 30 actors, Theater RED believes less is more.
Marcee: The music in this show is so beautiful and the story so powerful, we felt it didn't need any frills. We really wanted the story to shine through with the music, as this cast is incredibly talented. What an embarrassment of riches, truly, for Theater RED to have such a group of ten artists telling this story. Eric knew he could rely on the cast to sing the complicated ensemble harmonies for all the songs in the show, which to me supports the women-centric vision. In our production, you have characters who step forward to sing their solo, then step back to sing ensemble back-up for another character's solo. Pretty cool, I think.
#8 A minimalist set lets you focus on the music.
Marcee: The vision for the production and the set is very film noir - a nod to Fellini's film and Yeston's adaptation. We will have a minimal set - black stage, black cubes, and black and white hand painted character banners. Props are minimal and no characters change costumes. Our Lighting Designer, Ross Zentner, will strategically place color into this film noir staging for specific characters and storytelling moments, which I think will be visually powerful and stunning. The focus will always be on the music and storytelling.
#9 Theater RED gives artists invaluable opportunities.
NINE actress, Jennifer Larsen: I am thrilled to be returning for my second Theater RED production. This is a completely different experience from working on THE WAYWARD WOMEN in the summer of 2017. Both projects, however, provided me invaluable opportunities to grow in my craft as an actor, to find new levels of ability in myself and to push boundaries in a wholly supportive space.
This experience in particular has humbled me, as I am in the presence of such incredibly talented women and men. Cast members were wisely chosen by the director and production team; they are blasting through difficult material with ease.
While the audience certainly will see the Theater RED philosophy of 'strong roles for women' represented here, Timothy J. Barnes as Guido is the personification of the 'growth in craft' tenet. He commands the lead of this musical and deftly balances his working relationships and scenes with a host of powerhouse women.
The minimal, film noir, leave-much-to-the-imagination set and design concepts work well in the intimate space of the Sunset Studio Theatre; this design really allows for the performances to penetrate directly into the audience's minds and hearts. Eric Welch, Theater RED, and the entire ensemble have made this an unforgettable experience for me, and I am so grateful!
- - - - - - - - -
NINE will have just three performances at the Sunset Playhouse Studio Theatre in Elm Grove. Catch the show:
Friday, January 25 at 7:30 PM
Saturday, January 26 at 7:30 PM
Sunday, January 27 at 2:00 PM
Tickets are $20 General Admission.
Order online at https://sunsetplayhouse.com/shows/nine or by calling 262-782-4430
For more information: www.theaterred.com and www.sunsetplayhouse.com