The Jukebox Dance Company Fusiona El Estilo Urbano Con La Música Clásica En Su Coreografía La Cuisine
El INBAL transmitirá funciones digitales del jueves 4 al domingo 7 de febrero a las 21 horas por @danzaINBAL.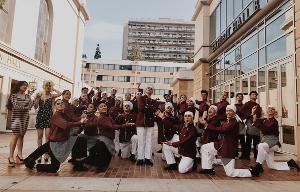 Detrás de cualquier actividad cotidiana puede existir un hecho artístico, como en la labor de un albañil construyendo una casa o en el andar de un barrendero por la calle. Bajo esa premisa, The Jukebox Dance Company creó una coreografía en la cual recrea lo que acontece tras bambalinas en un restaurante al fusionar su estilo urbano de baile de calle con la música clásica de grandes compositores.
En el marco de la campaña "Contigo en la distancia" de la Secretaría de Cultura del Gobierno de México, el Instituto Nacional de Bellas Artes y Literatura (INBAL) presenta La Cuisine, la cual se podrá disfrutar en línea a partir del jueves 4 y hasta el domingo 7 de febrero a través de las redes de @danzaINBAL. Con estas funciones digitales inicia la temporada De lo urbano a la escena digital, programada por la Coordinación Nacional de Danza en el marco del ciclo Noches de danza.
En entrevista, Fernando Martínez, coreógrafo y codirector de la compañía, comparte los pormenores de esta propuesta que participó en uno de los festivales de danza urbana más importante de Estados Unidos (World of Dance, producido por la cantante Jennifer Lopez), en el cual obtuvo el cuarto lugar.
Martínez considera que es fundamental tener el apoyo de las instancias culturales de su país: "Es maravilloso que nos tomaran en cuenta. Es una recompensa a nuestro trabajo. Podemos ser campeones, pero que el INBAL nos contemple como una compañía de danza urbana significa que estamos haciendo bien las cosas. Es uno de los reconocimientos más importantes que podemos tener y eso nos impulsa a ser mejores".
Sobre la experiencia que les ha dejado el confinamiento, el coreógrafo comenta que ha sido difícil para ellos, porque hace más de un año que no pueden verse. De ahí que resulte doblemente valioso para ellos mostrar su trabajo a través de plataformas digitales, como las redes de @danzaINBAL: "Somos casi 70 bailarines, así que hemos estado trabajando mucho en la parte anímica para que los chicos no se desanimen. Así que nos motiva que nos permitan mostrar nuestras creaciones en línea".
Acerca de la propuesta que verá el público, explica que La Cuisine es una idea original de su colega Jenifer Pedraza. Después de trabajar ambos en la propuesta, lograron plasmar de manera lúdica el caos y estrés que se vive al interior de un restaurante, donde alrededor de 30 bailarines asumen los papeles de chefs, cocineros y meseros, apoyándose en los ruidos naturales de las herramientas de cocina, cobijados con un ambiente sonoro creado con música clásica de compositores como Chaikovski y Mozart: "Fue un gran reto artístico. Conocemos las técnicas del street dance, pero también las posibilidades que el mismo género nos brinda para seguir explorando, como fusionarlo con la música clásica".
Sobre el mensaje que hay detrás de esta propuesta, Martínez explica que la idea era exaltar el esfuerzo que existe alrededor de un hecho cotidiano: "Nadie imagina lo que sucede antes de que nuestro plato llegue a la mesa. Lo mismo puede haber un cocinero que se confundió con la orden, el mesero despistado, el chef regañón, etcétera. Todo ámbito laboral tiene una parte artística que no vemos y eso queremos exaltar".
The Jukebox Dance Company es compañía de danza urbana fundada en 2015. Ha implementado varias herramientas en un grupo de bailarines interesados por competir a nivel nacional e internacional. Está integrada por 13 grupos y 95 bailarines con un amplio rango de edad; todos son encaminados por los integrantes con mayor experiencia. A lo largo de cinco años ha adquirido aprendizaje, experiencia y reconocimiento en diferentes eventos y han representado a México en varias ocasiones.