Buen viaje a la actriz y productora CHRISTIAN BACH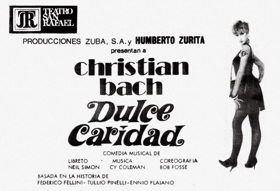 La noticia fue sorpresiva el pasado viernes primero de marzo: La actriz y productora de origen argentino pero naturalizada mexicana, Christian Bach, había comenzado su viaje a la eternidad el martes 26 de febrero, pero se mantuvo reservado el hecho por decisión de su familia hasta dicho viernes.
Indudablemente, y respetando a sus familiares y allegados, no entraremos en mayores detalles.
Por el contrario, sólo queremos aprovechar la oportunidad para reconocer su trayectoria tan vasta en el ámbito artístico, y no era para menos, ya que de acuerdo con diversas fuentes que comparten su semblanza artística, el talento y la magia artística le venía de familia. Se comenta que la madre de Christian fue primera bailarina del Teatro Colón, y que incluso se había presentado en la Scala de Milán. Adicionalmente, la abuela materna, de origen ruso, se dice que también había sido bailarina en el emblemático Bolshoi.
Bach, adicionalmente al ámbito artístico estudió también la carrera de derecho en su natal Argentina. Y fue en 1979 cuando viaja a México para iniciar su carrera artística, contando con el apoyo del director y productor Don Ernesto Alonso.
En su semblanza se refieren sus trabajos en telenovelas, programas unitarios (incluyendo su participación en 1993 en diversos capítulos que desarrolló Televiteatros), cine, y desde luego proyectos como productora, sobre todo en televisión.
Sin embargo, para el ámbito teatral, no podemos olvidar su incursión artística y como productora al lado de su esposo, Humberto Zurita, bajo el nombre de ZUBA Producciones, que llevaron a escena dos importantes proyectos teatrales musicales, estelarizados por la propia Christian: Dulce Caridad (Sweet Charity) y El Beso de la Mujer Araña (Kiss of the Spider Woman).
Gracias a ZUBA Producciones, ambos proyectos llegaban por primera vez a suelo mexicano. El primero se presentó en la legendaria catedral del Teatro Musical del México, el Teatro San Rafael de la Dinastía Fábregas, y el segundo proyecto en el también emblemático Teatro de Los Insurgentes.
Christian estuvo acompañada en Dulce Caridad por Fernando Ciangherotti y Roberto Blandón, mientras que en El Beso de la Mujer Araña compartió créditos con Mario Iván Martínez y Tomás Goros.
¡Buen viaje Christian Bach!
Imagen: Programa de mano Dulce Caridad, Colección CSU
Clemente Sánchez Uribe, es comentarista y promotor de cultural teatral desde hace más de 20 años, actualmente es académico de la Universidad Anáhuac México en el área de Comunicación, así como productor y locutor del Programa radiofónico Tras Bambalinas...Donde el Teatro, Cobra Vida, en Radio Anáhuac 1670 de AM y por internet, todos los lunes de 5 a 7 pm. Desde 2011 es Editor en Jefe para la sección México de BroadwayWorld.com
Related Articles View More Mexico

Stories

Shows