BWW Review: THE FABULOUS LIPITONES at Penobscot Theatre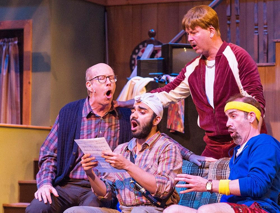 It is said that music has the power to bring people together. The Penobscot Theatre Company in Bangor proved this to be true in their performances of "The Fabulous Lipitones." This musical comedy runs from September 7th - 24th. It was authored by John Markus, who has written for several television shows including "The Cosby Show."
The play follows the three surviving members of a small-town barbershop quartet from Ohio, The Fabulous Lipitones, as they try to find a replacement for their late leader, Andy Lipinsky. The set, designed by Chez Cherry, reflected the play's theme by being centered around the basement where The Lipitones rehearse. Howard Dunphy (D.C. Anderson), Phil Rizzardi (Doug Meswarb), and Wally Smith (Dominick Varney) are about to give up on their music careers when they are introduced to Bob (Danish Farooqui), a mechanic with the voice of an angel. They accept him with reservations due to the fact that he is a traditional, turban-wearing Sikh whose nationality is unknown.
Although the play was set in Ohio, it was a story many Mainers could relate to. Much like many communities in Maine, The Lipitones' community is predominantly white with a growing population of immigrants. The garage where Bob works is under investigation for employing illegal immigrants, putting him at risk of deportation. Much of the play's dialogue and plot address current issues including illegal immigration, racism, and cultural integration.
"It was, in fact, about how sometimes it takes an outsider to teach us what is truly important in life and how easily we can take things for granted," Director Michael Marotta said.
Even though acapella music is a predominantly Western genre, the music honors the mixing of the two cultures. For the show's final number, the actors sang "A Lipitones Mashup," a medley of traditional Sikh and Christian songs including "Ode to Joy" and "Gora Gora Rang." Between songs, the actors had humorous, yet insightful conversations about culture and what it means to belong.
Regardless of who you are or where you're from, "The Fabulous Lipitones" will have you laughing and singing along. I would recommend it to anyone looking for a musical with a touch of comedy. For more information or to purchase tickets, visit website at penobscottheatre.org or call 207-942-3333.
Related Articles View More Maine

Stories

Shows
Mika Lindsay Ouellette is a 2014 graduate of the Master of Education program at the University of Maine. She currently works as a bilingual customer (read more...)