Photo Flash: Inside Opening Night of MARY POPPINS at The Palace Theater
The Palace Theater, Wisconsin Dells' newest professional theater, 564 Wisconsin Dells Pkwy South, gifts audiences this holiday season by bringing to the stage the world's most beloved nanny, Disney's MARY POPPINS previewing November 19, opening Monday, November 24 at 7 p.m., and running through January 3, 2015. The all-star cast is led by Jessica Lorion Haugh (National Tour of Disney's Beauty & the Beast) who will fly through the air as "Mary Poppins," Kyle Szen (National Tour of A Christmas Carol) as "Bert," Eddie Urish (National Broadway Tour of Memphis the Musical) as "George Banks," and Rebecca Kostell as "Winifred Banks." MARY POPPINS is directed and choreographed by Multi Jeff Award-winner Marc Robin and co-directed by Buddy Reeder. Nationally known stand-up comedian and actor, Tom Dreesen, long time guest of The Tonight Show and The David Letterman Show will serve as the emcee at the opening night performance on November 24.
MARY POPPINS is based on P.L. Travers' cherished stories and the classic 1964 Walt Disney film starring Julie Andrews and Dick Van Dyke. The stage production was co-created by Cameron Mackintosh with a book by Julian Fellowes, creator for the television seriesDownton Abbey. It features many of the original songs made famous by the Oscar-winning duo of Richard and Robert Sherman, with additional music and lyrics from George Stiles and Anthony Drewe, including "A Spoonful of Sugar," "Chim Chim Cher-ee," "Supercalifragilisticexpialidocious," and "Let's Go Fly a Kite." The Tony Award production ran on Broadway for more than 2,500 performances.
With the perfect portion of sugar and medicine, MARY POPPINS is an enchanting mixture of ingenious story, heartwarming songs, thrilling choreography, and astonishing special effects. The story chronicles the troubled Banks family living in England in 1910 including father, Bert, and children, Jane and Michael, who have sent many nannies away by their antics. Once Mary Poppins arrives on their doorstep, she teaches the family how to value each other again using a combination of magic and common sense.
The cast also includes Olivia Foght and Bailey Magnusen as "Jane Banks," Connor Martin and Matthew Robert Powell as "Michael Banks," Lindsey Austin as "Mrs. Cory" and "Mrs. Andrew," Erin McNerney as "Mrs. Brill," Michael Miller as "Robertson Aye," and Jon Deline as "Admiral Boom." The ensemble includes Sally Scarborough, Kari Baker, Katherine Stanas, Jandrea Novak, Jennifer Byers, Brittany Bartlett, Nathan Mittleman, Mike Baerga, Ben Holtzman, and Josh Hayes.
The artistic team includes Musical Direction by Doug Peck with Orchestrations by Michael Hoagland, Lighting Design by Paul Black, Wig Design by Kevin Barthel, and Stage Management by Mark Johnson. Anne Manley also serves as Wardrobe Supervisor.
The Palace Theater is a state-of-the-art, 800-seat, regional theater destination that produces classic American musicals in a style and quality consistent with that of Broadway, and will also present nationally known bands and comedians for concert engagements. ThePalace Theater will produce three to four family-friendly, classic musical revivals, while serving a full meal included in the ticket price. Group packages are available. The complete 2014-2015 season will be announced in the coming weeks.
With an ideal location across the street from the Wilderness Spa & Resort, the country's largest indoor waterpark, the Palace Theater is likely to become a major cultural and tourism attraction for the Dells' 5 million annual visitors. The community of Wisconsin Dells is predominantly comprised of the City of Wisconsin Dells and the Village of Lake Delton. Its roots as a tourism community date back more than 150 years when the first visitors came for scenic tours of the Wisconsin River with towering sandstone cliffs hugging its shores. Today, Wisconsin Dells is widely recognized as "The Waterpark Capital of the World!®"
The performance schedule for MARY POPPINS is Wednesday at 1:00 p.m. and 7:00 p.m., Thursday at 1:00 p.m. and 7:00 p.m., Friday at 7:00 p.m., Saturday at 1:00 p.m. and 7:00 p.m., and Sunday at 1:00 p.m. Tickets start at $29.95 (includes dinner). Group rates are available for groups of 15 or more. Please call 608-253-9000 for Groups Sales. To reserve tickets, please call the Palace Theater Box Office at 608-253-4000 or visit www.dellspalace.com for more information.

Jessica Lorion Haugh, Marc Robin, Kyle Szen

Cast of MARY POPPINS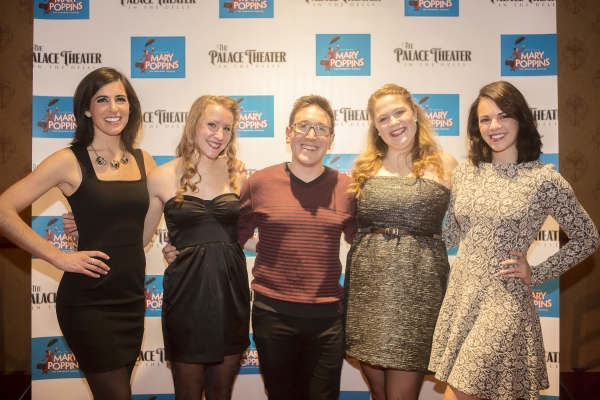 Sally Scharbrough, Jandrea Novak, Ben Holtzman, Lindsey Austin, KAtherine Stanas

Marc Robin, Jessica Lorion Haugh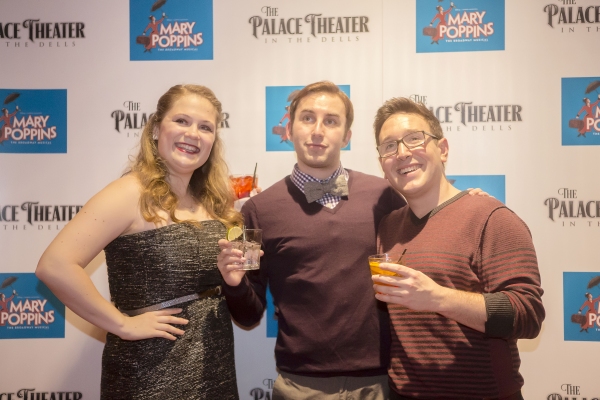 Lindsey Austin, Michael Miller, Ben Holtzman

Jon Deline, Matthew Robert Powell, Eddie Urish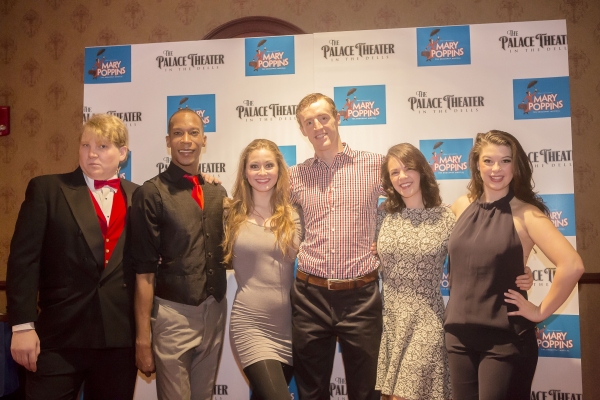 Jon Deline, Josh Hayes-Gientorock, Kari Baker, Kyle Szen, Katherine Stanas, Rebecca Kostell

Connor Martin, Olivia Fought, Kari Baker, Bailey Magnusen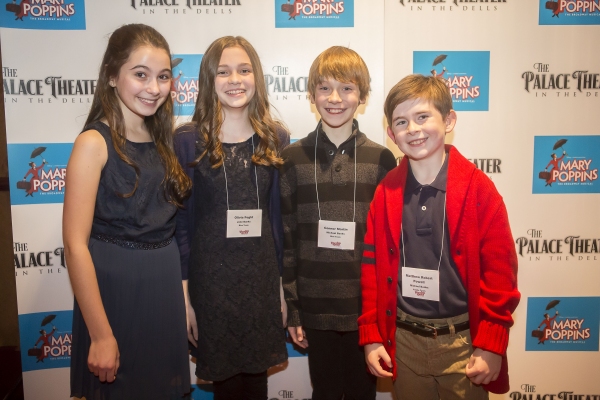 Bailey Magnusen, Olivia Fought, Connor Martin, Matthew Robert Powell

Anthony Tomaska, Marc Robin, Tom Dreesen, Joseph Tomaska

Anthony Tomaska, Marc Robin, Joseph Tomaska

Anthony Tomaska, Buddy Reeder, Marc Robin, Joseph Tomaska