Lerner & Loewe's CAMELOT at Derby Dinner Playhouse
Dates

2/19/2021 - 3/28/2021

Theatre


525 Marriott Drive
Clarksville,IN 47129
Twitter Facebook Instagram

Tickets Info

$39-49
Phone: 8122888281




Derby Dinner Playhouse will present Lerner & Loewes CAMELOT, opening February 19 and running through March 28, 2021. For ticket information please call 812-288-8281 or visit www.derbydinner.com *All seating is socially distanced and masks are required.One of the oldest tales of love and betrayal, this medieval legend is brought to life in a newly reimagined take on the delightful classic that was nominated for five Tony awards and has been performed in theaters around the world since. CAMELOT has been adapted to a small cast version that puts a sharp focus on King Arthur, Guenevere and Lancelot, transforming it into an intimate story of love, hope and leadership. Audiences will enjoy beloved songs from the original show with a more slick and modern feel. CAMELOT was written by Allan Jay Lerner with music by Frederick Loewe. The rich score boasts such gems as If Ever I Would Leave You, The Lusty Month of May, and of course, Camelot. Derby Dinners production is under the direction of Lee Buckholz with choreography by Heather Paige Folsom and Musical Direction by Scott Bradley. The cast will include Blake Graham as Arthur, Harli Cooper as Guenevere, Corwyn Hodge as Lancelot, and more!

News About Lerner & Loewe's CAMELOT at Derby Dinner Playhouse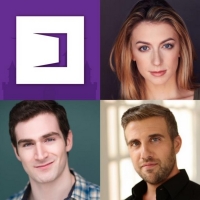 Farmers Alley Theatre Presents CAMELOT
September 06, 2019
Farmers Alley Theatre is thrilled to open its 12th terrific season with a new chamber version of one of literature's greatest tales, Lerner & Loewe's soaring classic, Camelot a?" running October 4th through the 27th. From the iconic composing team that gave us My Fair Lady and Brigadoon, Lerner & Loewe's lush score will soar like never before at our downtown Kalamazoo home at 221 Farmers Alley.