TREELOGY: A Musical Portrait of California's Redwood, Sequoia and Joshua Trees Receives its World Premiere
Treelogy will receive its world premiere at The Soraya on Thursday, February 23 at 8 pm.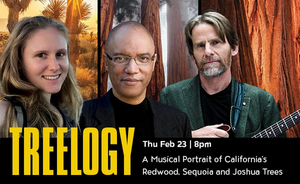 Treelogy is a celebration and a call to action to save California's beloved and iconic trees. Inspired by California's epic wildfires chronicled by The New York Times journalist John Branch, The Soraya's Executive and Artistic Director, Thor Steingraber, and artist in residence Etienne Gara, have created a musical response to the fires, and a tribute to these precious trees.

Renowned American composers Billy Childs, Steven Mackey, and Gabriella Smith - all with deep California roots of their own - have each composed original music for this three-part concert. Produced, commissioned, and presented by The Soraya, Treelogy will receive its world premiere at The Soraya on Thursday, February 23 at 8 pm and will subsequently travel to three additional CSU campuses in San Jose, Chico, and Sonoma. Each campus will bring together scientists, educators, activists, and advocates alongside their Treelogy performances to deepen audiences understanding of and engagement with climate change awareness.

Partnering will be Southern California's largest environmental advocacy organization, TreePeople, and 11:11 Creative Collective, a San Fernando Valley-based art collective that produces large-scale community art installations in and around greater Los Angeles. TreePeople, in coordination with The Soraya, will develop a T.R.E.E Talk-TreePeople's signature public lecture series that brings together environmental leaders from across the globe to discuss various climate issues-about how the arts can be a catalyst for change. In addition, TreePeople will announce a special campaign that will engage the public in a celebration of these iconic trees via social media in the coming weeks.

11:11 has engaged local muralist, environmental advocate, and CSUN Alumni Myles Lewis to create a triptych that responds not only to the three trees featured in Treelogy, but the ethos of the project itself. The three-part piece will be unveiled in The Soraya's Porter Pavilion gallery on February 23, prior to Treelogy's world premiere performance.
The chamber music ensemble Delirium Musicum, led by Etienne Gara, will perform in all three pieces. Steven Mackey will join them in the piece he composed about the coastal redwood, playing electric guitar. The Billy Childs Quartet led by Childs at the piano will join Delirium Musicum in the piece he composed about the giant sequoia. In Gabriella Smith's piece dedicated to the Joshua Tree, the ensemble will be supplemented by electronic samplings Smith has been creating from her time spent in the Joshua Tree National Park for the Treelogy project.