TAO: Drum Heart Comes to The Broad Stage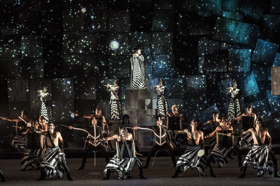 TAO: Drum Heart is the latest production from TAO, internationally acclaimed percussion artists, directed and produced by Franco Drao with costumes designed by Junko Koshino. TAO's modern, high-energy performances, showcasing the ancient art of Japanese drumming, have transfixed audiences worldwide. Combining highly physical, large-scale drumming with contemporary costumes, precise choreography and innovative visuals, TAO: Drum Heart will perform at The Broad Stage on Saturday, April 28 at 4:00pm and 7:30pm.
Performing for more than seven million people across the globe, TAO: Drum Heart is hailed as the greatest of all Japanese drum productions. TAO, who recently gave an electrifying performance on
"The Late Show with
Stephen Colbert
," currently tours more than 400 cities worldwide with their inventive take on taiko an ancient Japanese form of percussion.In taiko, the drums range in size from roughly a snare drum ("shime"), to drums as large as a car (the "o-daiko"). The most common drum size in taiko is the "chu-daiko" which is the size of a wine barrel. One of taiko's most defining aspects is its dynamic playing style. Taiko playing is loud, hard, and fast, and involves a lot of choreographed movement, which many identify with Japanese martial arts. There are currently more than 8,000 taiko groups in Japan. The Chicago Tribune calls TAO, "Extraordinarily talented percussion artists...The crowd was unmistakably wowed." The Herald adds, "[TAO] is supernaturally fit and superbly trained...stunning."In 2004, TAO attended the world's largest festival of the arts - the Edinburgh Festival Fringe and was a box-office smash hit of the festival, in spite of it being their festival debut.After their electrifying debut in Scotland, TAO started touring overseas with a three month long-run show in Germany and Australian tour. After being invited to perform at the Vancouver Olympics in 2010, they embarked on a sold-out North American tour, visiting 44 cities across the U.S. Now, TAO has been expanding worldwide and has played over 500 cities in over 24 countries, reaching over seven million spectators.With this worldwide achievement and over 200 shows a year in Japan, TAO received "The 6th Japan Tourism Agency Commissioner's Awards" from the Japan Tourism Agency and "Outstanding Cultural Contribution" from Oita prefecture. TAO has been rewriting the story of traditional Japanese Drum and it proudly stays one of the greatest of all Japanese Drum Performers in Japan. In 2018, DRUM TAO has 241 night-time performances, called "Mangekyo" in Tokyo for tourists from around the world and is supposed to have a year round show in Tokyo from 2019 through 2021.TAO artists constantly train themselves to go beyond human limitation bring the true Japanese spirit to the stage. They have their own unique style of music, performance, staging, and entertainment which always exceed the public's expectations of Japanese drumming.Performers include: Taro Harasaki, Kiyoko Aito, Hiroyasu Yanaka, Junichi Haraguchi, Yasuaki Yamaguchi, Shohei Nakata, Hiroyasu Ikegoshi, Keisuke Yamamoto, Masanori Takayama, Tatsunori Yamaguchi, Kodai Hiwano, Shoya Hamada, Soshiro Fukumizu, Ryudai Ko, Shoko Sakaguchi, Ayumu Hisanaga and Daisuke Iwama.TAO's home is located in the middle of Aso - Kuju National Park and is surrounded by nature. It is a fully-equipped space that includes a theatre, training room, spa, guest house, and recording studio. TAO's music and harmonies continue to be created at TAO's home for the world entertainment field."TAO's Summer Festival" is held every summer and fans from all over the world and artists come together for this unforgettable event. Tickets are on sale at
www.thebroadstage.org
or by calling 310-434-3200.
The Broad Stage, beginning its landmark 10th season, offers theatre, dance, film, opera, jazz, world music, musicals, symphony and chamber orchestras, family programming and more. Each genre features superlative talent from every generation and around the globe. No other performing arts center west of the 405 can boast such consistently stellar lineups of performers, including André Watts, Anna Netrebko, Sir James Galway, Sutton Foster, Preservation Hall Jazz Band, Mikhail Baryshnikov, Patti LuPone, Aaron Neville, Lee Ritenou, Dave Grusin, Joshua Redman, Lil Buck, Bobby McFerrin, Helen Hunt, Academy of St Martin in the Fields and many others.
In addition to The Broad Stage, The Edye, our 100-seat black box theater, presents new, developing and innovative work in theatre, music and dance as part of our Under the Radar Series, as well as offerings from our other genres. Featuring younger, emerging artists, chamber pieces and plays, programming at The Edye reflects the dynamic nature of the space and allows for the latest, most exciting artists to be booked on short notice. The Broad Stage's Education and Community Programs offer opportunities for cultural exposure through various student events, currently reaching more than 20,000 children, parents, educators and community members every year.