Stephen R. Rourke Presents A Staged Reading of Melissa Borgerding's SOMEONE CLOSE TO YOU
The reading is directed by writer/director and BMI composer, James A. Goins.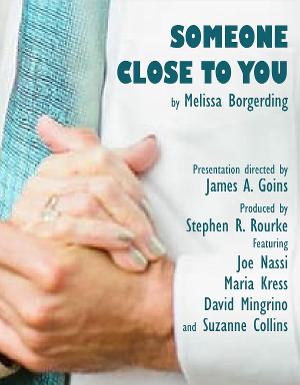 Stephen R. Rourke, through a special arrangement with the Baltimore Playwrights Festival, presents a special staged reading of Melissa Borgerding's deeply moving drama, Someone Close To You, directed by James A. Goins.
Someone Close To You concerns Helen - a fiercely independent spirit - reaching the end of her life; and her son, Ben - who sees risk everywhere. Ben must confront his aging mother about bringing her home, essentially, to die. Ironically, it is he who learns more about life than he bargained for.
The cast includes Joe Nassi as Ben; Maria Kress as Christine; David Mingrino as Henry; and Suzanne Collins as Ben's mother, Helen.
The reading is directed by writer/director and BMI composer, James A. Goins, whose directing credits include Of Mice and Men, Jesus Christ Superstar, Raisin in the Sun, Taming of the Shrew, Equus, 12 Angry Jurors, and Proof, to name a few. His plays and musicals have been workshopped and produced at the Mark Taper Forum Annex, the Laity Theatre Company, New Musicals, Inc., and the Chameleon Theatre Circle. He is a member of BMI, The Dramatist Guild of America, The American Composers Forum, The Playwrights Center, The National Association of Negro Musicians, Inc, Composers Diversity Collective, Theatre West, The Society of Composers & Lyricist, and the American Society of Music Arrangers and Composers. He is the Executive Director of the Laity Institute of the Arts, a Private Arts Foundation which teaches the visual and performing arts to children and adults. He is also an accomplished playwright and composer. He learned to hone his skills in musical theatre through New Musicals Inc.
Suzanne Collins has worked extensively for Joseph Papp's New York Shakespeare Festival both at Lincoln Center and in Shakespeare in the Park. She originated the role of Ellen, the cook, in The Art of Dining in New York and the Kennedy Center.
Producer Stephen R. Rourke, because there is far too little original work in our current culture, and far too little work from historically underrepresented communities: women, Blacks, people of color, and voices in the LGBTQ community, created Flipping the Script Productions, finding new works from those communities, and getting them in front of audiences. Mr. Rourke is a distinguished member of Broadway producer Ken Davenport's acclaimed TheatreMakers Group.
By Invitation Only - Friday & Saturday, February 3 & 4 @ 7:00 PM. at Theatre West, 3333 Cahuenga Blvd W, Los Angeles.