Review: TOO HEAVY FOR MY POCKET Reflects the Belief a Better Future was Possible in 1961
The memories I have of 1961 include watching JFK being sworn in as President at the beginning of year, with the promise of better times ahead for everyone. And even though we were still required to have "drop drills" to prepare us for an atomic bomb attack, knowing full well hiding under our desks would not prevent our demise, we could still go home and feel safe and accepted in our small community. But it never dawned on me at that time that others lived their lives in fear and separation based only on the color of their skin as I, too, lived in a segregated community at the other end of the spectrum.
I had several reasons for wanting to see the West Coast Premiere of Jireh Breon Holder's TOO HEAVY FOR MY POCKET, produced by Scott Golden for Sacred Fools Theater Company, brilliantly directed by the talented Michael A. Shepperd, Artistic Director of Los Angeles' award-winning Celebration Theatre. I knew he would honor this delicate story of aspiration and familial love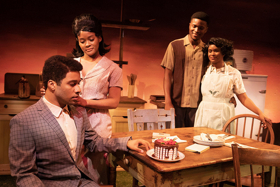 centering on two African-American couples struggling to find their way in a year filled with the promise of a better future for everyone, taking place at the height of the Civil Rights Movement when Freedom Fighters took to the road in buses to battle justice in the Deep South, firmly believing that equal rights for all people deserved to be the law of the land. And that boys will be boys and women will always forgive them their trespasses when babies are part of the equation by speaking out for equality in their own lives and homes.
Jireh Breon Holder is an Atlanta area playwright, director, and dramaturg who is currently a writer on NBC's new hit show New Amsterdam.
His sharp yet funny and often political plays frequently include wild visual metaphors and address the magic of everyday life in the South. This is certainly true in TOO HEAVY FOR MY POCKET, which is set in Nashville, mostly in the small kitchen where two neighboring couples share meals, drinks and friendship. The small stage set design by Alex Calle, brilliantly lit by Matt Richter, perfectly reflects the everyday life of everyday people living comfortably with just the basics needed while dreaming of a better life even though financial obstacles stand in their way.
The central kitchen area is in the home of Sally and Tony (Kacie Rogers and Shane Liburd), a young married couple with a baby on the way and little cash in the bank.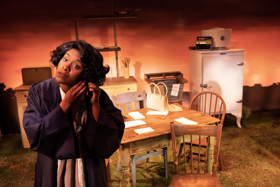 Sally is the pragmatist of the story with her life based on her religious faith and conservative upbringing. Tony is a reformed "bad boy" having lived his life very differently in bars and among many women before meeting Sally through her friends Evelyn (Andrea Nguyen, who did an amazing job on the first night she stepped into the role) and Bowzie (Derek Jackson, whose small frame erupted during the intensity of the role) and living right next door in rural Tennessee. Sally and Bowzie are life-long friends whose love for each other becomes the rock of the tale.
TOO HEAVY FOR MY POCKET beautifully explores the sacrifices and tolls in the fight
for freedom and equality that are placed, not only on the fighters, but the people they love as each one struggles to understand justice, love, and their own responsibilities. The play opens as Sally receives her degree from Beauty School while pregnant with her and Tony's first child. Feeling the need to succeed himself (and for his future with Evelyn), Bowsie soon receives a letter telling him he has earned a full academic scholarship to Fiske University.
But when he attends Summer School to earn the last few credits he needs to start college, Bowsie meets a group of Freedom Fighters who convince him the best way
to use his mind is to accompany them on bus rides planned to Alabama. And wanting to make a name for himself for his future generations propels Bowsie to go, leaving Evelyn behind to worry and fend for herself having just discovered, but not shared with him, the fact she is carrying their child.
The two pregnant women and their struggling husbands revolve around each other, perfectly directed as such by Shepperd during scene changes as well as when letters are shared between Bowsie and Sally in which he recounts the trying and frightening events taking place in the South.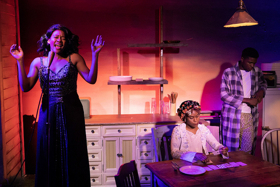 Jackson is at his best during a phone call from prison where he has been held and mistreated for months, sharing his exploding emotion state with Tony who just happens to answer Evelyn's phone. Or is more going on between them, Bowsie wonders, knowing full well Evelyn's past life as a bar singer allowed many men into her bed before marrying Bowsie. And when Sally finds out Evelyn is pregnant, who will she think the father really is? And will both marriages survive the trials and tribulations of this tumultuous year?
Other technical credits enhance the overall artistic vision of director Shepperd, including Jaime Robledo (Sound Design), Michael Teoli (Music Composition),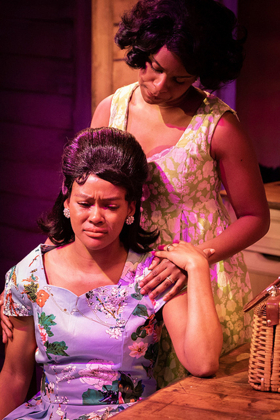 Michael O'Hara (Prop Design), and especially period-perfect Costume Design by Naila Aladdin Sanders enhanced by Byron Batista's Hair Design and Wigs which bring back the luscious stylings of The Supremes and other popular African-American girl groups of the 60s.
TOO HEAVY FOR MY POCKET is performed in the Black Box Theater space of the Broadwater Theater Complex at 6322 Santa Monica Blvd., LA CA 90038, through March 2, 2019 at 8pm of Fridays and Saturdays as well as Sundays at 7pm. Tickets are $15, as Sacred Fools believes that theatre should be accessible to everyone. Reservations can be made by contacting sfreservations@sacredfools.org or buying tickets at the door or online at www.sacredfools.org For information regarding The Broadwater, please visit www.thebroadwaterla.com

Photos by Matt Kamimura include Jaquita Ta'le appearing as Evelyn