Review: THE CAKE Proves That Love is Always the Key Ingredient in Life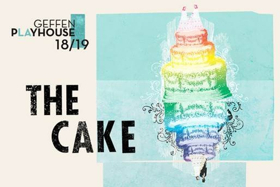 As a true believer in equal rights for all, like so many others I follow the news about injustices done to anyone based on physical appearance, sexual orientation, or personal beliefs as everyone has a right to be who they are, even if I don't agree with their opinions or lifestyle. Live and let live is my motto, and as long as the truth can be told onstage, I will continue to share performances relevant to the news today as told with honesty and fairness.
As such, I want to share with you that I just got home from seeing The Echo Theater Company's World Premiere production
THE CAKE written by Bekah Brunstetter, a hit television writer/producer (This is Us) and acclaimed playwright, and directed by Jennifer Chambers whose artistic vision shines at The Geffen Playhouse, featuring an ensemble of incredibly compelling actors including Morrison Keddie, SHANNON LUCIO, Rod McLachlan, Carolyn Ratteray, and the dazzling Debra Jo Rupp as the owner of a bakery shop facing a moral dilemma about preparing a wedding cake for a gay couple, a lifestyle directly at odds with her devout, Bible-believing religious beliefs, a tale torn from recent news headlines.
What makes her decision especially heartbreaking is one of the brides
is her recently departed best friend's child and her own Goddaughter, who she has loved and helped raise since the day she was born. Without getting too preachy, thanks to the overall brilliance of Brunstetter's writing and quality of the production under Chambers' dedicated care, THE CAKE will open your eyes to the realities of how difficult it may be to accept those who choose to live a different lifestyle without any judgement, while revealing the truth and revelations of shame on all sides. Hopefully audiences will heed the lesson that we are all the same and deserve respect as equal human beings.
Upon entering the smaller Audrey Skirball Kenis Theater at The Geffen Playhouse, Pete Hickok's scenic design takes the audience into the cozy,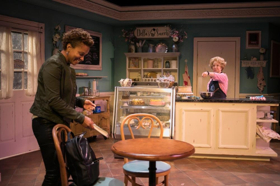 pastel-laden Della's Sweets bakery (with two separate bedrooms at each side of the set) where we meet the owner (luminescent Debra Jo Rupp always dressed to perfection, as is the rest of the cast, by Elizabeth Caitlin Ward) as she shares her opinion on what it takes to make such delicious cakes by following the recipe and baking instructions exactly as written, including using lots of real butter and none of those gluten-free, sugar-free, non-dairy, vegan ingredients that take all the flavor and consistency right out of her confections. Of course, that comment generated tons of laughter from those of us in the audience familiar with those dietary restrictions in our own lives!
Another outstanding technical element of the production introduced during this opening scene
is Pablo Santiago's lighting design which puts Della in a spotlight and highlights the entire set with colorful strings of emotion-defining LEDs every time she speaks directly to the audience or via voice overs (thanks to Jeff Gardner's sound design) to George (Morrison Keddie), star of The Great American Baking Show on CBS who has invited her to participate in an upcoming cake baking competition. It seems her only goal at this point is to win the contest and gain personal fame as the best cake baker in the country.
During this first encounter with Della, waiting inside the bakery door in relative darkness is Macy (Carolyn Ratteray), a lovely, young writer who says she is there to learn about the famous bakery in Winston-Salem, North Carolina,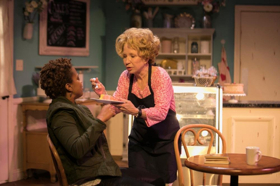 for a feature story she is writing about the South. Della willingly shares her opinions and beliefs about baking and life as she describes many of the wondrous cakes on display in her glass cabinet, sharing her belief that "if I could give everyone a cake with their name on it, all will be better." I guarantee each one will make your mouth water for a taste, even though Macy refuses to do so, saying she believes "sugar is more addictive than cocaine" and promptly pulls out a "healthy" protein bar which she gnaws at as Della puts the cakes away, with Rupp signaling the baker's disapproval with her every move.
During their chat about the article, Della expresses her deep-based religious views on race (Macy is black) and gay marriage,
not realizing Macy happens to be the fiancé of her Goddaughter Jen (SHANNON LUCIO) who soon enters the bakery and introduces the two. With Della's disbelieving stare at the two women holding hands as Jen asks her to bake their wedding cake, Rupp perfectly sets up the personal versus religious battle going from inside Della's heart, mind and soul as she struggles to reconcile her deeply-held belief in "traditional marriage" and the love she has for the woman she helped raise, finding herself in strange new territory during this enchanting 90-minute play.
As the story evolves moving from the bakery to the two bedrooms at opposite ends of the set, we soon learn of the lives, difficulties, and experience-altering shame felt by not only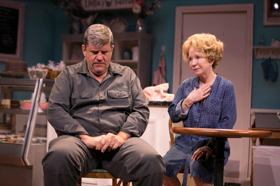 Jen and Macy, but also between Della and her plumber husband Tim (Rod McLachlan, the only actor not from the Echo Theater's original cast), an evenly more devoutly religious person than she is. It is during their scenes together as they attempt to put the spark back into their long-ago forgotten physical relationship that the play takes off to the heights of comedy. Just be prepared to laugh hysterically when you see how they use buttercream frosting or mashed potatoes to ignite the flame!
In fact, that well-placed mashed potato scene is perfectly situated immediately after the most heartbreaking moment in the play when Della and Jen have a truthful heart-to-heart
about making the decision whether or not the cake will be baked at Della's Sweets. And even though you may need a Kleenex, listen closely to the truthful honesty with which the lines are delivered by these two actresses dedicated to showing audiences that neither side is right or wrong, just diametrically opposed and correct to each of them. And I am not revealing whether or not Della bakes the cake or even attends the wedding as the truth is revealed during the final moments of the play when THE CAKE proves that love is always the key ingredient in life.
Performances continue Tuesday - Friday 8:00 p.m.,
Saturday 3:00 and 8:00 p.m., and Sunday at 2:00 and 7:00pm through Sunday, October 21 in the Audrey Skirball Kenis Theater at The Geffen Playhouse, 10886 Le Conte Avenue, Los Angeles, CA 90024. Tickets priced at $30-$120 are available in person at The Geffen Playhouse box office, by phone at 310.208.5454, or online at www.geffenplayhouse.org. Rush tickets for each day's performance are made available to the general public 30 minutes before showtime at the box office. $35 General / $10 Student.
Photo credit: Chris Whitaker