Review: THE ART COUPLE Cleverly Re-Imagines Two Very Different Odd Couples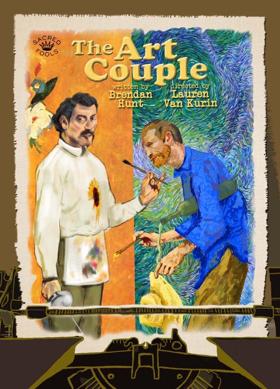 Long before Felix met Oscar, Vincent van Gogh and Paul Gauguin were ill-fitting roommates in the south of France, which turned out to be a fateful co-habitation that changed the face of art - as well as Van Gogh's face! Playwright Brendan Hunt cleverly re-imagines these two art masters as the subjects of Neil Simon's original draft of The Odd Couple, which Hunt presents as being co-written with yet another of the oddest couples possible - Sam Shepard, here introduced as Steve, an oddball busboy looking for his first big break.
Neil and Sam's imaginary collaboration in creating "The Odd Couple" is the basis for Hunt's THE ART COUPLE, an untrue telling of a true story between two of the oddest couples to ever grace a stage. The play's world premiere is being presented by Sacred Fools, brilliantly directed by Lauren Van Kurin, extended through April 21 in the Black Box Theater of the Broadwater Theater Complex. I guarantee lots of laughs once you put reality aside and let this fantastic fantasy take you on a journey to meet these four incredible artists as their opposing talents both influence and enrage each other!
Adding to the reality of the tale are four actors who resemble each of the characters they portray, dressed in historic garb by Linda Muggeridge.
Playwright Brendan Hunt tackles the role of Vincent Van Gogh with great glee and celebration of his madness, his ginger beard and hair adding to the overall effect of being in the presence of this great, though totally mad, art genius. The more serious artist and womanizer Paul Gaughin is portrayed by Bryan Bellomo, as a starving artist looking for his next opportunity to strike it rich in the art world. His romantic flair is accentuated with a red beret and enough swagger to attract the most lonely and wealthy women to support his artistic habit. But Paris in December 1888 has not treated either one of them well, neither having sold even one painting.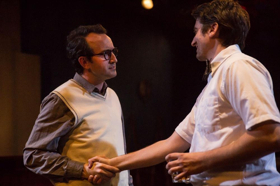 The play's plot line begins in December 1963 when Neil Simon (Clayton Farris, a real Woody Allen-type nebbish) and Steve, the busboy (Ryan Patrick Welsh with all his good old Southern boy bravado) meet in a New York Jazz Club at closing time and discuss Simon's latest play which he is attempting to write upstairs at the club. He shares his interest in writing a play about two divorced men trying to live as roommates in New York City, but all he has is the title, "The Odd Couple." But his writer's block is driving him crazy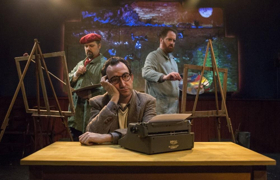 trying to meet the deadline for its screenplay, having already accepted a $400,000 advance. It is then that Steve invites Simon to spend a little time up in his parents' place in the Catskills so he can write while Steve works the land. Simon hems and haws before accepting the offer until Steve displays a certain creative talent. When Simon agrees, Steve decides to re-name himself Sam Shepard, and hopes to cash-in on Simon's playwriting fame.
As their writing begins, the two men realize they have a mutual interest in art. The light bulb goes off - it's well known two very different painters, Van Gogh and Gaughin, spent time living together in Arles, and it is their strange cohabitation that then inspires Simon to finally write the screenplay for "The Odd Couple."
It begins as Simon and Shepard imagine a poker game taking place in a painter's studio where the Gaughin is losing to August (Kristyn Evelyn), Henry (Laura Nicole Harrison), and their host George (Joel Scher), who calls himself a "pointillist" and is driving both everyone crazy with the fame he has garnered for latest painting "A Sunday Afternoon on the Island of La Grande Jatte," a print of which hangs on the wall. Given how the actors are dressed and present themselves, there is absolutely no doubt these three poker players are Auguste Rodin, Henri de Toulousse-Lautrec, and George Seurat, all among the greatest and often struggling French Impressionists.
When Vincent arrives and makes a scene with his drunken behavior, things comes to head after he breaks something in the off-stage kitchen,
then rants with Gaughin about how he needs him to come to Arles to help him paint. In the blink of an eye, Vincent runs over to Seurat's painting and carefully places several dots of red blood among the millions of dots already there. This sends Seurat into a rage, throwing Vincent out on his ear, so to speak. And since Paris has not served him well, Gaughin decides to finally take Vincent up on his offer to move to the South of France to assist Vincent in creating an artists' colony where they can both pursue their painting careers.
But just as Vincent and Gaughin could not cohabitate without driving each other crazy, once their co-writing sessions begin, Shepard's off-color language and strange writing style often takes Simon's play on turns toward the absurd, although the two crazy artists at the center of their tale could no doubt have actually gone as far as
Shepard takes them in his imagination - making this fantasy all the more hysterical! It is during some of these moments that Marie-Francoise Theodore is a riot as she transforms herself, portraying both Vincent's prostitute lover Rachel and Madame Ginoux, one of the first local women in Arles willing to sit for her portrait being painted by the two artists simultaneously. Of course, Vincent finishes his in a few hours while Gaughin merely makes a charcoal sketch during the same period, infuriating the amateur model. And during these scenes, projections of the two artists' final paintings of Ginoux are projected on the wall, adding to the reality of her interactions with the two men.
Joel Scher also has impossibly fast and hysterically performed character transitions from the Mailman to Theo Gaughin to Inspector Mureé, adding to the over-the-top humor in the show.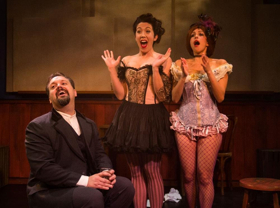 But my favorite scene involves the infamous creation of the Pidgeon Sisters scene in "The Odd Couple," this time invited by Gaughin to come up to his and Vincent's place for some "fun and games." Here the Alouette (French for "lark") sisters are circus performers named Toinette (Laura Nicole Harrison) and Angelique (Kristyn Evelyn), and these two actresses, along with Hunt as Vincent, drive each other into fits of hysterical crying after Gaughin leaves to buy a bottle of absinthe. I could not stop laughing as the girls' over-the-top sexual antics were rebuffed by Vincent, or at the moment of shocking dismay when Gaughin enters and sees his party plans have gone so far array.
I could go on and on about how entertained I was during this entire production, but I must mention the outstanding technical credits that play such an important part in
the overall fun of the show. Set design by DeAnne Millais includes what appear to be black painting canvases on the walls which are transformed by Corwin Evans' brilliantly effective projection design into the may famous Impressionist paintings mentioned throughout the play. Lighting designer Andrew Schmedake backlights the canvases with LED lighting when the stage darkens, adding to the magical aspect of what is being created on them. From the show's helm, director Lauren Van Kurin has masterfully integrated every single technical aspect perfectly into Hunt's brilliantly written script about "Zorba" and the "Ginger."
THE ART COUPLE continues at The Broadwater Black Box, 6322 Santa Monica Blvd., Hollywood 90038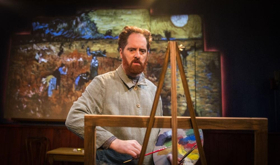 through April 7, 2018 on Fridays & Saturdays at 8pm, Sundays at 7pm. Tickets are $15 and may be ordered via email to sfreservations@sacredfools.org, online at www.sacredfools.org, or at the box office pending availability. I do hope this fabulous comedy will enjoy anther extension so that more theatre, playwriting and painting enthusiasts can see it, enjoy all the inside jokes, and laugh their troubles away for a couple of well-spent hours!
And with a touch of kismet, Sacred Fools announced on 4-2-17 THE ART COUPLE's second extension with added performances on April 13, 14, 20 and 21, all at 8pm. Order your tickets soon!
Photos courtesy of Sacred Fools publicity