Review: Musical Theatre West Charms with Lovely New Production of CINDERELLA Musical
The Broadway-caliber production recreates the magic of the original 2013 stage adaptation
Most times, it's easy to forget that Richard Rodgers and Oscar Hammerstein II's musical adaptation of the classic fairy tale CINDERELLA didn't actually originate on the stage the way their other infamous Broadway blockbusters did, despite the memorable quality of many of the show's songs.
The fact is, the Rodgers and Hammerstein version of this musical (not to be confused with Walt Disney's own animated musical) actually first came to life in 1957 via the magic of early early television---where more than 100 million households that owned television sets at the time tuned in to CBS to watch a one-time-only black-and-white live broadcast of Julie Andrews playing the title role in a practically perfect performance that captured many hearts and imaginations (and an Emmy nomination).
CINDERELLA, of course, marked the first and only time these two titans of Broadway would write a full show specifically for the TV medium. A familiar children's story staged live with romance, whimsy, and oh-so-cute early in-camera "special effects," the original broadcast---despite technical difficulties and the constant interruption of commercials---was a resounding hit, prompting recreated stage versions in London, New York, and other touring venues around the country.
The success proved so irresistible that another live staged production was commissioned by CBS in 1965, this time to be telecast (and recorded for future repeats) in bright, beautiful color and starring newcomer Leslie Ann Warren in the title role. It won't be until 1997 that another television adaptation would see the light, this time as a Disney-produced TV movie with a beautifully diverse cast led by pop stars Brandy Norwood in the title role and Whitney Houston as her fairy godmother. In both the 1965 and 1997 updates to the musical, additional Rodgers and Hammerstein songs (cut from the duo's other musicals) were added to enhance/expand the story and its originally shorter running time.
Which then brings us to the "new" 2013 adaptation---marking the musical's first ever official full Broadway production. Now featuring a brand new book revised and expanded by playwright Douglas Carter Beane, the musical offers a purposely modern-revisionist jolt to Hammerstein's original script. This new CINDERELLA retains hints of the old-world fairy tale aspects of Charles Perrault's version of the classic story we all know from our childhoods, but gives the narrative a few progressive, 21st Century-leaning tweaks.
And much like all of its subsequent versions, this new Broadway update includes a few more previously deleted Rodgers and Hammerstein songs from other shows (that include South Pacific, Me & Juliet, and Main Street to Broadway) that have been repurposed for this newer, expanded, two-act stage show.
The resulting show---which I first experienced when the Broadway production's Equity national tour made its first stop in Los Angeles then again in Orange County the following year---proved to be a mixed bag of beguiling magic, gorgeous music, and well-meaning restructuring.
For me, the musical was a completely delightful surprise during my first viewing, hitting me deeply in the feels and had me utterly enraptured---from the visual splendor of its sets and costumes to the talents of the ensemble cast. The seamless integration of the music and score from the original broadcasts with the "extra" Rodgers and Hammerstein songs---all sounding sweeping and lush in these newfangled arrangements by David Chase and orchestrations by Danny Troob---feel so harmonious that I began to forget which songs belonged to which version.
And when the fairy godmother transformed Cinderella's tattered rags into a shimmery white gown right before our very eyes using some clever theatrical magic---my goodness, I caught myself getting teary-eyed... and completely sold.
For a moment, I truly got lost in its magical machinations and its heartwarming wholesomeness. And then again. And then again.
But while, admittedly, many of the well-meaning narrative tweaks and modernized additions do seem slightly forced and somewhat at odds with the story's original innocence, for the most part, this revised CINDERELLA is a genuinely entertaining, effectively escapist musical at its core---providing cynical adults with a feel-good show tinged with a slightly snarky attitude, and offered mesmerized kids with an enchanting piece of theater that embraces both wishful dreaming while also advocating for what's right and fair.
To no one's surprise, these same enchanting qualities are similarly present and accounted for in Musical Theatre West's endearing new regional production of the show---which continues performances at the Carpenter Performing Arts Center in Long Beach through December 18, 2022. Directed by Peggy Hickey---who also provides original choreography alongside Bill Burns---this CINDERELLA is a lovely, smile-inducing, family-friendly treat that keeps everything palpably light and fluffy... even as it tries in earnest to give the show new moments to regurgitate more serious, well-intentioned progressive lessons.
A new take on a very familiar tale, Rodgers + Hammerstein's CINDERELLA reintroduces us to its central heroine in the form of Ella (adorable, lovely-voiced Emily Grace Tucker), a sweet and kind young lady who---soon after her father passes away---has become, virtually, a lowly, subservient slave/maid for her status-chasing stepmother Madame (the delightfully devilish Tracy Lore) and her two step-sisters, the occasionally nice Gabrielle (Aviva Pressman) and the never nice Charlotte (the very funny Joanna Johnson).
Like modern princesses of the Disney era, this version of Cinderella is still a dreamer, but is also spunky, smart, and advocates heartily for what's right---including the ability to recognize that kindness (even to those who are cruel to her) is always the correct path to go.
Ella's nickname, "Cinderella," it turns out, is a cruel nom de plume that's been assigned to her because she is usually covered in cinders as she sleeps next to the fireplace for warmth. Painfully aware of her lot in life, she often finds herself retreating to her own little corner, in her own little chair, dreaming of being someone else having outrageous adventures elsewhere.
Meanwhile, on the other side of the kingdom, we meet the valiant but rather obtuse Prince Topher (Gabriel Navarro), the sole orphan son of the late King and Queen. Currently having a crisis of self-worth, this self-effacing "far from perfect guy," feels that, perhaps, he is destined for more than just having an infamous knack for slaying dragons, gargoyles, and giants. In his own words, he longs to "do what's right, but often does what's wrong."
Oh, if he only knew.
Though Topher is, technically, the rightful heir and ruler of the kingdom, much of the actual governing and the implementing of laws are orchestrated unbeknownst to him by his family's most "trusted" advisor, Sebastian (Perry Ojeda)---whose deplorable policies as the Royal Chancellor have all been fast-tracked behind Topher's back now that the King and Queen are gone. Even worst, all these bad laws---mostly to the detriment of the poorer citizens---have been decreed under Topher's name!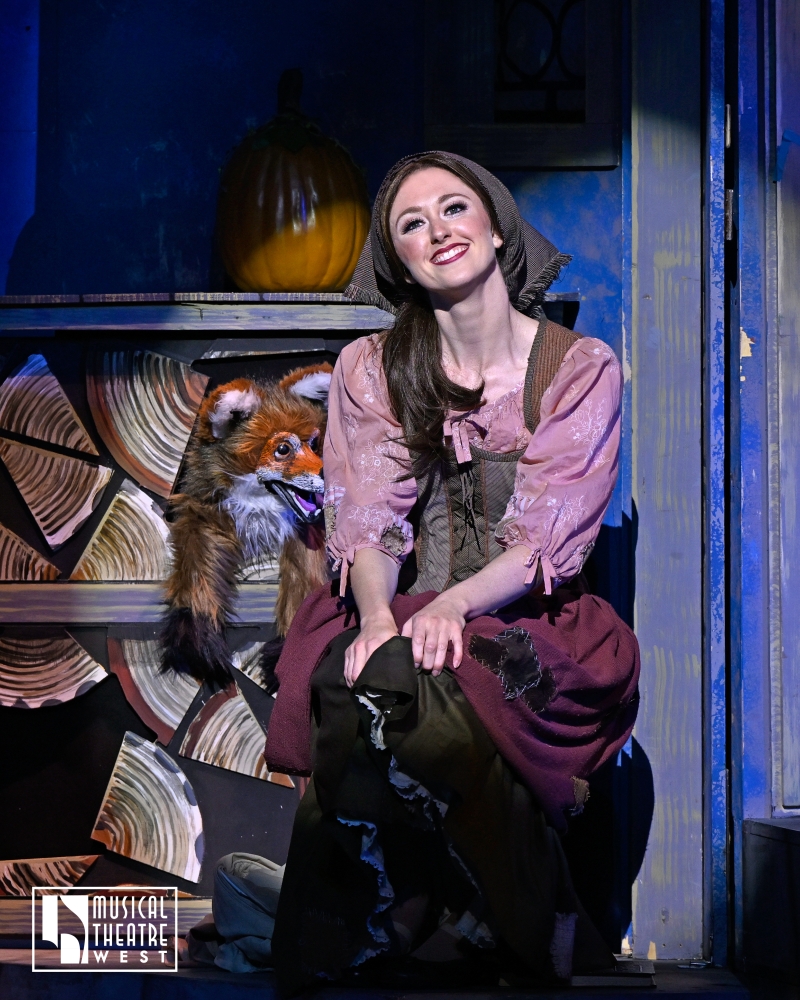 This, naturally, enrages local revolutionary Jean-Michel (Jalon Matthews), a fresh new character created specifically for this iteration of the musical to provide Ella a... um, let's see... a non-critter ally, perhaps? For his part, the adorkable Jean-Michel aims to inspire the townsfolk to join his uprising against their oppressive rulers---actions that Ella seems to take to heart, but are also now beginning to irritate Sebastian increasingly with each passing day.
Oh, and another thing... Ella's step-sis Gabrielle is having a secret affair with Jean-Michel! Plot twist!
So what's an evil usurper supposed to do to distract not only the increasingly self-reflective Prince but also the increasingly angry citizenry? Why, have the Prince throw a Royal Ball, of course! And the ultimate goal of the Ball? Well, to find the Prince his own Princess bride, naturally!
Sebastian's plan worked! The citizenry---particularly the women---are all in a tizzy even with just the mere announcement of the upcoming fete that they have all but ignored Jean-Michel's outcries that the poorest among them are being continuously oppressed (wow, sounds sadly familiar).
And, as expected, Madame is hell-bent on pushing her two daughters---but not Ella---to the top of the Prince's dance card/betrothal list at the Ball. Ella helps everyone prepare, but is deeply hurt when she is mocked for even daring to introduce the idea of her coming along.
Devastated and feeling completely hopeless, her solitude is once again interrupted by a visit from the eccentric town loon, Crazy Marie (the spectacular Daebreon Poiema, coming in hot with killer vocals) who flitters about spouting gibberish. But Ella, ever the nice, non-judgmental gal, treats her with dignity and kindness, even if she'd rather wallow in her grief alone.
But---surprise!---Marie has arrived with a crumpled, ripped invitation to the Prince's Ball and offers it to her new friend. But Ella winces at the invitation's messiness.
"Don't wait for everything to be perfect!" scolds Marie, a subtle hint for Ella to look beyond to what's possible beyond the surface.
And then the magic begins... Marie reveals herself to be Ella's Fairy Godmother™ and declares that her kindness will be rewarded with a limited time trip to the Ball---complete with staffed transportation, a beautiful, sparkling new frock, and some see-through footwear! Apparently nothing is too, you know, impossible.
Warned that the magic expires at midnight (geez, they couldn't give a gal an extra hour at least?), Ella makes it to the Ball and enchants everyone---including, most importantly, Topher.
"I have found her!" he croons dreamily. "She's an angel!"
But Ella has a different agenda for the meeting: though the thought of romancing the Prince wasn't out of the question, she more than anything wants to open the Prince's eyes to see the oppression being suffered by his people. Will she be able to do it or will the Prince be too distracted by her beauty to listen further?
Dreamy, romantic, and gorgeous-looking and sounding, MTW's new production of CINDERELLA retains much of what made the 2013 production so adorably magical---so much so that even this production's sets, costumes, and staging feel like they were transferred directly from Broadway and its national tour.
My only gripe with the show---one that I still feel strongly about years after my first two viewings of this iteration---is that I wish that such a revisionist revamp of this musical would have also instigated an even more empowered title character.
Rather than act as a messenger on behalf of Jean-Michael, Ella should already have had a progressive, revolutionary mindset---one that perhaps Prince Topher should have also had right from the start. I think it would have been more logical for Prince Topher to want to implement these progressive ideas but gets shot down immediately by Sebastian, who here, doesn't come off that evil, to be honest.
Topher and Ella's shared progressive stances would have been that extra layer that Topher finds attractive about Ella, not just her good looks. I do, however, loved that Ella, in her own subtle way, had total control and autonomy over that whole glass slipper situation---a lovely departure from how the fairy tale treated it in the source material.
Instead, Beane's revamp merely shows that both Ella and Topher are "overseen" by a pair of selfish adults with nefarious intentions---and that in meeting one another, they are able to break out of that bondage. Though that scenario gave both Topher and Ella a somewhat shared emotional journey when they meet, neither of them have full cognition of that being the case for them respectively.
But it's hard to really justify this as a valid-enough reason for one to truly dislike this show. The intentions are there, and they are easy to appreciate. Children will no doubt be dazzled by the magic, while their parents will be swept up by the gorgeousness of this musical's heartwarming score.
A genuinely joy-filled musical with a generous dusting of theatrical magic, CINDERELLA, overall, makes for a truly lovely night.
Follow this reviewer on Twitter: @cre8iveMLQ.
Photos © Caught In The Moment Photography/Musical Theatre West.
---
Performances of Musical Theatre West's production of RODGERS + HAMMERSTEIN'S CINDERELLA continue through Sunday, December 18, 2022. The Carpenter Performing Arts Center is located at 6200 E. Atherton Street in Long Beach, CA. For tickets or for more information, please call 562-856-1999 x4 or visit online at www.musical.org.