Review: Joe Morton Embodies Comedian and Activist Dick Gregory in TURN ME LOOSE
The second extension of the West Coast premiere of TURN ME LOOSE, the hit Off-Broadway a comedic drama by Gretchen Law, produced by John Legend and Mike Jackson, centers on the life of trailblazing comedian and civil rights activist Dick Gregory who passed away in August 2017 at the age of 84. The production, under the direction of John Gould Rubin, transforms The Wallis' Lovelace Studio Theater into a Comedy Club and stars Emmy and NAACP Image Award-winner Joe Morton (ABC's "Scandal") in a tour-de-force performance as the pioneering satirist. The play also features actor John Carlin in several roles, as well as an original song by Legend, Turn Me Loose, made possible in part by the generous support of The Sheri and Les Biller Family Foundation.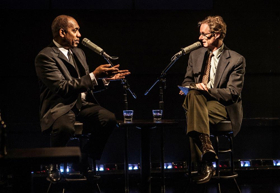 TURN ME LOOSE explores the influential life of 1960s comic genius Dick Gregory, the first Black stand-up to make white audiences laugh at the absurdity of bigotry. The play reveals how the power of activism enticed Gregory from one of the most successful show business careers of the postwar era into a life of sacrifice and danger alongside Martin Luther King, Medgar Evers and other Civil Rights leaders. And I can tell you, when Morton describes the tragic murder of Evans, his anger and tears seem to flow from his soul.
"Dick Gregory used every syllable, every metaphor, every joke, every march, every incarceration, every hour of his life,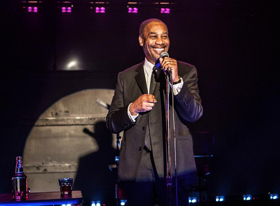 to embarrass this country into providing a more perfect, perfect union," said Morton. "Dick Gregory will be greatly missed. Humbly, and in his stead, TURN ME LOOSE carries on to be his voice and his inspiration for all who wish to laugh at the absurdity of racism, and be enlightened by his spirit of justice." And I guarantee, thanks to his brilliant portrayal, you will walk away with a greater appreciation of how Gregory lit the fuse of social revolution by using his tongue as a switchblade to end rationalizing prejudice.
Often called the black Lenny Bruce for his razor-sharp wit, Gregory hacked away at myths
about race, poverty, war and politics, during his entire life. I personally remember all the ruckus Dick Gregory caused during the late 60's as he spoke out on civil rights and unrest. And I can tell you, Joe Morton's intense performance is just as confrontational as Gregory himself, especially as the actor walks among the audience seated at cocktail lounge tables in front of the stage or while picking out an audience member to challenge, all the while perfectly channeling Gregory's ability to reach out and inspire others to take social action for equality.
In a recent interview,
President Obama
called Gregory one of his two favorite comics ever. The other was
Richard Pryor
who himself said, "
Dick Gregory
was the greatest and he was the first." Gregory was one of the last living champions from a remarkable period of struggle for dignity and freedom, and his legacy and utterly unique brand of heroism lives on in
TURN ME LOOSE
.
"Since the summer of 2009 when I first approached Dick Gregory about creating this project, it has been the main thrust of my career," said director John Gould Rubin. "I discovered an insufficiently known hero whose prescience in the 60's sounds like commentary on today's news; he so accurately predicted the world in which we now find ourselves. No figure I have ever encountered wielded such hysterical humor so sharply juxtaposed to the most profound insight. I thought I knew who Dick Gregory was when I approached him, but then became amazed at this epic figure's life, tragically just lost. I hope this play may create that same amazement in our audience so they may be equally awestruck at this unique figure's life."
Thanks to Joe Morton and everyone on the production team, a new generation of audiences will discover one of the most prophetic, committed, authentic and confrontational-and hysterically funny-public figures of our time. No doubt you will also gain a greater understanding of how Dick Gregory's comedic genius shines brightly in so many modern-day comedians who make us laugh at our own shortsightedness.
TURN ME LOOSE performances continue through Sunday, November 19, 2017 on Thursdays - Fridays at 8pm; Saturdays at 2:30pm & 8pm; Sundays at 2:30pm. Single tickets are available for $60 and $75. For more information or to purchase tickets, visit TheWallis.org/TML, call 310.746.4000, or stop by in person at the Wallis Annenberg Center for the Performing Arts Ticket Services located at 9390 N. Santa Monica Blvd., Beverly Hills, CA 90210.
Photos by Monique Garboni