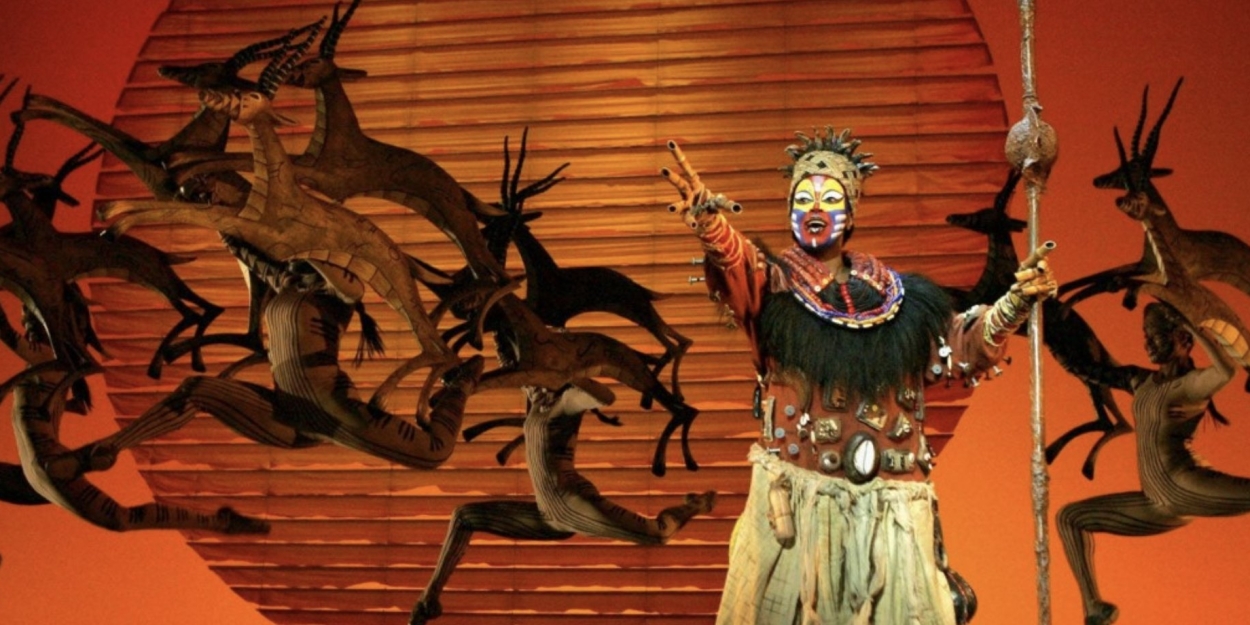 Review: Disney's THE LION KING Wows at the Hollywood Pantages
Even as long as it's been around, Disney's THE LION KING is still a wonder to behold. Playing The Pantages through March 26, 2023.
Ok. So, here's the deal. I'm pre-empting this review with a warning...
Intermission is only 15 minutes. But the line to the ladies' room is 20-25. So, plan ahead. Because you absolutely won't be let back into the theater until after the first, second-act number, if you're late. That was the only un-fun thing about the opening night of Disney's, THE LION KING, at the Hollywood Pantages. It would have been nicer to have had a slightly longer break. As it stood, the theater was wall-to-wall with enthusiast ticket holders. And not an empty seat to be found.
That being said...
Disney's, THE LION KING, is more than 25 years past its groundbreaking debut on Broadway. The show officially opened on November 13, 1997, at the Minskoff Theater after its October preview run, and has since "found its way into the hearts of millions of people around the world." But believe it or not, I myself had never seen it. So, sitting in the orchestra was a definitive treat especially when a colossal elephant paraded down the aisle past me in dramatic style. The crowd went wild!
From the moment Rafiki (Gugwana Dlamini) Shaman of the Pride Lands, heralded her recognizably famous opening note, the audience was uproarious. And there was nothing that could have prepared me for my slightly teary-eyed response to the splendor of it all. Even as long as it's been around, THE LION KING is still a wonder to behold.
The show is a kaleidoscopic spectacle of habiliment, music, choreography, and puppetry. A prodigal son-ish tale of hope and adventure, the narrative simplicity is almost dwarfed by its phenomenal embellishments: animalistic body language, vibrant mammalian & human costuming, vocal profundity, drum rhythm, and radiant stage light. But this remarkable, artistic work nevertheless is as crystal clear to the heart as it is moving to the senses. Everything about it resonates with the youngest to the oldest person in the room.
If THE LION KING had not had such prestige and I were just reviewing a show that's been touring for a long time, with fresh eyes, I could honestly say that choreographically it still holds up. Other elements will come and go in most musicals, and in fact for this production they occasionally did. There were moments when the vocals lost some steam and the story itself has always been a bit "thin". But what did not go unnoticed were some particularly stand-out performances by Peter Hargrave as Scar, Scarlett London Diviney as Young Nala, Gerald Ramsey as Mufasa, Khalifa White as (elder) Nala, and undeniably Martina Sykes, Forest Van Dyke and Robbie Swift as the Hyenas, Shenzi, Banzai, and Ed. But it is still Tony Award-winning director, Julie Taymor's highly experimental (then) original visual spin that is the most fantastical draw for this show. Its power has not diminished one bit. Nor has the spirited music. *The program credits Elton John & Tim Rice with music & lyrics with additional music & lyrics by Lebo M., Mark Mancina, Jay Rifkin, Julie Taymor, and Hans Zimmer.
Taymor's enhancements not only heralded the astounding handicraft of seamless human-to-animal mask and puppet design (by Taymor and Michael Curry), she also increased the presence and potency of the female roles in the stage adaptation along with incorporating six African languages into the show. Since that time, THE LION KING has been translated into eight languages, seen by more than 90 million people in 19 countries, and is still one of Broadway's hottest tickets.
Taymor herself in a 2017 interview said, "THE LION KING has lasted so long because it's socially minded, and it has a sense of spirituality that connects with people all over. Everywhere I've been, there's always something in the show that becomes distinctly political there." Not a single notation of that statement has failed. Certainly not in this iteration. The politics of joy certainly rocked the house by the energy and stagecraft of the exceptional Los Angeles tour ensemble.
THE LION KING'S inspiration and intimacy remain intact, and the production is as evergreen as any creative marvel could ever hope to be.
Music & Lyrics by Elton John & Tim Rice
Additional music & lyrics by Lebo M. Mark Mancina, Jay Rifkin, Julie Taymor, Hans Zimmer
Book by Roger Allers & Irene Mecchi
Starring: Peter Hargrave, Gerald Ramsey, Gugwana Dlamini, Mukelisiwe Goba, Nick Cordileone, Nick LaMedica, John E. Grady, Darian Sanders, Khalifa White, Forest Van Dyke, Martina Sykes, Robbie Swift, Scarlett London Diviney, Jaylen Lyndon Hunter, Jordan Pendleton, Farrah Wilson, Allison Danielle Semmes, William John Austin
Ensemble: Derek Adams, Kayla Rose Aimable, William John Austin, Iman Ayana, Isaiah Bailey, Samantha Lauren Barriento, Eric Bean, Jr., Layla Brent, Christin Byrdsong, Sasha Caicedo, Thembelihle Cele, Leroy Church, Daniela Cobb, Lyric Danae, Camille Eanga-Selenge, Marquis Floyd, Tony Freeman, Samaree Lawson, Gabisile Manana, Amber Mayberry, Christoper L. McKenzie, Jr., Justin Mensah, Nhlandhla Ndlovu, Aaron Nelson, Jeremy Noel, Sicelo Ntshangase, Sayiga Eugene Peabody, Jennifer Theriot, Courtney Thomas, Jordan Nicole Willis, Sherman Wood, Joel Karie, Maia Schechter, Yael Pineda-Hall, Christopher Sams, Allison Danielle Semmes, T. Shyvonne Stewart
Photo courtesy of the production.