Photo Flash: THE PRODIGAL FATHER At Celebration Theater
"The Prodigal Father," a world premiere play by Larry Dean Harris directed by Michael Matthews, opened March 27 at Celebration Theatre (CT) as a co-production between CT and Playwrights 6 (P6). Television veteran Max Gail plays the title role in a cast that includes Josette DiCarlo, Joe Rose, Allain Rochel and Truly Magyar.
This is the fifth P6/CT collaboration in ten years following Harris' LA Weekly Best Playwriting Award nominee "Bible Stories" in 1999 and three critically acclaimed "Christmastime is Queer" group productions in 2002, 2003 and 2004."It's a good fit creatively, and it's good business," said
Michael Shepperd
, CT Artistic Director. "Celebration has had a long relationship with P6, and this co-production allows us to capitalize on the strengths of both companies while sharing the financial risk during this time of economic hardship."The Prodigal Father" explores the father-son relationship of Earl and Jamey Sanders, two disparate personalities thrown together - along with Jamey's lover - in a Chicago loft. Earl's Alzheimer's provides the momentum for the narrative as scenes - and characters - shift instantly from present to past in a uniquely theatrical experience of comedy and drama. The production is helmed by former CT Artistic Director
Michael Matthews
, who recently direc
Ted Allen
Knee's "The Jazz Age" to critical acclaim at the Blank Theatre. Matthews, a Chicago Jeff Awards nominee, had a string of successes at CT: "Four," "Stupid Kids," "Porcelain," "The Bacchae" and "Beautiful Thing," which earned him two Ovation Award Best Director nominations in the same year."Prodigal" was developed in the P6 workshop and marks Harris' return to Celebration following the eight-week sold-out run of his jazz musical "Play It Cool" with collaborator
Mark Winkler
in 2006."Play It Cool," - a Critic's Pick in the Los Angeles Times, L.A. Weekly and Backstage - recently made its east coast debut in the New York Musical Theatre Festival starring
Sally Mayes
and
Josh Strickland
. Harris has received LA Weekly, Ovation and GLAAD award nominations for his work, which also includes "Like an Old Song," which was named the Best Gay-Themed Play of 2000 by Back
Stage West
."The Prodigal Father" marks another return: that of television veteran Max Gail to the stage after 25 years. While Gail is best known for his television role as Det. Stan "Wojo" Wojeciehowicz on "Barney Miller" from 1975 to 1982, he has nearly 100 film and television credits, including a recurring guest star role on the current CBS comedy "Gary Unmarried." Chris Pearson (CT) and William Gilmore (P6) are co-producers for the production, which opens Friday, March 27 at 8 p.m. and runs until April 26, with performances on Thursday, Friday and Saturday at 8 p.m., and Sunday matinees at 3 p.m. Tickets are $20, and reservations can be made by calling 323-957-1884.Celebration Theatre is located at 7051-B Santa Monica Blvd., Hollywood.Playwrights 6 is a Los Angeles-based playwright-managed theater company founded in 1999. Celebration Theatre, founded in 1982, is the oldest continuously running professional gay and lesbian theatre in the United States. Additional information on both companies can be found at
www.celebrationtheatre.com
and
www.playwrights6.com
.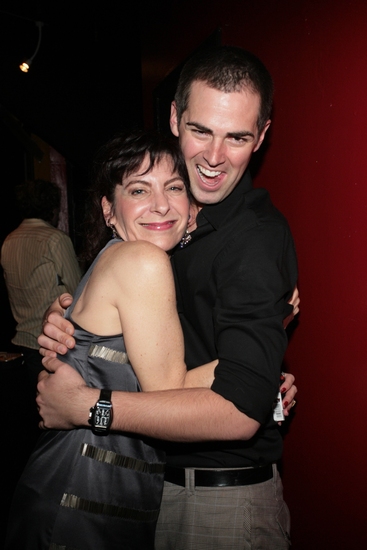 Josette DiCarlo and Michael Matthews

Richard Riehle and Larry Dean Harris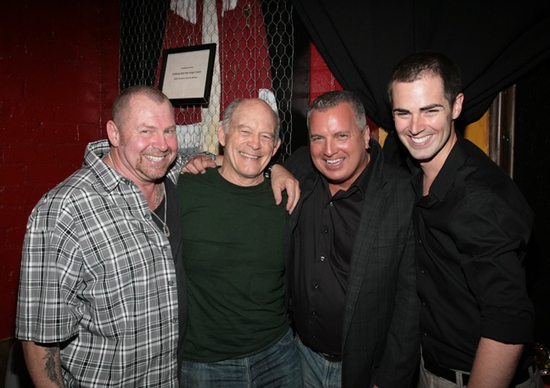 Joe Rose, Max Gail, Larry Dean Harris, and Michael Matthews