NEVER SWIM ALONE Extended At Open Fist Theatre Company
Short play by acclaimed Canadian playwright Daniel MacIvor presented as companion piece to 'The Soldier Dreams'.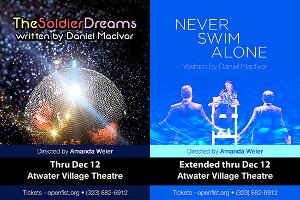 Open Fist Theatre Company extends Never Swim Alone, a slyly witty and unexpectedly suspenseful short play about two men locked in a ruthless competition of one-upmanship, through December 12.
The 30-minute one-act by acclaimed Canadian playwright Daniel MacIvor runs as a companion piece to the hour-long The Soldier Dreams by the same playwright, a darkly funny and moving play about life, death, grief-and dancing.
Written by Daniel MacIvor and directed by Amanda Weier. The Soldier Dreams features Stephanie Crothers, Carmella Jenkins, Conor Lane, Schuyler, Amy Moorman, Ethan Niven, Stevie-Jean Placek, Scott Roberts, David Shofner, Casey Sullivan. Never Swim Alone features Bryan Bertone, Emma Bruno, Dylan Maddalena.
For more information visit (323) 882-6912 or
www.openfist.org
.