MOVIN' ON UP Moves On Into 2018 Hollywood Fringe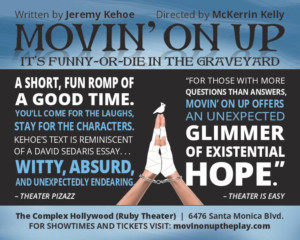 It's funny-or-die-in-the-graveyard time when Jeremy Kehoe's dark, absurdist, existential comedy, "Movin' On Up", makes its West Coast premiere at the 2018 Hollywood Fringe Festival at The Complex Hollywood.
"Movin' On Up" made its world premiere at the New York International Fringe Festival, where it performed before sold-out audiences, was named one of the 10 Shows That Stand Out (Producer's Perspective), and was hailed by critics as "a short, fun romp of a good time", who called Kehoe's dialogue, "reminiscent of a David Sedaris essay. His dialogue is witty, absurd, and unexpectedly endearing" (Theater Pizazz).
"Movin' On Up" is directed by McKerrin Kelly, whose recent projects include "I Wanna Hold Your Hand" at Theatre of NOTE (Best Production nominee - LA Stage Raw Awards); "Steppin' Out" at Fierce Backbone; "Brendan" (Best Director Award - LA Stage Scene), "The Hostage" (Backstage West Garland Nomination for Directing), and "Power" (LA Critic's Circle Award for Best Season) at Theatre Banshee. She is currently the Creative Coordinator at Fierce Backbone where she develops and champions new works.
The show features performances by Tessie Barresi ("Narcissus & Echo"; "Lesser Gods"); Gary Rubenstein ("Gentle Passage"; "Law & Order: True Crime"; "Suburgatory"), and Jeffrey Wylie ("Texas Loves Lyla!" - Hollywood Fringe Best Solo Show; "The Limitations of Genetic Technology"; "Where The Bears Are" - Winner, Director of Photography).
Kehoe's previous work includes the critically acclaimed "Killing Russell Crowe" at Group Repertory Theatre, "AMMO" at the Hollywood Fringe Festival, "Shamamonica" at Son of Semele and "God Help Us" at Monsterbox Theatre in Michigan. In New York, Jeremy's work has been produced by Emerging Artists Theatre, Roots & Wings Theatrical, and UP Theatre Company.
About Movin' On Up
"Movin' On Up" pits a Watchman with a worthless watch against a chatterboxing, handcuffed man and a know-it-all woman in bandaged hands to see who earns the right to move on up. Why would the Watchman who wears a watch that won't work sit silent sentry in a graveyard and wordlessly wait, and wait, and wait? And what about Lewis, who shatters the serenity after stumbling from a slumber at the soles of the Watchman's feet? Where does he think he's heading? Nowhere fast, if the Watchman has his way. And then there's Joan? What drew her to this dark corner of the universe? And, why does she keep insisting she knows everybody? It's so annoying. Why won't any of them move on? What in the world are they all waiting for?
TICKETS: Tickets are $10 and available at: http://hff18.org/5109
SHOW DATES & TIMES:
Friday, June 1 @ 10:30 p.m.
Friday, June 8 @ 8 p.m.
Monday, June 11 @ 9 p.m.
Saturday, June 16 @ 10:30 p.m.
Thursday, June 21 @ 7:30 p.m.
WHERE:
The Complex Hollywood (Ruby Theater), 6476 Santa Monica Blvd.
Run Time: 60 minutes.
For "Movin' On Up" show and cast info visit: www.movinonuptheplay.com