Join the UCLA Department of Theater Summer Institutes!
-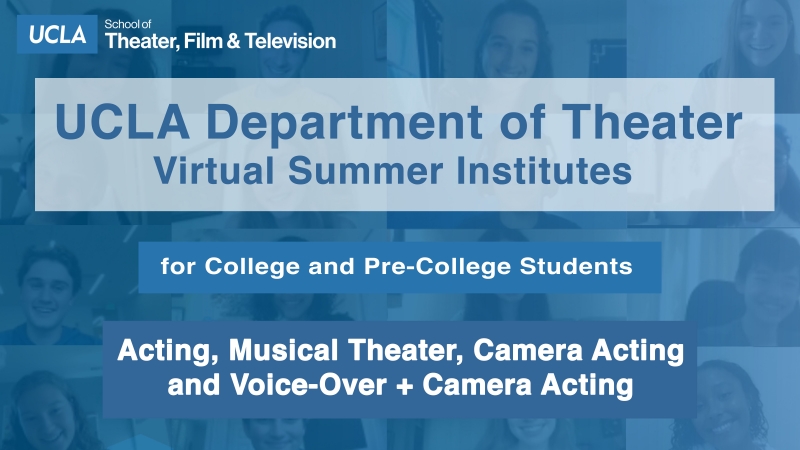 Join the UCLA Department of Theater Summer Institutes. Due to the COVID-19 pandemic, the UCLA Department of Theater has moved all the institutes to the virtual environment, and will continue to produce artistic productions that truly reflect the creativity and hard work of every student. Students will train with UCLA TFT's world-renowned faculty, while building a foundation in their chosen area of study, learning audition techniques as well as the art of networking. For more information, visit our website, where you'll find registration, program schedules and more.
Answering your questions with Dolann Adams, UCLA Department of Theater's Director of Special Programs
What about this past year has influenced your institutes?
Throughout the past year, we have observed and adapted to the unprecedented changes that the world has faced. The entertainment industry has had to evolve and we have adapted our institutes to ensure that our students are prepared to meet the new expectations. We have added the Voice-Over Camera Acting Institute, which will teach students the art of auditioning for the camera and the microphone.
Starting last summer, you transitioned all your in-person Summer Theater Institutes to the virtual space. What makes your programs stand out?
Despite the great impact COVID-19 has had on our world, we have had the opportunity to see students use their talents and innovation within the virtual environment, to create artistic work that demonstrated resilience and a commitment to their craft. We saw a heightened eagerness to explore something new and creative, propelling the summer experience forward and resulting in stellar productions that were shared with the UCLA community. The pandemic has changed the lives of many people, however, we have seen students achieve their goals through established, transformative, and proven training techniques.
What sets these intensives apart from other pre-college programs?
The UCLA Department of Theater Summer Institutes offer a conservatory experience that nurtures the individual artist while working collaboratively with others. Our undergraduate programs have a large focus on creating a strong ensemble and we strive to create a similar environment for our high school students.
How will the virtual institutes be structured? What can students expect?
Students will actively engage in various types of classes and industry workshops, from singing and Latin dance to screenwriting and voice-over work. They will develop a broad range of new skills pertaining to their craft. For example, actors will write and create new content while learning how to edit their own recorded auditions.
Do students have to audition to take part? Do they need to be at a certain skill level before classes begin?
Yes, an audition is required for the Theater Summer Institutes, and all students are encouraged to apply, regardless of skill level. Our faculty is prepared to challenge every student and provide the additional training needed to elevate their craft.
Why should pre-college and college students take part in a program like this?
I believe it is important because the Theater Summer Institutes provide a safe space that is facilitated by our world-renowned faculty while allowing students to earn college credit that is transferable to universities across the country. Our instructors are committed to developing and encouraging every student so that they learn and feel empowered to make artistic choices grounded in authenticity within an experiential learning environment.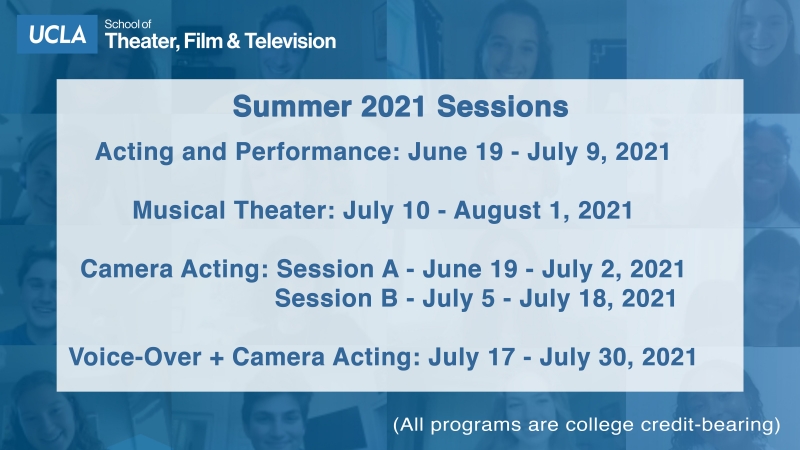 Learn more about:
Acting + Performance
Musical Theater Video
Camera Acting
Voice-Over + Camera Acting
Do you have more questions? Join Dolann in a behind-the-scenes Q&A on Zoom
See you this summer!
Related Stories
More Hot Stories For You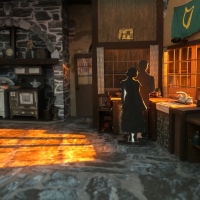 Conrad Prebys Theatre at Dea Hurston New Village Arts Presents THE FERRYMAN Next Month

December 2, 2022

New Village Arts (NVA), North County's cultural hub, will present playwright Jez Butterworth's masterful international Tony Award winning  Best Play (2019) "The Ferryman" January 27-March 5, 2023 – in the first United States production after Broadway – and the first in the newly renovated and renamed Conrad Prebys Theatre at the Dea Hurston New Village Arts Center.
---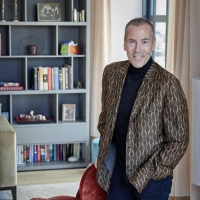 Nelson Aspen Returns to Los Angeles With WELCOME HOME

December 2, 2022

Nelson Aspen returns to Los Angeles for a pre-Oscars engagement of his new cabaret offering, Welcome Home, a celebration of his latest book, 'Your Home is Your Castle: Live Like an A-Lister in a Post Pandemic World.'
---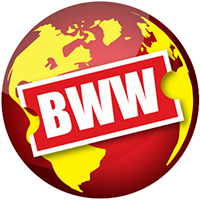 ArtsUP! LA World Premiere Of VOLUN-TEARS Opening Delayed

December 1, 2022

ArtsUP! LA has announced the world premiere of VOLUN-TEARS, a powerful play by Lester Probst, a Korean War Veteran, based on the true experiences of women who have suffered sexual harassment and sexual abuse in the United States Armed Forces.
---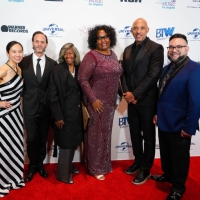 Award-Winning Artists Celebrate the Continued Success of Education Through Music-Los Angeles at November Gala

December 1, 2022

Education Through Music-Los Angeles (ETM-LA), a 501(c)3 nonprofit, hosted their 17th Year Celebration Benefit Gala last night, the evening of Wednesday, November 30th, 2022 at the Skirball Cultural Center.
---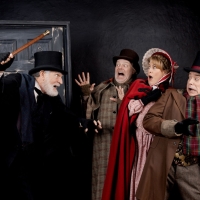 Ensemble Theatre Company Announces Very Special 'Family Day at ETC' Performance of A CHRISTMAS CAROL

December 1, 2022

Ensemble Theatre Company (ETC) has announced the addition of a special performance of A CHRISTMAS CAROL, made possible by generous donations from Sara Miller McCune and the Léni Fund!  
---