Jiaoying Summers and Hollywood Improv to Present STAND WITH ASIANS Benefit This Month
The proceeds, channeled through the Stand with Asians Community Fund, will benefit the victims of gun violence.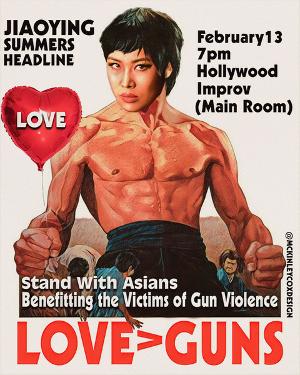 Because laughter and comedy can unite us all in the face of tragedy, comedy star Jiaoying Summers is hosting an evening event at iconic Hollywood Improv to raise funds for "Stand with Asians." The proceeds, channeled through the Stand with Asians Community Fund will benefit the victims of gun violence including the most recent heartbreaking massacres in Half Moon Bay and Monterey Park during Lunar New Year.
Summers says, "We must come together as a community who will not be defined by tragedy but focus on those we lost, those we love, and a positive future which is the message of the Lunar New Year. I'm so proud of Hollywood Improv to partner with us to make a statement against violent and hate crimes everywhere."

What: Stand with Asians Benefitting Victims of Gun Violence
When: Monday, February 13 @ 7:00PM
Where: Hollywood Improv, 8162 Melrose Ave, Los Angeles CA 90046
Tickets: $30.00 - Please buy tickets via the link HERE
Donation Link Here
About Jiaoying Summers
From a dumpster baby in China to TikTok comedy queen in Hollywood, Jiaoying Summers is the hottest Chinese American woman in comedy. She is a regular headliner at The Laugh Factory, Comedy Store, The Hollywood Improv, Westside Comedy and Caroline's NYC. Her 30-minute comedy special is streaming on Peacock and Prime Video. She was recently featured on Good Day San Diego, NBC4, Vogue Magazine and The LA Times. She is the owner of The Hollywood Comedy in Los Angeles and focuses on producing shows that promote representation in comedy. Her signature style and hilarious "Uber Karen" has racked up more than 1.3 million followers, 25 million likes and more than 1 billion likes combined across socials. Summers was recently inducted into the Asian Hall of Fame.
For more information, please go to: https://www.jiaoyingsummers.com/
IG Handle: @jiaoyingsummers
About Hollywood Improv
The Hollywood Improv has been a part of standup comedy in Los Angeles for over 44 years. With two theaters, & restaurant/bar, the Improv offers an unforgettable comedy experience. Located at the epicenter of the entertainment world, the legendary club opened by Bud Friedman and Mark Lonow in 1974 is part of a global comedy network through its owner Levity Entertainment Group. The Improv also maintains a library of comedy assets that includes the "An Evening at the Improv" series originally broadcast on A&E for 14 years.
For more information please visit - https://improv.com
IG Handle: @improvcomedyclubs
About Stand With Asians
Formed to counter the wave of anti-Asian hate crimes during the COVID-19 pandemic, Stand With Asians (SWA) is a global grassroots organization that builds stronger AAPI communities through awareness campaigns, grassroots efforts and coalition building. SWA provides a platform for victim advocacy, BIPOC solidarity initiatives, focused civic engagement, support for community rallies, promotion of intersectional AAPI representation across media, entertainment and politics, self-defense resource distribution and more. Through its Community Fund, SWA also provides essential grants to smaller nonprofits and grassroots organizations that address underserved AAPI communities.
For more information, including our SWA Community Fund Impact Report, please go to: https://www.standwithasians.com/
IG Handle: @standwithasians