Interview: Deborah Robin on Portraying Doris Day in DAY AFTER DAY
Opening at the Second Story Theater in Hermosa Beach on January 20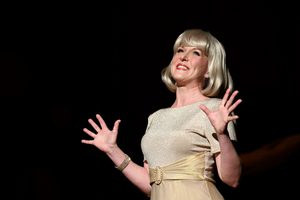 Following an award-winning run right before the pandemic hit in March 2020, P3 Theatre Company is thrilled to bring Day After Day - The Life and Music of Doris Day - by Tony Santamauro to the Second Story Theatre in Hermosa Beach from January 20-February 5. Returning to the production are original cast members Deborah Robin as Doris Day and Zach Appel as The Narrator.

The musical shares the dramatic personal life story of Doris Day through her music, including many of her hit songs: Bewitched, Bothered and Bewildered, Sentimental Journey, Secret Love, It's Magic, A Guy is a Guy, and Que Sera Sera. Since her popularity turned Doris Day into America's Sweetheart in the days before the ever-present internet and cell phones, were you ever as curious as I was as to who the real Doris Day was after the cameras stopped rolling? And what does it take to bring such a beloved and well-known icon to the stage? I decided to speak with Deborah Robin about her devotion to the star and the role to find out.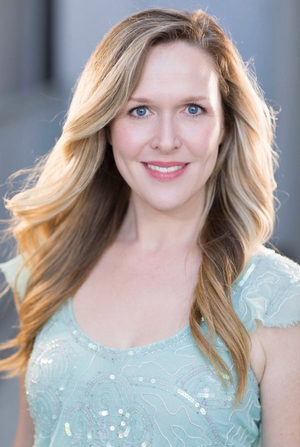 First of all, congratulations on bringing your acclaimed turn as Doris Day in P3 Theatre's Day After Day - The Life and Music of Doris Day back to the stage, this time at the Second Story Theatre in Hermosa Beach.
Thank you so much, Shari! It is a dream to be back with P3 Theatre for this wonderful show, and a privilege to bring Doris's story to the stage
Day After Day takes a deep and personal look into Doris Day's dramatic personal life while appearing as the quintessential girl-next-door in Warner Bros. musicals. How is the story behind her media persona blended with the songs during the play?
There are nearly sixty songs, including medleys, woven throughout, and those are only a small sampling of her music. The music in this show really demonstrates the span of her career, from her early days on the radio and touring with big bands, to her Hollywood days, and even after her retirement, although Doris would say she never retired, she just found other things to do! Some of the songs are a part of her story, as when she sings the show's title song Day After Day to audition for band leader Barney Rapp. It was this song that gave him the idea to change her last name to Day, and, it is so funny to me, she hated that new last name at first! Some songs in the show express her emotional reaction to what was happening in her personal life, while other songs are portrayed more presentationally, re-enacting scenes from some of her top movies.
Her music and movies were such a big part of my preteen years. When were you first approached about taking on the role? And where was the play performed the first time?
I first saw an audition notice for the show and was immediately intrigued! I had sung Doris Day songs before in other theatrical productions and concerts, but knew very little about her life or career. Additionally, I had heard that P3 did wonderful, high-caliber shows and I wanted a chance to meet them. Our production premiered at the Ernest Borgnine Theatre in Long Beach.
Once you knew you had the role, did you watch her movies and/or read everything about her before you began portraying her? Or had you always been a fan?
An emphatic YES to all of these questions! Yes, I was a Doris fan before the show, but the more I learned about her, and really watched her and listened to her, I became a sincere and heartfelt Doris devotee. I did watch as many movies as I could during the rehearsal period, and to be honest, I still have many more that I've yet to see. Doris was so amazingly prolific, what a marvel as she really worked non-stop. Nowadays, it is incredibly helpful to have resources like YouTube; I watched every interview with her that I could find, to see how she moved, her speech inflections, the tilt of her head, her laugh; everything I could possibly soak up.
It was an exciting challenge, but also terrifying since Doris is so deeply beloved by her fans and they know every nuance of her songs and her movies. I wanted to give this role everything I could, of my heart, body, and voice, to honor her and those that love her so much. I spent the most time just listening intently to her singing, her inflections, how she breathed, the way she colored her lyrics and infused them with emotion. And yes, I read her autobiography (Doris Day: Her Own Story) and a few other biographies. Tony Santamauro and his daughter Christy, the creators of the show, are very knowledgeable about her life, and were the biggest help to me, of course!
Deborah Robin as Doris Day with Zach Appel as The Narrator in Day After Day
Do you have any favorites from her movies? And why do those stand out for you?
My favorite Doris movie is whichever one I am currently watching! The first movie I watched after I learned I'd been cast in the show, was also her first movie, Romance on the High Seas. Doris was cast as a replacement for Judy Garland, who was ill at the time. During her audition for the role, Doris broke down in tears because she was going through a difficult time in her personal life. But the director Michael Curtiz gave her a screen test anyway, and she got the part! There is a scene in the movie where Doris sings the song It's Magic to her co-star Jack Carson while they sit in an alcove at a restaurant. And I have to tell you, I've never seen anything like it from the way she looked at him, sang to him with so much starry-eyed tenderness, so luminous - my goodness, how could anyone not fall in love with her?
She was always exceptional, but my favorite Doris comedy is probably Pillow Talk with Rock Hudson; they had terrific chemistry, and were close friends in real life. Her intensity as Ruth Etting in Love Me or Leave Me showed what a versatile actress she was, not always sunshine and bubbly smiles. Calamity Jane is probably my favorite, though, and I could listen to her sing Secret Love forever and never get tired of it. She recorded that song in only one take, did you know? Many of her recordings were one-take-wonders like that, being captured in one go. She was just that good, what a consummate artist!
I had no idea about Doris being a one-take-wonder! Secret Love was always one of my favorite songs of hers. Which of her songs do you enjoy performing the most? Is there a more personal background story as to why that song?
Doris's music encompassed so many styles and genres, I truly treasure each song for different reasons. Probably her song Secret Love is the one that touches my heart the most, expressing how I feel about my real-life husband; I really do want to shout it from the highest hills, just how wonderful he is!
Her jazz song Close Your Eyes, from her recording with Andre Previn, is one of the most challenging songs for me, although it seems deceptively simple. The most fun I have on stage, however, is singing There Once Was a Man from The Pajama Game with my amazing co-star Zach Appel. It is wild and crazy, like jumping on a roller coaster, and I run off stage after that one and just collapse in a heap!
How have you developed your portrayal of Doris Day over the years since you first took on the role in 2020? No doubt all the hidden-from-the-public details about her personal life must often be challenging to discuss.
I am always a work-in-progress, and so too is my take on this role. I hope I can always find new ways to improve it and fine-tune it and bring more to this show. Doris was such a huge remarkable talent, and an outstanding, loving person. To try to come even close to portraying her level of authentic and dazzling artistry still makes me feel dizzy with nerves. But still, I will keep trying!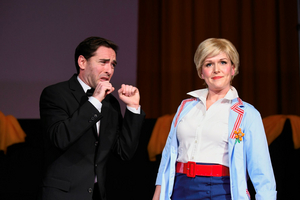 Deborah Robin as Doris Day with Zach Appel as The Narrator in DAY AFTER DAY.
Also, many probably feel this way about their lives over lockdown: I do not feel like the same person that I was before our world shut down during Covid. That experience changed us, collectively and individually. I have a far deeper appreciation for the privilege of performing, telling someone else's story, and even more gratitude for the joy of collaborating with fellow cast and crew, and for a live audience since it is the audience who really helps co-create this show in particular. They really want to see a glimpse of the Doris they have loved so much, and I feel that they are right there with me, experiencing it all.
And as far as her personal life details, Tony, the show's creator, has done a superb job of referencing some of the harder parts of her life without exploiting her or making her story sordid or tragic.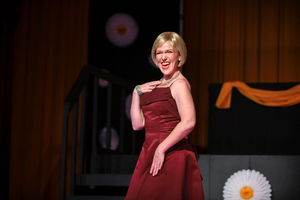 What do you think would surprise people the most about Doris?
Her grit. We all know her smile and the light she brought to the world, but few really get how immensely strong she was, underneath, what a spine she had. As a teen she survived a horrific accident in a car that was struck by a train, shattering her leg and her early hopes for a dancing career. She endured spousal abuse and many horrible betrayals, but was never bitter or self-pitying. And she worked non-stop for her entire career. It took grit and courage and tenacity to stay at the top of her game, always with optimism, a smile, and a song in her heart.
Has the musical always been presented in small theaters? What appeals to you the most about that intimate setting?
That is a great question! You know, this show was created over twenty years ago and perfected over decades by dynamic father-daughter duo Tony and Christy. They performed in different venues everywhere, from hotel lobbies to sold-out theaters that seated hundreds of people with enormous stages. It is a show that could be done beautifully in just about any setting. Our 2020 venue was quite large, perfect for some of the show-stopper songs. This venue at Second Story Theatre is more intimate, and I am especially looking forward to sharing some of Doris's more quiet and vulnerable scenes there.
Do you have talkbacks with the audience about the musical and life of Doris Day? And if so, what have been some of the most interesting comments or questions posed to you?
We have not had a talkback with the audience yet, but I would love to do that. During our 2020 run, I had so many people tell me, in the lobby after the show, about their favorite Doris song or movie, and many had met her in person at some point. Without fail, they all gushed about her generosity and lovely disposition. For many, Doris's songs and movies changed their lives, and helped them through difficult and formative times.
That is certainly true for me. The Second Story Theatre production is directed by Tony Santamauro and Christy Mauro-Cohen, with Musical Direction by David Cohen. Have you presented this show with the same team before?
Yes, they are a Dream Team. This time we are being joined by Bill Wolfe as our accompanist and head of the band, what a joy it is to work with him!
How has their vision of the musical changed over time, and how has your own vision melded into theirs?
They know the show inside and out, and are really the experts! They were so giving and helpful as I learned the role then and as I re-visit it now. They crafted the show over so many years, and have been so generous in sharing their discoveries with Zach and me. They gave us freedom to make our own choices, but also are very exacting for good reason. For example, I have to be very careful about every single lyric that Doris sings with no paraphrasing allowed since her fans know her music so well and would notice an inconsistency in a heartbeat. So being a stickler for details with her material is important. (Also, did you know, one nickname of Doris was Dorothy Detail among her many nicknames, including Nora Neat, Clara Bixby, Dodo, and DeeDee.)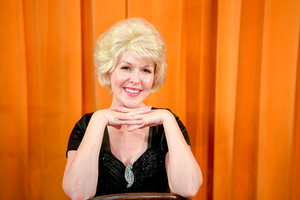 What is the most challenging thing about presenting two performances on Saturdays? Or has the role become so much a part of your life that the double shows are just more of a celebration of her life?
Two-show days are part and parcel for many theatre performers. Mostly I think we try to keep ourselves as healthy and hydrated as we can, and make sleep a priority. I wouldn't be able to juggle all of these things without a lot of help and support from my family, and from the cast and crew of the show. In fact, this show has so much momentum, though, that once it starts, it just flies by for me and I never feel tired until it is over. I know this show is truly a celebration of Doris's life and work every time I take the stage!
If you could write the quintessential sentence or paragraph to describe her, what would you want the world to remember about Doris Day one hundred years from now?
I have this quote of Doris's I keep up on my wall at home and look at it every day: "I want to smile, and I want to make people laugh. And that's all I want. I like it. I like being happy. I want to make others happy." And she always did. The ability to make people happy is a true gift in this big scary world. Her talent was only eclipsed by her huge and generous heart that she shared with both people and animals. She still continues to bless the world with happiness which is why I love her so much!
What do you hope the audience will be talking about after seeing Day After Day?
I hope audiences will leave singing their favorite Doris songs, remembering their favorite movies and memories of her with a smile. And for those who may not have known much about Doris when they walked into the theatre, I hope they leave afterwards and run straight home to binge-watch as many Doris films as possible. They are in for a spectacular treat!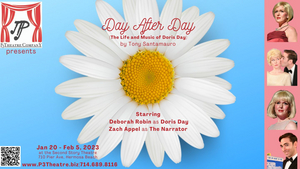 Day After Day (The Life and Music of Doris Day) by Tony Santamauro starring Deborah Robin is being presented by P3 Theatre Company from January 20 - February 5 at the Second Story Theatre, 710 Pier Avenue in Hermosa Beach. Directed by Tony Santamauro and Christy Mauro-Cohen, with Musical Direction by David Cohen. For the band, Bill Wolfe is on piano, Anthony Barbarotta on drums (he played our 2020 version) and Jeff Takiguchi on Bass. Performances take place on Fridays at 7pm, Saturdays at 3pm and 7pm, and Sundays at 3pm. Tickets are $38 Adults, $33 Seniors / Students / Military, online at https://cloud.broadwayworld.com/rec/ticketclick.cfm?fromlink=2219420®id=9&articlelink=https%3A%2F%2Fp3theatre.biz%2Fday-after-day%2F?utm_source=BWW2022&utm_medium=referral&utm_campaign=article&utm_content=bottombuybutton1 Group rates available via phone (714) 689-8116. Masks are recommended, but not required at the theatre.
Photos courtesy of P3 Theatre Company