Community Events Announced For A STREETCAR NAMED DESIRE At Boston Court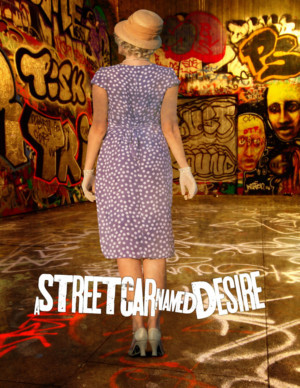 Boston Court Performing Arts Center presents a reimagined modern take of Tennessee Williams' A Streetcar Named Desire (February 15 - March 25, 2018; press opening, February 24). The community panels and discussions have been announced for this radical re-envisioning of Streetcar which will feature a multicultural cast and modern setting, pushing on the play's present-day relevance. This selection of panel discussions and post-show Illuminations will allow for a deep discussion on A Streetcar Named Desire and its many prevalent themes, especially in regards to this production, which is presented within a contemporary and urban environment, highlighting the pertinence of the play for our divided America.
Director
Michael Michetti
says, "It's extremely important for us to engage with different communities and facilitate an open discussion of the ideas raised in this production. We've collaborated with our Community Events Coordinator Jonathan Muñoz-Proulx, our Dramaturg Fanshen Cox DiGiovanni, plus many artists involved in this production and the Compton Artists Alliance to create a series of dialogues on topics from white privilege and queer voices, to the changing demographics of our cities and the sexual politics in the play. I look forward to participating in these events and having conversations with the communities represented onstage and the audiences that experience the production." Panelists are still being confirmed for these events, and panelists and moderators are subject to change. Sunday, February 4 at 7:00pm
The [conditional] Kindness of Strangers: Examining White Privilege
With leaders from the Compton Artists Alliance, we'll illuminate the challenges, controversies and opportunities surrounding privilege, identify what it means to be an Ally, and confront the sometimes uncomfortable words: White Privilege.
Location: Boston Court Performing Arts Center
Moderator: Fanshen Cox DiGiovanni (Dramaturg, A Streetcar Named Desire)
Panelists Include: Corey Nash (Compton Artists Alliance President), and Saida Powell (Compton Artists Alliance Treasurer) Sunday, March 4 at 1:00pm
Pre-Show Mimosas and Post-Show Discussion: Queer Voices
Join Boston Court before and after the 2:00pm matinee performance of A Streetcar Named Desire for mimosas and a conversation on the role of queer voices in this production, onstage and off.
Location: Boston Court Performing Arts Center
Moderator: Jonathan Muñoz-Proulx
Panelists Include:
Michael Michetti
(Director, A Streetcar Named Desire), Samantha Sewell (Sound Designer, A Streetcar Named Desire), Desean Kevin Terry (Stanley),
Maya Lynne Robinson
(Stella), and Mariana Marroquin (Eunice) Sunday, March 4 at 5:00pm
A Streetcar Named Desire Screening and Stage Director Discussion
Join Boston Court artists and community members as we partner with Compton Artists Alliance friends and colleagues for a free screening of the classic film, A Streetcar Named Desire, followed by a discussion with the newly imagined Boston Court production's director,
Michael Michetti
and members of the cast and production team.
Location: Douglas F. Dollarhide Community Center -
301 N Tamarind Ave, Compton, CA 90220
Saturday, March 10 at 4:30pm
Let's Talk About Sex: The Politics of Desire in Streetcar
With feminist leaders from our community, we'll investigate the radically evolving roles of women through a sex-positive lens, how one negotiates power, and the relationship between sexuality, agency and survival. The discussion is open to the public and timed so that ticket holders to the 8:00pm performance that evening can enjoy lively discussion and have time for dinner--and further conversation--before the show.
Location: Boston Court Performing Arts Center
Moderator: June Carryl (Assistant Director, A Streetcar Named Desire)
Panelists Include: Camille Gear Rich (Professor of Law and Sociology, USC) Sunday, March 11 at 1:00pm
Our Neighborhood by the Numbers: Spotlight on Our Changing City
Join Boston Court Artistic Director
Jessica Kubzansky
as well as other Boston Court artists and community members for a pre-performance Illumination event discussing our region's shifting demographics, the impact of gentrification on our communities, and changes in political and other power as seen through the lens of A Streetcar Named Desire.
Location: Boston Court Performing Arts Center
Moderator:
Jessica Kubzansky
To RSVP for these panel discussions, please visit Boston Court on Facebook:
https://www.facebook.com/BostonCourt/Events/
In addition to these deep discussions on themes surrounding A Streetcar Named Desire, Boston Court will also host their post-show Illuminations on production elements featuring members from the cast and production team:
Sunday, February 25: Post-show discussion on Performance
Friday, March 9: Post-show discussion on Design
Friday, March 16: Post-show discussion on Direction
Sunday, March 18: Post-show discussion on Performance Tickets for A Streetcar Named Desire, priced from $20 - $39, are available at BostonCourt.com or by calling
626.683.6801
. More About A Streetcar Named Desire
Director
Michael Michetti
plans to strip away decades of "Southern gothic gauze" to reveal striking themes of class, race, and gender-reinvigorating the classic which shocked audiences in its debut 70 years ago. By placing a traditional, 1940s era Blanche within a contemporary, multicultural and urban environment familiar to modern audiences but foreign to her, this new production highlights the pertinence of this play for our divided America. A Streetcar Named Desire originally opened on Broadway in 1947. Directed by Elia Kazaan, the show starred
Jessica Tandy
,
Marlon Brando
,
Kim Hunter
and
Karl Malden
. The play would go on to win the Pulitzer Prize for Drama and Tandy would win the Tony Award for best actress in a play. In 1951, the play became a film. Kazan again directed and Brando, Hunter and Malden reprised their roles.
Vivien Leigh
played Blanche in the film and won an Oscar for lead actress, along with Malden for supporting actor and Hunter for supporting actress. The property has also been adapted as an opera, ballet, and numerous times for television. The original New York Times review by
Brooks Atkinson
explains Blanche as, "a gently reared Mississippi young woman who invents an artificial world to mask the hideousness of the world she has to inhabit." In previous productions, Blanche is often portrayed as a woman whose luck has led her to live in a small, squalid apartment with nothing left but costume jewelry and delusions of grandeur. However, Michetti sees her somewhat differently. Michetti says, "To me, Blanche represents the last desperate cries of privilege. The drama arises as she tries to cling onto a world that no longer exists and refuses to embrace the actual world that she inhabits. In this production, Blanche is an interloper, surrounded by people of different classes and races who speak truthfully and often bluntly about the world in ways that discomfort Blanche. And in the end, her inability to adapt sends her into a downward spiral. I think this production also speaks to current discussions of nationalism." Dramaturg Fanshen Cox DiGiovanni adds, "Michael has sought out an inclusive creative team to engage in critical inquiry around the themes that are central to this telling of Streetcar. We wanted to embark on this production in the spirit of investigation, be mindful of the play's history and mine the new stories that are inherent in Williams' text." This new production looks at Blanche's behavior in the context of current events and not in a theatrical vacuum, especially given the storied history of this play. Michetti adds, "In the way this cast has been assembled, the production will reflect the broad diversity of our nation. Through the communities represented onstage in this production and these characters that we think we know so well, the story can help us look at our world anew." A Streetcar Named Desire is made possible through the generous support of The
David Lee
Foundation. About Boston Court
Located in Pasadena, California, Boston Court is a nonprofit arts center primarily dedicated to new and original work by living artists. Founded in 2003 by philanthropist Z. Clark Branson, Boston Court features a state-of-the-art, intimate facility designed to bring audiences and artists closer together. The 80-seat Marjorie Branson Performance Space and the 99-seat Main Stage serve as homes for Boston Court's season of bold, risky theatre and its eclectic, diverse music series. Boston Court is also the home of an annual new play festival, an Emerging Artists Series, as well as Art Upfront, a rotating visual arts program. Boston Court is led by a 13-member Board of Directors, Executive Director Kyle Clausen, and Artistic Directors
Jessica Kubzansky
and
Michael Michetti
(Theatre), and
Mark Saltzman
(Music). Key funding is provided by Los Angeles County Arts Commission, The Ralph M. Parsons Foundation, The Harold & Mimi Steinberg Charitable Trust, The Shubert Foundation, Lazy L Foundation, The Colburn Foundation, Pasadena Arts & Cultural Commission and the City of Pasadena Cultural Affairs Division, Pasadena Art Alliance, and the Z. Clark Branson Foundation. Cast & Creative Team
A Streetcar Named Desire
Written by
Tennessee Williams
Directed by
Michael Michetti
With
Blanche: Jaimi Paige
Stanley: Desean Kevin Terry
Stella:
Maya Lynne Robinson
Mitch:
Luis Kelly-Duarte
Featuring
Martica de Cardenas, Mariana Marroquin, Paul Outlaw, Christopher Ramirez and Joma Saenz. Scenic Design:
Efren Delgadillo
, Jr.
Costume Design: Dominique Fawn Hill
Lighting Design: Rose Malone
Sound Design:
Sam Sewell
Properties Design: Erin Walley
Assistant Director: June Carryl
Production Stage Manager: Alyssa Escalante
Assistant Stage Manager: Katherine Hoevers
Dramaturg: Fanshen Cox DiGiovanni
Casting Director:
Victoria Hoffman
Performance Schedule:
A Streetcar Named Desire
Written by
Tennessee Williams
Directed by
Michael Michetti
Thursday, February 15 through Sunday, March 25, 2018
Thursdays through Saturdays at 8:00pm; Sundays at 2:00pm
Previews: Thursday, February 15 through Friday, February 23
Opening: Saturday, February 24 at 8:00pm
Closing: Sunday, March 25 at 2:00pm Tickets and Information:
Boston Court Performing Arts Center
70 N Mentor Ave. Pasadena, CA 91106
Website:
www.BostonCourt.com
Phone:
626.683.6801
Prices: $20 - $39 Cast Biographies
Martica De Cardenas (Woman/Nurse) is delighted to be back in the city of Pasadena since performing in the play, Shout, at the Fremont Theatre this past year. Her recent stage credits include: In the Heights, and Real Women Have Curves at the Casa 0101 Theatre. Before moving to LA, Martica served on the board of the Main Street Players (Miami, FL), and performed in several original productions with The Krane Theatre Company, among other stage credits. In addition, she has written, directed, and produced a feature-length film: A Summer Song. For more details about Martica, visit
marticadecardenas.com
. She currently teaches in West Los Angeles.
Luis Kelly-Duarte
(Mitch) Recent theatre credits include: The House on Mango Street (Greenway Court Theatre), As You Like It (Antaeus Theater Company), Blood Match (Urban Theatre Movement), Handball (Urban Theatre Movement & NYC Summer Stage). He's a member of Urban Theatre Movement, Ensemble Studio Theater and an Affiliate Member of Antaeus Theater Company. He is also a proud member of The Antaeus Theatre Company's Playwright's Lab. Follow @authenticLKD Mariana Marroquin (Eunice) Guatemalan actress, comedian and activist. Graduated from The National School for Dramatic Arts. Program Manager for the Anti-Violence Project at LA LGBT Center. Mariana is often seen on television advocating about current issues facing the Transgender community and LGBT immigrant rights. She dedicates her time to projects where she can combine both of her passions, dramatic arts and social justice. Currently working on her solo show Bionic Pussy. She has been part of many film and theater productions in LA and NYC. Latest films include Technical Difficulties of Intimacy and Sister directed by Sia. Television credits include Transparent, This is Me, and Un-Documented Tales. Paul Outlaw (Man/Doctor) is a native New Yorker, Wahlberliner and proud Angeleno. He has performed at numerous local venues, including REDCAT, Broad Museum, Bootleg Theater, LACMA, Hammer Museum, LACE, Skirball Cultural Center and the Getty. In 2017, Outlaw performed with hip hop trio Clipping in support of the album Splendor & Misery, on which he appears as a featured guest vocalist; in FLAX's The Distance Is Beautiful at Grand Park; in Asher Hartman's Sorry, Atlantis... at Machine Project; and in his own solo BIRTHDAY SUITe at Electric Lodge. The script of Outlaw's Berserker, along with a critical essay and interview, appears in the anthology Blacktino Queer Performance (2016). In 2012, he was a recipient of the prestigious COLA (City of Los Angeles) Individual Artist Fellowship. Schwarzfahrer, starring Paul Outlaw, won the Oscar for Best Live Action Short at the 66th Academy Awards.
outlawplay.com
Jaimi Paige (Stella) Her most recent stage credits include The Maids at A Noise Within, Hedda Gabler at Antaeus Theatre Company, Venus in Fur at
South Coast Repertory
, Tender Napalm at Six01 Studios, and Jessie Boy, The Collector and The Rainbow Bridge at Ruskin Group Theatre. Her Film/TV credits include Rizzoli & Isles, Criminal Minds: Beyond Borders, The Mentalist, Peacock, and just released features Desolation and Be Afraid. Christopher Ramirez (Pablo/Young Collector) Born and raised in Kansas City, Kansas,
Chris Ramirez
grew up in a large family of Mexican and Native-American heritage. It was at the University of Kansas (13') where he discovered his love for film and passion for performing. Chris went on to earn his MFA at the University of Southern California (16') where he continued writing and creating films. He was accepted into Portland Film Festival 2016 for his film Ignatius. As an actor, Chris has been able to work professionally in TV (Jane the Virgin), film (If, Dir.
Mario Van Peebles
), and theater (Water By the Spoonful written by Quiara Alegría Hudes).
Maya Lynne Robinson
(Stella) Recent stage: Runaway Home and In the Red and Brown Water (Fountain Theatre), Disgraced (Coachella Valley Rep); Future Sex, Inc. (Lounge Theater); Echo Location (B Street Theatre); Metamorphoses (Ensemble Theatre Santa Barbara); Shotgun (Florida
Studio Theatre
.) She is the writer and creator of two solo shows, DemoGraphics and Character Breakdown, as well as two books of poetry, Brother Be a Stoplight and Sister Save Yourself. L.A. Drama Critics Circle award winner.
mayalynne.com
Joma Saenz (Steve) Best known for playing Davis in the Sundance Feature Film The Flip Side, Joma Saenz graduated from UC Berkeley's Theatre, Dance, and Performance Studies department where he was awarded the Eisner Prize in Acting. He has worked with hereandnow theatre company, Bindlestiff Studios, Kul-Arts, Towne Street Theatre, the Drama Mamas (Greg in Low Hanging Fruit at SF Fringe), Zellerbach Playhouse (Stage Manager in Our Town, Sausage Man in Slaughter City), Asian American Theatre Company (Chester in Cowboy vs. Samurai, Cesar in Banyan, Jerry in Walls), and East West Players (u/s Uncle Ernie in The Who's Tommy). He also played Chang Bunker in the world premiere of
Philip Kan Gotanda
's I Dream of Chang and Eng. Desean Kevin Terry (Stanley) is a graduate of The Juilliard School. In Los Angeles, he was last seen in
Lorraine Hansberry
's Les Blancs at Rogue Machine Theatre. Previous works include Suzan Lori Parks' Father Comes Home from the Wars where he replaced Emmy winner
Sterling K. Brown
.
Center Theatre Group
: The Royale (NAACP nomination) and Trip to Bountiful with Cecily Tyson. Television: Southland, Shameless, ER, Monk, Harry's Law, The Night Shift, Sleeper Cell, House, Grey's Anatomy, Scorpion, NCIS: Los Angeles. Film: Post Grad, God's Army, Somebody's Mother, States of Grace, Bolden. Regional Theatre: The Antigone Project (Off-Broadway), Slippery When Wet. Copyright © 2018 Davidson & Choy Publicity, All rights reserved.
More Hot Stories For You