BWW Review: TL/JA: DANCE COLLECTIVES: COLLECTIVESDRIFT - MIXIN' IT UP - A New Breed Of Dance Presenters - at The Odyssey Theatre
It is obvious that the dancers in each company, The JA Collective, and The TL Collective are well trained and full of creativity. It takes countless hours of rehearsal to be that tight & in sync.
It is demonstrated in the dance pieces, with the first Act featuring The JA Collective and in Act Two, The TL Collective.
The JA Collective used their allotted 30 minutes per company to present some very colorful, surprising, unique and expressive pieces. Choreographed by Aidan Carberry and Jordan Johnson, their input is far more than dance steps... they shaped and originated the pieces through a process of leading the group of dancers through questioning, attempting, experimenting and executing.
On a darkened stage, barely visible at first, was a rectangle structure downstage just left of center, covered with a black dropcloth, secured tightly. As our eyes adjusted, we could see little slits in the cloth. Arms, hands and fingers began to emerge through those slits, randomly, slithering arms like a snake, or a wave on the ocean; slinky patterns forming, where the hands, arms and fingers are intertwined, forming new patterns, making new gestures or connections with the other extremities, when a dancer comes out of the structure and starts to connect with those body parts with his own.
The structure is then disassembled and we see a lone person (Aidan Carberry) sitting on the floor in just his underwear. His clothes are piled in a heap. Behind him is a crazily dressed stand-up bassist, with a huge sunhat on, wildly bowing, making noise more like unpleasing cat calls, than any discernible melody. Aidan very slowly, meticulously, dresses. End scene.
The company of dancers next gave us an adagio, with modern lines, a lot of arm movement moving through formations, combinations on the floor, across the floor, in a syncopated rhythm, moving sometimes on each and every beat, in amazing precision.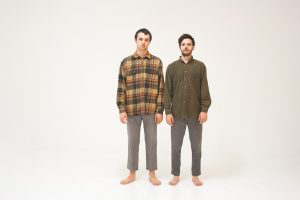 Aidan Carberry and Jordan Johnson nonchalantly appear on stage, and start an amusing verbal patter of dialogue directed towards us, the audience, at the same time, moving to some kind of internal beat only they are aware of, with no music heard. Dancers are added, with a lot of floor-ex type of movements, slides and reaching out to each other, with intermittent comments from the two guys, such as letting us know they are doing this section so that someone chas time to do a quick-change... Then a series of demonstrations of several dance styles; pop-locking, hip-hop, ga-ga, among others, while the two are rapping, melding into the sound of raindrops, them opening up pretend umbrellas and doing a very improvised-feeling type of soft-shoe-"Singin'-in-the-Rain" tribute. The company joins in, keeping that silent rhythm going, following each other, interacting with each other, entwining, knees popping, posing, then moving through the movement. The next section is done in unison, again, strikingly together, as they strike off-balance positions, with flexed feet and strong centers. One by one the dancers leave the stage, until a single dancer (Jessica Muszynski) begins to unravel in front of us, mumbling in between steps and combinations, sliding along the floor, reaching way out with her body, as if asking for forgiveness, saying "You saved my soul."
Our next vignette was three male dancers, (Patrick Cook, Carberry and Johnson) in a spotlight, two lifting the third, and breaking into vocals to a very cool beat ~ They stopped in poses, then moved through them with jerky movement and broken lines, sharp, quick, switching to miming with little hand movements until they glided off stage. Very stylized, entertaining and fun to watch.
The performers of the JA Collective
are: Aidan Carberry, Jordan Johnson, Patrick Cook, John Mietus, Stephanie Dai, Jessica Muszynski and Dani Scaringe. All of their distinct personalities came through in the work, as there were many moments they captured facially as well as physically, their attitudes and emotions. This is an outstanding new dance troupe, or Collective, having only been in existence for eight months! Aidan and Jordan met while attending Glorya Kaufman School of Dance at USC, and already have quite an impressive list of artists they have worked for or with, showing great promise for the future.
The second half of the evening belonged to the TL Collective, consisting of Artistic Director and Choreographer Micaela Taylor, and seven powerhouse dancers. Elizabeth Finfgeld, Jen Lacy, Matt Luck, Brandon Mathis, Jessie Lee Thorne, Gigi Todisco and Kevin Zambrano. Micaela Taylor's intent with this piece, called "Drift," is to give us a glimpse into her recent path of self-growth and awareness.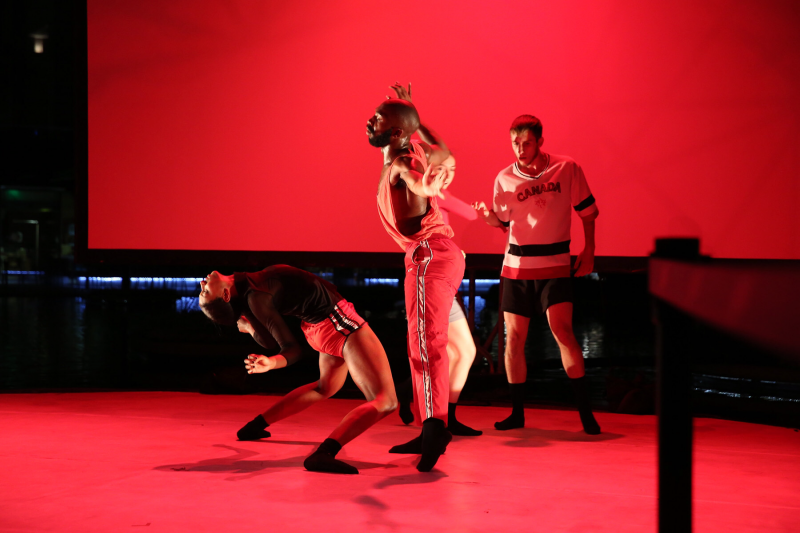 To the sound of blowing winds and fog "drifting" in to fill the stage, six of the dancers are in a tight clump, and begin to lean in to one dancer, then breaking out, dancing wildly, rolling hips, with sharp, athletic isolations, even a nip-up, as foghorns and other odd sounds fill the air. Choral voices begin as they continue, in unison, until we start hearing a voice-over speaking in German, causing a dancer to go off on the floor in a fit of angst for a moment, then resuming the dance combinations, across the floor, down to the floor, this time to no audible beat or rhythm, as if their bodies are so in sync with each other, that is what creates the rhythm and tempo. There are some off-beat, intriguing formations and combinations ~ as a strangeness creeps in slowly... a dancer does a walkover, surfacing from it with a wide-open mouth and extreme expression ~ like a silent scream, if you will... with others joining in every so often while dancing with their own version; a slow, sensual developpe a la seconde ends in the upper body contorting and another agonizing expression is conveyed. Micaela Taylor solos very expressively and again becomes part of the group on and off through the rest of the piece. At one point, the dancers are in a straight line upstage, facing back, and begin bopping to the rhythm and break out into some intricate formations and dance sections. The dancers then freeze in position as one of them begins to speak about the word "Drift," and it's variety of meanings.
Things seemed to tie in with all the previous pieces we'd seen all evening, embodying the range of definitions mentioned. The word has nautical, oceanic and astrological meanings, it can mean the gradual change in the structure of something, to wander aimlessly, carry along, or adversely can mean an overbearing power or influence. All of these meanings were embedded in the choreography and the interpretation.
The last section of this piece was particularly enjoyable as well as intense, as the familiar "Hollywood Swingin'" began to pulse and the dancers, with happy faces on one and all, lip-synced and danced their hearts out to "I Wanna Be Your Man" The music stopped, and Kevin Zambrano began musing out loud posing questions about confusion, feeling alone, "Is there a solution?" He and Micaela duet, joined again by the rest of the dancers, as they rapidly exhale and inhale, becoming more intense, finally blowing each other into a different place on the floor altogether. With no musical
accompaniment Micaela Taylor gives an emotional tour-de-force performance, with her body, her mind and her spirit, going from one deep emotion to an extreme opposite one, going from communication versus walling off or being rejected. The drifting of moment to moment with no forewarning. Actions, reactions, can all trigger what happens next. As she drifts from one person to the next, each time she reaches out to them, they try to hug her but something stops them. This becomes a struggle for her, it is visually exhausting her. She laughs, overly loud, which turns to angst, and then, that silent scream. She falls to the floor, panting from her efforts, although telling the audience she is fine, just fine... Finally admitting... "I don't know... Dance!"
With that, the Bee Gee's "You Should Be Dancin'" begins to play and the dancers fiercely disco-down for an upbeat ending.
Between the collaboration of these two forward-looking dance companies, we are shown the celebration of the hybrid of Contemporary Dance and Hip Hop and get to explore pop culture's influence on contemporary dance.
This is part of the ongoing series "Dance At The Odyssey 2019" that continues through February 9th.. Check odysseytheatre.com for available tickets.
Photos Courtesy of Celine Kiner and Tatiana Wills
Related Articles View More Los Angeles

Stories

Shows
Valerie-Jean Miller has been a dancer since the age of three, inspired by her father who was a dancer in vaudeville. Dance has always been (read more...)