Review: SILENCE - THE MUSICAL - Channel Your Inner Lecter, Starling And All Things Lambish, Outlandish & Untamed At The Let Live Theatre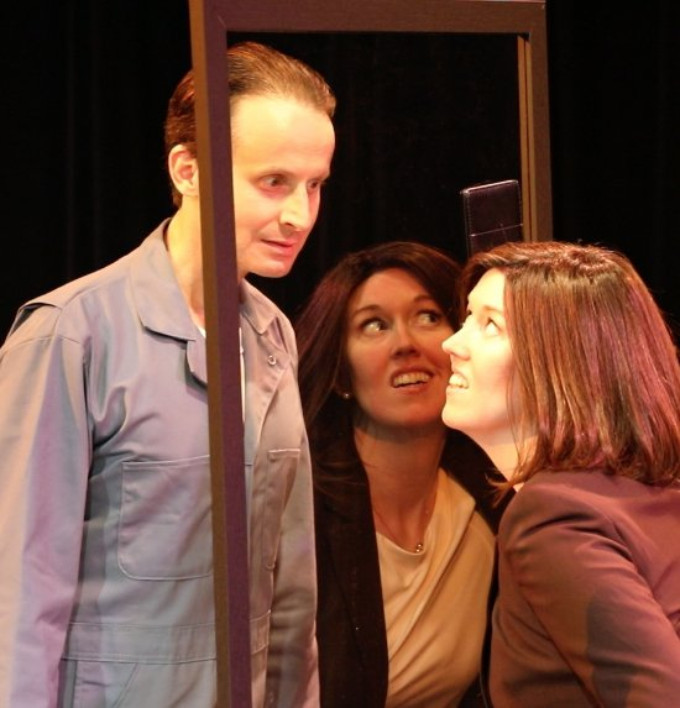 OMG!! Raunchy, Irreverent, full of belly-laughs, snorts, insane giggling and possibly peeing your pants, this Musical stars Jesse Merlin and Amanda Conlon as Hannibal Lecter and Clarice Starling in SILENCE! THE MUSICAL, a satirized tribute, fully choreographed and revisited, to the iconic movie "The Silence of the Lambs." with Music & Lyrics by Jon Kaplan & Al Kaplan, Book by Hunter Bell, originally done Off-Broadway, this newest version compares to The Book of Mormon, in references, "inside" jokes, campy impersonations and an array of talented performers milking it for all it's worth.
A terrific ensemble puts their all into every moment, which is indelibly seared into your memory because of a movie everyone has seen and continues watching to this day.
Before the show even started, a hint of what was to come, was the fantastic Musical Director and pianist/accompanist for the entire show (Edgar Cardoso) greeting the audience coming in, in lamb ears. With the first strains of music, the fun and insanity begins.
So much tongue in cheek is almost dizzying, but there isn't a moment missed, nor scene ignored in this brightly-paced lavish extravaganza. That has a lot to do with the Director, Choreographer and Production Designer, Amanda Conlon. A cuter, more adorable Clarice there never was. Combined with her spot-on impersonation, mannerisms, excellent voice and perfect timing and energy, she moves the show along at just the right tempo and pace.

There is a plethora of talented performers here: Jesse Merlin, as Dr. Hannibal Lecter, is remarkably similar to Anthony Hopkins look and character in the role; Nick Dothee, as Buffalo Bill is appropriately sleazy and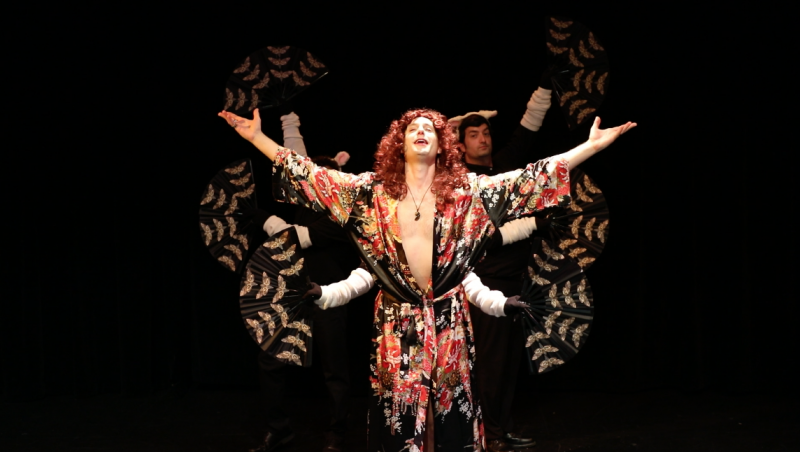 deliciously wonderful as Buffalo Bill, the antagonist in this tale, who will both shock and thrill you simultaneously; Julie Ouellette, playing Catherine, oozes fear and chutzpa to the max, as the victim stuck in the well on and off with Precious, Buffalo Bill's neurotic pup; Brian Dyer, portraying the head of the FBI at Quantico who recruits the brand new fledgling Agent Starling to get the job done; Courtney Bruce, as the liason with the FBI assigned to mentor the investigation and delivering a knock-down vocal performance a la Tina Turner; Suzanne Slade, playing Senator Martin with bravado and an absolutely amazing singing voice; Kevin Michael Moran, who is devilishy salacious and energetic as Dr. Chilton; as well as Michael C. Silva (Miggs), and one of the "lambs"; Jesse Gavin (Stone, Rockbrockmanrock), and a "lamb"; Jeff LaGreca (Bimmel) and "lamb"; Tyler Marcum (the Dream Lecter) and one of the "lambs"; and Philip McBride (Papa Starling) also one of the "lambs," who make up the chorus of singing/dancing music-accompanying (by clicking their hooves together to keep the rhythm, and other clever usage of props and costumes) tellers of the storyline, scene propellers and set changers. There is plenty of "quid pro quo" back and forth between characters giving all the actors plenty of physical and verbal business to work with.
The entire cast is delightful, with marvelous harmonic voices, utilizing so many corny but apropos gimmicks to the hilt, it is a sight to behold. Not only that, there is a ton of choreography that they all ably and unmitigatedly perform, catching all the nuances to each "style" that is presented.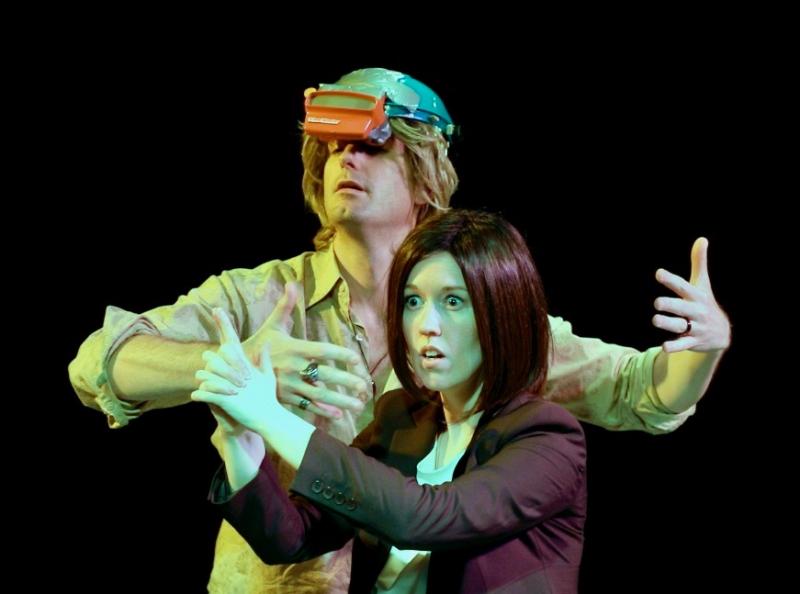 The choreography alone gave me great pleasure and enjoyment, as there were recreations of choreography made famous by Bob Fosse, as in Sweet Charity, Pippin and Cabaret, and Michael Bennett, from A Chorus Line. The many songs were clever, inventive and pretty darn funny, always moving the plot along rapidly and with intent. Bravo to Amanda Conlon for such attention to detail and imparting this to the entire cast. It pays off, and is not easily accomplished...
Produced by Peter Flanigan, who is associated with the Stella Adler school in many capacities, and cleverly lit by Lighting Designer Nick Foran, the Bucket List Theatre has a winner of a show in play.
Warning: Foul language and the illusion of obscenity abounds, so it is not a show for children, or young teens, but don't let that stop you from coming to see this hysterical romp of a parody.
Now playing, Thursdays, Fridays and Saturdays at 8pm and running through November 3rd, 2018, at Let Live Theatre (at The Actor's Company, 916 N. Formosa Ave, Los Angeles, CA 90046. https://www.bucketlisttheatre.com/tickets
Photo credit: Peter Flanigan